Bronze horses, chariots from Qin Dynasty get new home
Share - WeChat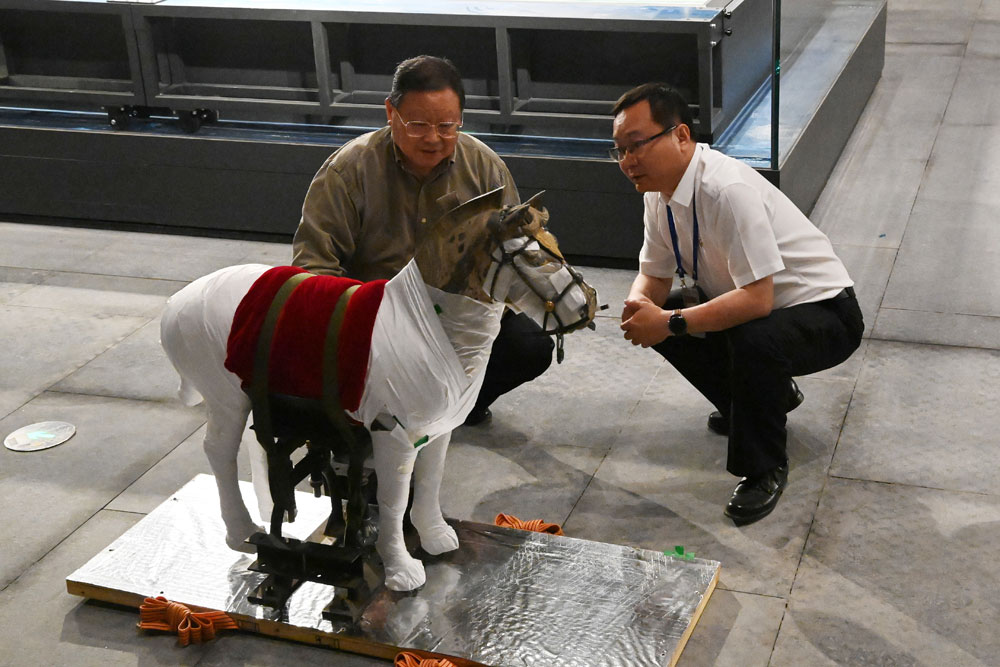 Wu Yongqi, former curator of the site museum, said the chariot components and bronze horses were basically complete at the time they were discovered because the tomb had not been robbed.
"Among China's archaeological findings, the Qin bronze chariots were the earliest, largest and best-preserved objects of their kind ever discovered, and they are of great value for research into the smelting techniques, bronze manufacturing technology and vehicle structure during the Qin Dynasty," he said.
Dang said chemical analysis of the chariots indicated that the process during the Qin Dynasty was no better than that of the Warring States Period (475-221 BC).
"But in terms of manufacturing and casting, the skills used to produce the bronze chariots were very advanced and complex," Dang said. "This was not only because there were many parts, but because the overall structure of a bronze chariot is twisting and rotating."
Many parts on a chariot required multiple stages of casting to build up welds. Binding with leather straps also shows exquisite workmanship in connecting various components of the vehicle, he said.
As for the bronze horses, Dang said, researchers reckoned the four legs were cast first and the mold for a horse's body was created later. Then the legs were joined to the body.
"The two sets of bronze chariots have more than 3,000 components," Dang said. "The production process is extremely complex and detailed. The bronze itself provides rich information as we delve into the research work."
"The new museum is about 240 meters from the excavation site of the two sets of bronze chariots and horses, which will make it convenient for tourists to see the ruins and give them a sense of having an on-site experience," said Li Gang, director of the Emperor Qinshihuang's Mausoleum Site Museum.
To better preserve and exhibit the bronze pieces in the new museum, Li said, the display cabinets are sealed and have constant temperature and humidity control.
Construction of the new museum began in late December 2017.On International Museum Day, which falls on May 18, it will open to the public for a trial run. The price of tickets will be included in the package of the mausoleum site museum, with no additional fees charged. Free shuttle buses to ferry tourists from the gate to the new site will also be provided.
The museum is on the southwest side of Qinshihuang's mausoleum and occupies about 8,000 square meters.