Education equality one lesson at a time
Share - WeChat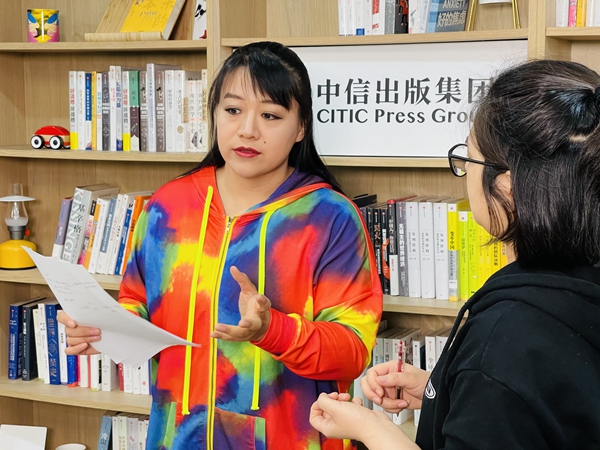 Teacher's free online resources is helping those living in remote areas learn English, Wang Ru reports.
At a breakfast stall in Shenzhen, Guangdong province, a sixth grader had her eyes fixed on the mobile phone. As customers went in and out of the stall owned by her mother, the girl continued to be focused, watching the online English lessons on the mobile phone, unperturbed by the noises around her as she confidently practiced aloud. When Du Shu saw a video of this scene, she was impressed.
The online lessons are the work of Du, 36, in which she offers free educational resources, especially to those living in remote areas and who have little access to quality resources in school.
A native of Shenyang in Liaoning province, Du received a master's degree in English at the University of International Business and Economics in 2010. Now, she works as an English teacher at education consultancy Just Show English in Beijing.
In 2014, she started writing English books for children, especially picture books with interesting stories. Du and her colleagues wrote the stories, and award-winning illustrators were invited to create content based on the plot. They also made accompanying videos for the books, along with original music.
"Our books mainly cover topics about everyday concerns. In one story, a group of monkeys obtained cellphones one day. All of them looked at their cellphones all the time without talking to others, and their family relationship nearly broke down as a result," Du says.
"We want to tell students of today that we still need to pay attention to the happiness with our family members, instead of focusing on electronic products all day."
Their works were exhibited at the 2016 Bologna Book Fair, and one of their series Just Show Rhyme Books won a prize at the 2017 Nami Island International Picture Book Illustration Concours for its illustrations.
"Our books were prominently displayed at the book fair, attracting many foreign publishers. And we felt really excited to gain recognition from the international community," Du says.
When online lessons became increasingly popular in 2019, Du started a program to make free English lessons, so as to offer quality educational resources to students living in remote areas.
Having worked as an English teacher for years, Du studied the learning methods of many students of English in Beijing, and found that many of them achieved progress through repeated practice. She says a similar practice pattern can also be effective for other English learners, so she designs online lessons helping students complete such practices every day, and hopes those who live in remote areas would benefit from such a pattern as well.
Most Popular