Marathon man
Share - WeChat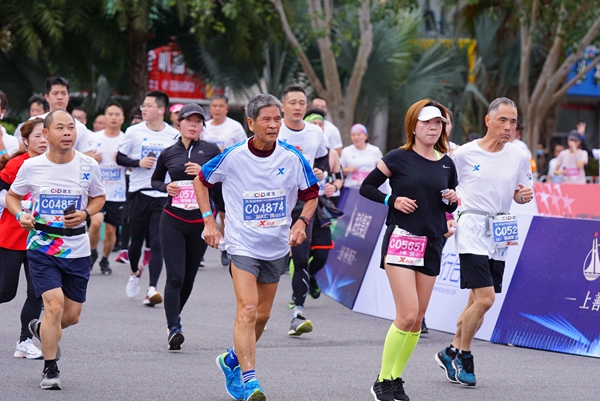 Age is no barrier for athlete who seems to defy nature as he runs in one event after another, Li Yingxue reports.
Inspiration can take many forms-great endeavors, artworks and scientific discoveries. Marathon runners, especially those who seem to defy the normal laws of physics, can also be included in this group, as was seen at the 2021 Xiamen Marathon. The event kicked off at 7 am on April 10. One inspirational competitor in particular caught the public's attention among the tens of thousands of runners. He even had a sign on his back stating"81 years old from Xiamen, Fujian province, Liu Yongren has finished 109 full marathons and 167 half-marathons".
After hitting the finish line a very credible five or so hours later, Liu finished his 110th full marathon. For the past six decades, running has been part of his life and he plans to continue until he hits the 100-year mark.
"My greatest happiness comes from running. If one day I can't finish a full marathon, I can go after a half-marathon. And even if one day I cannot finish 10 kilometers, I'll do 5 kilometers," he says.
Born in 1940, Liu picked up the habit of running at the age of 13, when his grandmother fell ill and he had to run a dozen kilometers to the village to find a doctor.
"The next day I woke up, surprisingly, not exhausted but refreshed," Liu recalls.
He started to practice running at a nearby stadium and took part in the city's 5,000 and 10,000-meter race for several years.
He worked as a porter at the seafront pier and had to haul heavy goods from ships to the warehouse back and forth before he retired in 2000.
Three years later, he ran his first full marathon in his hometown-the inaugural Xiamen marathon. This led to an incredible run of 110 marathons.
"For my first marathon, I got leg cramp at about 28 kilometers, and I walked for around 12 kilometers. At the end, I heard the audience cheering me toward the finish line, so I started to run again," Liu recalls.
"It took me nearly 5 hours to finish my first full marathon," he adds.
He was, then, a sprightly 63.
Most Popular