Red history thriving along highway
Share - WeChat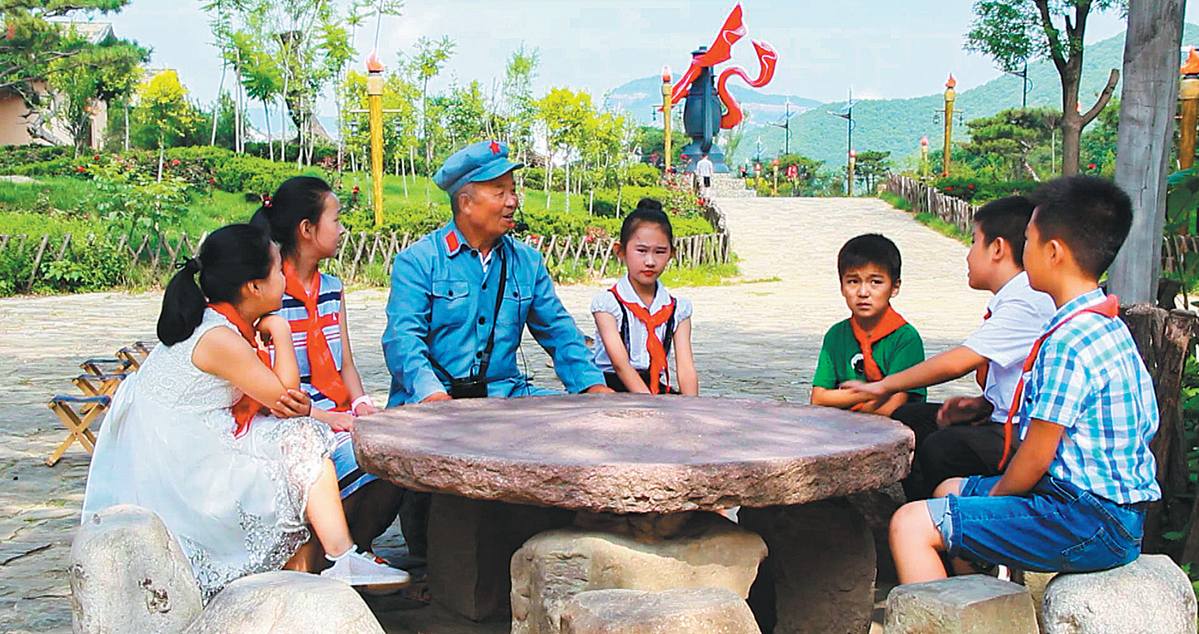 Rich experiences await those who want to get a feel for the heroism and patriotism of past generations
At 7 am, students stood ramrod straight as they sang the national anthem during the flag-raising ceremony at Zhaojin Beiliang Red Army Primary School in Zhaojin town, Tongchuan, Shaanxi province. The song was followed by another about how young people bugle and vow to support the rejuvenation of the country.
The school was built around the site of the Chenjiapo conference, which played an important role in the victory of the Red Army during wartime from the 1920s to 1940s. It was held in August 1933, when the Communist Party of China consolidated and strengthened forces of the army in Northwest China's Shaanxi and Gansu provinces.
In 2018, the school was designated a demonstration school for Red education, which refers to Chinese revolutionary history, the spirit of role models and stories of the CPC. All 160 pupils are immersed in Red songs, Red tales and Red films. They also visit historical museums and sites where major events happened, sometimes outside the province, according to Feng Gangzhan, the school's principal.
"Red culture can help to build their view of the world, life and values, and to develop good morals and civilized behavior," Feng said, adding that behaviors encouraged include picking up trash, saving food, protecting the environment and helping people in need.
Wang Tianjiao, a sixth-grade student, told Shaanxi Daily: "The spirit of heroes inspires me to stick to my dreams." Hou Shiyu, another student, said she learned to cherish life, as it was purchased at a high price through the sacrifices of earlier generations.
Zhaojin, a central base area of the Red Army, witnessed one of the key stages upon which modern Chinese history played out. Red education spreads from children to adults and then around the country. The town has a training center for CPC officials, and its influence has been enlarged as China celebrates the 100th anniversary of the Party this year.
At the Xuejiazhai revolutionary site in a secluded mountain area of Zhaojin, the old military hospital, clothing factory, machinery factory, warehouse and armory have been preserved. Tourists, some wearing Red Army uniforms, learned how the army had built a community and overcome daunting challenges to carry on the fight.
Visits to the Shaanxi-Gansu revolutionary memorial hall in Zhaojin exceed 800,000 annually and is expected to surpass 1 million this year, Song Jianbin, deputy head of the hall, told media in April.
On the Red commercial block, locals have revived old food recipes to offer visitors a taste of the primitive dishes the army once ate-wild plants and steamed cornbread, for example-to give them an appreciation of those hard times and help them learn to cherish the good days today.