Leeds fuels China's piano passion
Share - WeChat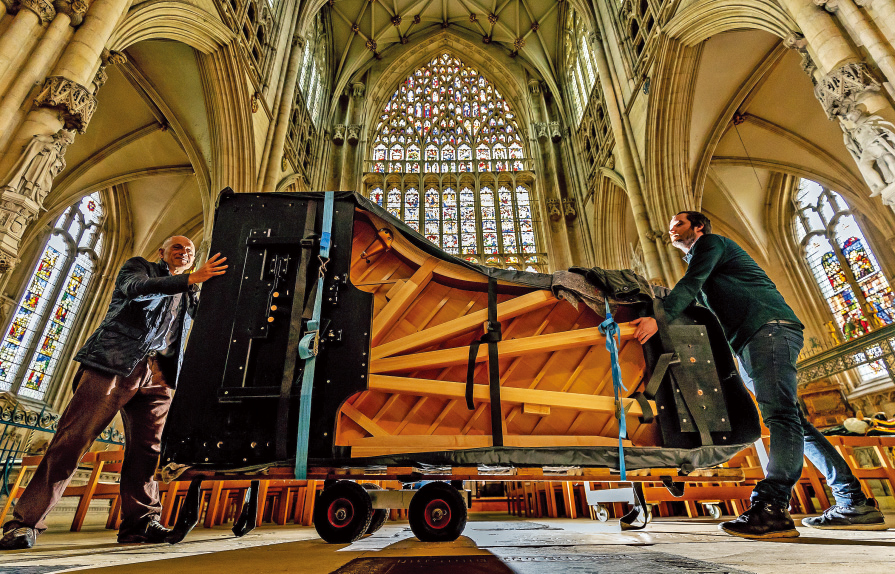 The North of England has much to offer Chinese visitors. Liverpool is home to Europe's oldest Chinatown, and Manchester is not only an increasingly popular investment hotspot, but its huge student population has a large Chinese contingent. However, when it comes to classical music, or more specifically the piano, all roads lead to Leeds, the Yorkshire city that is home to the world-renowned International Piano Competition.
This year marks the 20th staging of the event, won in 2018 by Chinese-American pianist Eric Lu, with China's Wang Xinyuan Wang coming third. Global qualifying has just finished, with 62 entrants vying for one of 24 places at the socially-distanced final in Leeds in September. Of those 62, 11 were Chinese, and three reached the final, the largest representation of any one country.
Li Bingbing won China's National Piano Competition at the age of 10, and has performed all over the world. Now aged 33 and a teacher at the Royal Northern College of Music in Manchester, she said China's developing love affair with the piano mirrored the country's wider transformation.
"Students today are different to how I was at their age," she said. "They're products of the mobile age, so they're a lot more open-minded, and can explore the outside world, which wasn't possible in my day.
"What knowledge I had, I got from my teachers, and I clung to it, but it was limited. Now, every term every conservatoire invites maestros from all over the world, and they exchange ideas.
"My students have a different understanding of how to play, they know how to make music sing, knowledge that I never had, but I might have picked up earlier if I had been born in the UK."
The majority of her students in Manchester are Chinese, and those who have finished their studies and returned home continue to speed up the musical evolution.
"Being a piano teacher in China is a good steady job, and they take back the new knowledge they acquire here, and can change styles very quickly."
When her pupils come to Manchester, they know the significance of being close to Leeds. "The Tchaikovsky (in Russia), Chopin (in Poland) Franz Liszt (in Netherlands) and Leeds are the biggest competitions, the most important ones," she said.
Melvin Besbrode runs Besbrode Pianos in Leeds, exporting antique pianos which are particularly popular in China, and the company is a sponsor of the Leeds competition. He has a unique insight into China's fascination with the piano, as both an object, and as an instrument.
"We have a stock of old pianos that nowhere else in the world has, because when Britain ruled the waves, we bought and made the best pianos, as they were the most important thing in the house," he said.
"Typically something from the end of the 19th century, made for the British market, would be in walnut wood, with candlestick holders, and usually they'd sell around Europe for a few hundred pounds.
"About 10 years ago, somebody sent a few to an auction after the Shanghai music fair and they fetched up to ten thousand pounds ($13,700), and all of a sudden I had a rush of Chinese customers. Just like that, 20 percent of the world's population appeared out of nowhere, with money to buy pianos!"
There are many reasons China loves pianos, he says. "A lot of parents who want the best for their children think learning the piano is a good thing, and the instrument is higher up the cultural scale in China than in other countries," he said.
"For some people, they're a status symbol and an investment. For example, Steinway pianos go up in value by a minimum of three percent per year, and they can only make a limited number, so you know that if you have one, in 10 years' time it will be worth much more."
Besbrode is a friend of Terence Ng, owner of Parsons Music, the world's biggest piano manufacturer, which has around 400 shops across China.
"Parsons is one of around 450 piano factories in China, and makes about 200 instruments a day," he said. "In the United Kingdom, if we sold 2,000 pianos in a year, we'd think that was good, so that shows how hugely important China is for the industry."
Besbrode's company has been involved with the Leeds competition for around 15 years. "Steinway provides the competition pianos, but we give competitors somewhere to practice," he explained.
"Sometimes I can sit in my office in our showroom, a four-storey converted 18th century mill, and hear 3 or 4 of the world's top pianists playing in the building, which is amazing."
Given the ever-growing Chinese involvement in the competition, he has welcomed many of China's finest pianists through his doors to practice, often followed by their compatriots, to purchase.
"Since China started buying pianos, my business has improved incredibly, and I believe that will continue to grow," he said. "It's not just exports, though-about 40 percent of the people who actually come into the building to buy are Chinese."
Antique pianos are of interest to Chinese customers as much for their material value as for their music, and Li says the hours of work put in by China's young pianists are also a form of investment, which means the love affair shows no signs of ending soon. "I'm always amazed by the high standard of such young musicians," she said. "If they're going to keep up at this speed as they get older, the results will be incredible-but things can happen when you're a teenager, and you can go downhill.
"Being a young musician is a bit like the stock market-if you can maintain stability, then that's great, but a lot of people struggle, and the value of the investment goes down. But if you can keep going up, the future can be amazing."