Xinjiang's clean power push epitomizes nation's drive
Share - WeChat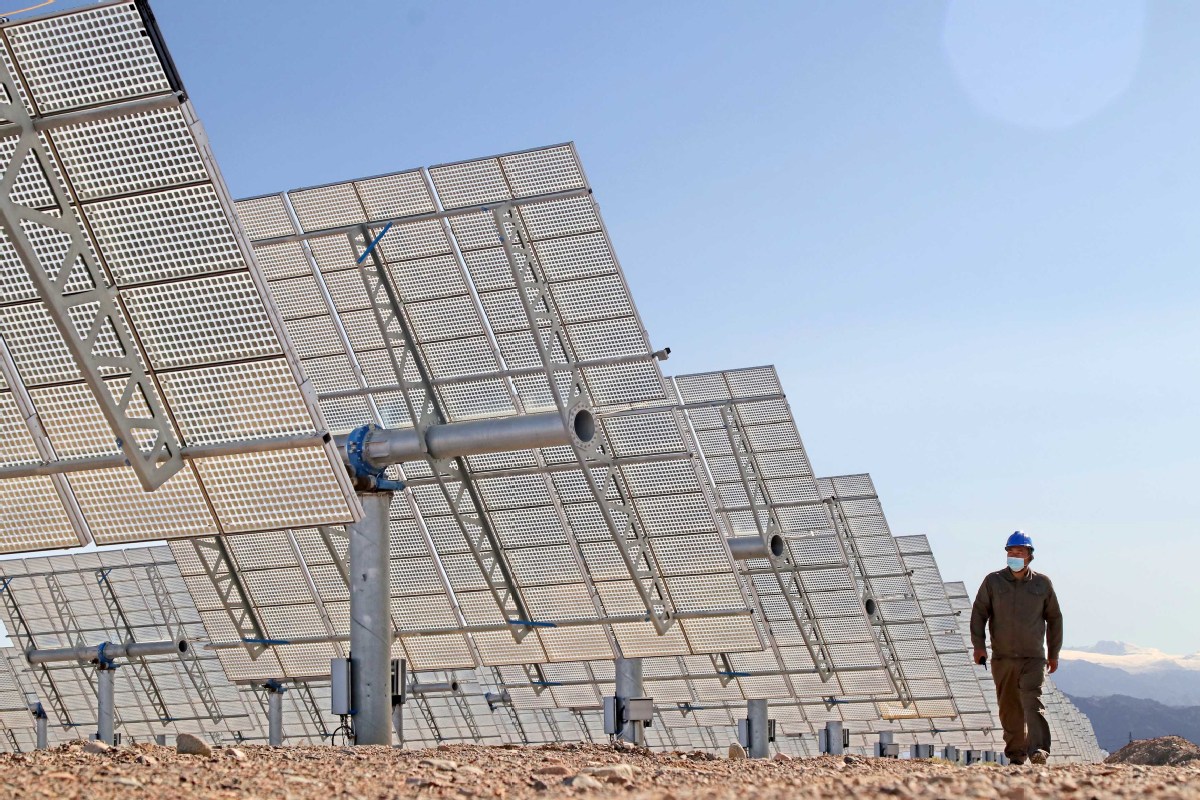 URUMQI-In the vast Gobi Desert in the Xinjiang Uygur autonomous region, over 10,000 pentagonal mirror-like devices form concentric rings resembling a radiating sun. At the very center of the stellar array stands a 220-meter tower.
The project is an attempt by the region to capitalize on its abundant solar energy and turn it into heat and electricity.
The photothermal power station is the first of its kind in Xinjiang. It can generate power equivalent to that of burning some 60,000 metric tons of standard coal each year, reducing carbon dioxide emissions by over 150,000 tons, lending steam to the country's goal to strive for peaking carbon emissions by 2030 and achieving carbon neutrality by 2060.
With the largest land area among provincial-level regions in China, Xinjiang is home to sprawling deserts with limited rainfall but plentiful wind and sunshine.
The northwestern Chinese region has been a pioneer in the country's new energy drive by turning its natural endowments into power for a greener future. A mountainous district in its capital city Urumqi is known as the cradle of China's wind power industry.
Xinjiang generated some 84.45 billion kilowatt-hours of clean energy power last year, a record high. About 32 percent of the electricity was transmitted to 20 other Chinese provinces, regions and municipalities, helping cut over 23 million tons of carbon dioxide.
Xinjiang's new energy push is part of the country's accelerating shift from fossil fuels to clean energy.
Official data showed that China's installed capacity of renewable energy power generation totaled 930 million kilowatts by the end of 2020, accounting for 42.4 percent of the country's total.
Power generated by wind, sun and the like hit 2.2 trillion kWh last year, accounting for 29.5 percent of the country's total electricity consumption, up 9.5 percentage points from 2012.
Developing and facilitating clean energy is one important path for China and the rest of the world to go carbon-neutral, said Liu Zhenya, chairman of the Global Energy Interconnection Development and Cooperation Organization.
China has promised to strictly control coal-fired power generation projects and limit increases in coal consumption over the 2021-25 period and phase down coal consumption gradually till 2030.
The country's carbon peak and neutrality goals mean a stronger resolution and push for the shift to clean energy, offering new growth opportunities for energy market players, said Wu Gang, chairman of Xinjiang Goldwind, a leading wind power equipment producer.
The company has built a pioneering carbon-neutral industrial park in southeastern Beijing. With a smart network of wind and solar energy devices, about half of the park's electricity is powered by clean energy.
On Jan 28, the China Beijing Environmental Exchange issued the country's first renewable energy carbon neutrality certificate to the Goldwind's industrial park in the nation's capital.
China's leading tech firms have become keen on empowering the green energy campaign in China. IT giant Lenovo said it has supported several energy firms' operational upgrades to boost wind turbine utilization rate and power generation efficiency.
Going carbon-neutral is a shared goal and will bring new industrial opportunities, said Lenovo's Chairman and CEO Yang Yuanqing, adding that technology and innovation hold the key to achieving green targets.
Xinhua