A soaring success
Share - WeChat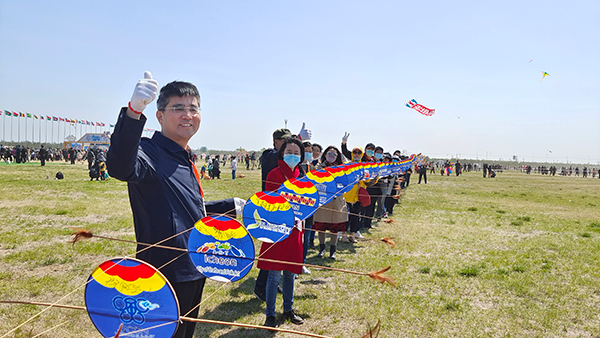 Kite-making hub's annual festival takes flight, Zhao Ruixue reports in Weifang, Shandong province.
Kites can dance! Twenty-one kites flying high in the sky change their positions to form different patterns at the International Kite Festival, which is being held in Weifang, Shandong province.
Each kite-2 meters long and just under a meter wide-is controlled with four strings by one person. Twenty-one people change their steps and deftly tug the strings, leading the kites to form 14 patterns, including one composed of the numbers 1921 and 2021.
"The patterns formed by the kites carry our wishes celebrating the 100th anniversary of the founding of the Communist Party of China," says Sun Litai, head of a kite team from Hebei province.
"It takes an average of two years to master basic skills such as flying the kites in choreographed way that ensures the strings don't get tangled," adds Sun, noting that one of his team members has spent 13 years practicing the skill.
Sun's team consists of 30 members, with the oldest being 72 years old and the youngest 29.
Most Popular