Things to know about all the lies on Xinjiang: How have they come about?
Share - WeChat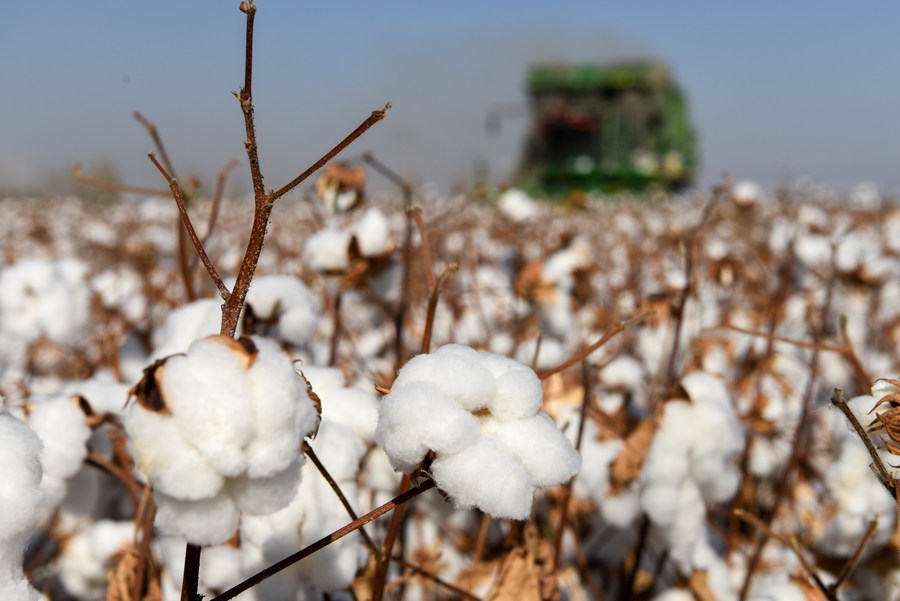 IX. The so-called "Xinjiang Victims Database" poorly put together by anti-China forces is an ill-motivated and baseless project designed purely for political manipulation.
In recent years, anti-China forces have concocted the "Xinjiang Data Project", "Xinjiang Victims Database" and "Uyghur Transitional Judicial Database" by gathering made-up "witness accounts" to misrepresent Xinjiang to the world. Research and verification shows that, of the 12,050 names listed in the three "databases", 1,342 are simply non-existent. Among the 10,708 real names, 6,962 are people living a normal life; 3,244 are convicted for crimes of endangering public security, violent terrorism or other criminal offences; 238 are dead of causes such as illness, and 264 are living outside China. Here is the truth about some of the much reported cases in the so-called "databases".
◆The first category of those cases involve people who fabricated personal experiences.
Some of the "witnesses" in the "databases" are, in fact, hired by Western anti-China forces. These "witnesses" act out the made-up stories to smear Xinjiang abroad and make a living out of it. They choose to be the pawns of Western anti-China forces in exchange for refugee status and material benefits, making up one lie after another about their so-called experience in the vocational education and training centers only to be busted by the truth time and again.
1. Sayragul Sauytbay
Sayragul Sauytbay, female, born in 1976, is from Zhaosu County of Xinjiang.
(1) Activities outside China
Sayragul Sauytbay claimed to have been an instructor at a "rehabilitation class" and accessed classified documents before leaving China, and to be able to prove that 2,500 people were interned where she worked.

On 12 December 2019, Sayragul Sauytbay claimed in a video clip released by the BBC that during her days at the "detention camp", she had been beaten on the head by an electric baton and her personal freedom was restricted, and that surveillance cameras were installed in all the classrooms, dormitories and bathrooms in the "camp".

On 4 March 2020, Sayragul Sauytbay received the US State Department's annual International Women of Courage Award. Mike Pompeo said at the awards ceremony, "Today we also honor Sayragul Sauytbay. Formerly a medical doctor, she was separated from her family, tortured, imprisoned, and faced execution because of her courage to simply speak the truth."

On 20 April 2020, Japanese manga artist Tomomi Shimizu drew cartoons telling a story of "persecution" from the perspective of Sayragul Sauytbay, picturing her as the "survivor of re-education camp".

(2) Reality check
In April 2016, Sayragul Sauytbay was appointed head of the Central Kindergarten of Chahanwusu Town, Zhaosu County, Ili Kazakh Autonomous Prefecture. On 19 March 2018, she became an elementary school teacher in Chahanwusu. Half a month later, on 4 April, she asked for leave from the school. The next day, she left China illegally.

To set the record straight, first of all, Sayragul Sauytbay lied about her experience. She claimed to be a medical-university graduate who had worked as a doctor, but the truth is she only attended nursing course at a vocational school in Ili and has never been a doctor. She initially said she was an instructor at an education and training center, but later claimed to be a victim interned and tortured, subjected to medical experiment and forced to eat pork in the "concentration camp". As a matter of fact, she has never worked or studied at any education and training center, still less been subjected to any compulsory measure. Her whole account of the center is nothing but smear and slander.

Second, Sayragul Sauytbay is a criminal suspect. On 5 April 2018, she left China illegally carrying a Chinese border pass. Her conduct violated the provisions of Article 322 of the Criminal Law of China on illegal border crossing. In June 2015 and December 2016, she obtained two loans totaling 470,000 yuan from the rural credit cooperative of Chahanwusu Town with forged real estate purchase contract and guarantor's signature and fake documents. To this day, she has yet to repay 398,000 yuan worth of debt. Her conduct violated the provisions of Article 193 of the Criminal Law of China on loan fraud. Due to her criminal offences, she has been listed online as a wanted person by the public security authorities according to legal procedures.
Third, Sayragul Sauytbay has a record of dishonest behavior. When she was head of the Central Kindergarten of Chahanwusu Town, she took advantage of her position and appropriated performance bonuses, which hurt the interests of her fellow colleagues. As a result, she was removed from office by the local education authorities in accordance with laws and regulations. Before illegally crossing the border, she talked her younger sister Panar into obtaining a loan worth 45,000 yuan and buying her car, but she never transferred ownership of the vehicle to Panar, much to Panar's resentment.
2. Mihrigul Tursun
Mihrigul Tursun, female, born in 1985, is from Qiemo County of Xinjiang. In August 2010, she registered for marriage with an Iranian in China, and in January 2012, with an Egyptian in Egypt. In April 2015, she gave birth to triplets in Egypt. Two of her children were registered for permanent residence in China in October 2015, and another was entrusted to the care of her husband's cousin. On 22 April 2018, Mihrigul Tursun left China with her husband and two children.

(1) Activities outside China
Mihrigul Tursun went to the United States in April 2018. There, she attended a hearing of the US Congressional-Executive Commission on China as a witness, and gave false testimony citing her so-called "personal experience". In her interviews with CNN and other media outlets, she claimed that she was detained by the police in a "concentration camp", and was forced to take or get injected with unknown medicines. She claimed that people detained there were suffering from torture everyday, and she herself witnessed the death of nine women. She said that one of her sons died in the Urumqi Children's Hospital, and nobody told her why he was admitted for treatment.

(2) Reality check
First, Mihrigul Tursun was fully free in China except for the 20 days under criminal detention. On 21 April 2017, she was criminally detained by the Public Security Bureau of Qiemo County on suspicion of inciting ethnic hatred and discrimination. She was confirmed to have infectious diseases. The Bureau revoked the compulsory measures on 10 May 2017 out of humanitarian considerations. Between 2010 and 2017, she made 11 trips between China and countries including Egypt, the United Arab Emirates, Thailand and Turkey.
Second, Mihrigul Tursun had never studied in any vocational education and training center, nor had she ever been forced to take any medicine. She claimed that the drugs and medicine she was injected with in the "concentration camp" caused her infertility. As verified by investigation, there was no sterilization record, and her parents said that she was fertile.

She also lied about her younger brother, claiming that he was abused to death in a vocational education and training center. When hearing this, Akbar Tursun, her "dead" brother, stated publicly that Mihrigul was a habitual liar, and that she had not only lied about his death, but also rumored about watching others die.

Third, Mihrigul Tursun's son did not die when receiving treatment in Urumqi. One of her sons, due to illnesses such as pneumonia, hydrocephalus and right-side indirect inguinal hernia, was taken to Urumqi Children's Hospital by Mihrigul Tursun herself and her family. The boy was hospitalized for treatment from 14 to 19 January, from 6 to 12 May and from 4 to 8 November in 2016. In April 2018, Mihrigul Tursun and her husband left China with this child.
3. Zumrat Dawut
Zumrat Dawut, female, born in 1982, is from Urumqi of Xinjiang. She left China in January 2019.
(1) Activities outside China
Since 20 September 2019, in interviews with Radio Free Asia and other media outlets, Zumrat Dawut claimed to have been interrogated by the public security departments in Xinjiang and detained in a vocational education and training center for reasons including being married to a Pakistani. She alleged that she had been brutally persecuted, forced to take contraceptives with other women detained there, and forced to undergo sterilization with her uterus resected. She also asserted that she was served a pork dish in the Han family that her family was paired up with. On 24 September and 2 October 2019, she attended as a witness and gave false testimony at a panel discussion on "international religious freedom" and a seminar on "human rights crises in Xinjiang" held by the US State Department. On 12 October, she said that her neighbor in Xinjiang told her that her father had died after multiple rounds of police interrogations.

(2) Reality check
First, Zumrat Dawut had never studied in any vocational education and training center. This was confirmed by her fifth eldest brother Abduheili Dawut in an interview.

Second, Zumrat Dawut had never undergone any forced sterilization. Before she gave birth to her third child in the Urumqi Maternal and Child Health Hospital in March 2013, she had signed a delivery consent form, agreeing to a cesarean section and tubal ligation, and she received the surgeries at the hospital. She never had a forced sterilization, not to mention any hysterectomy.
Third, the so-called "pork dish" was a sheer fabrication. The paired-up family she referred to is the family of Zhao Qilin, the paired-up family of her fifth eldest brother Abduheili Dawut. In January 2018, Zhao Qilin invited Abduheili Dawut, his wife Horqiz Ahmat and his sister Zumrat Dawut over to his home. Zhao's mother cooked for the guests. There is no chance that Zhao's mother, an ethnic Hui herself, would ever prepare a pork dish. The two families took a picture when having dinner together.

Fourth, Zumrat Dawut's father had never been detained. According to her fifth eldest brother Abduheili Dawut, their father had been living with his children all along, and had never been investigated or detained. Their father passed away due to coronary heart disease. Zumrat Dawut's claim that her father died after police interrogations was a complete lie.
4. Gulzira Auelhan
Gulzira Auelhan, female, born in 1979, is from Yining County of Xinjiang.
(1) Activities outside China
In an interview with the BBC on 15 January 2020, Gulzira Auelhan claimed that she had been detained for 15 months, during which she was tortured and injected with unknown medicine. She purported that she had worked in a glove factory after being released and had to report to the police on her whereabouts, and that her husband was also under surveillance after he was released.

(2) Reality check
First, Gulzira Auelhan defaulted on a bank loan. It was found out that she, along with four others in her village as co-guarantors, borrowed 40,000 yuan from the Yining County Rural Credit Cooperative. She never paid back the interest of the loan even after it had matured, and was blacklisted by the bank.
Second, she has a record of dishonest behavior. In her interview with The Globe and Mail, she said that her life goal was to bring up her children. Yet facts proved otherwise. She has no biological child, and has been indifferent to her three stepdaughters of her third husband. After she left China, she even asked her stepdaughters to pay her debts.
5. Tursunay Ziyawudun
Tursunay Ziyawudun, female, born in 1978, is from Xinyuan County of Ili Prefecture of Xinjiang.
(1) Activities outside China
After leaving China on 26 September 2019, Tursunay Ziyawudun had several interviews by the BBC and other foreign media outlets, during which she claimed that women detained at the education and training centers had to either undergo surgical sterilization or take medicine to stop menstruation, and that she was forced to undergo irreversible tubal ligation and sterilization. In an interview with the BBC on 2 February 2021, she said she had "experienced and seen sexual abuse".

(2) Reality check
First, Tursunay Ziyawudun has never had any medical record of contraceptive operation.
Second, what she said in the interviews is inconsistent. In an interview with the BBC this year, she said that police at the center knocked her on the floor and kicked her in the abdomen, and she almost passed out. However, in an interview with the American website Buzzfeed last year, she said "I wasn't beaten or abused." She claimed that she was under house arrest from January to June 2019. But her passport was issued on 13 March 2019, and passports must be applied in person at government agencies. If she were under house arrest, how could she go out to apply for her passport?
6. Rahman Shanbay
Rahman Shanbay, female, born in 1987, is from Tekes County of Xinjiang.
(1) Activities outside China
After leaving China on 19 December 2018, she was interviewed by The Globe and Mail and other foreign media outlets. She claimed that she was interned in a room with 24 women, and was chained with handcuffs and shackles for one week because the application "WhatsApp" was installed on her cell phone.

(2) Reality check
First, Rahman Shanbay underwent investigation in accordance with the law. She was inquired by local police after being reported to have stored terrorist and extremist audios and videos on her cell phone and watched them frequently. Given the minor nature of her crime, her confession and remorse, she received only admonition as required by law.
Second, Rahman Shanbay was never interned. Her mother Danishban Musa said "my daughter indeed went to a police station and was subjected to inquiry because she was influenced by religious extremism and was suspected of committing a crime. However, she came back only three hours later, and since then she has stayed at home, helping me and my husband take care of the cattle."