Bridge of heroes spans history
Share - WeChat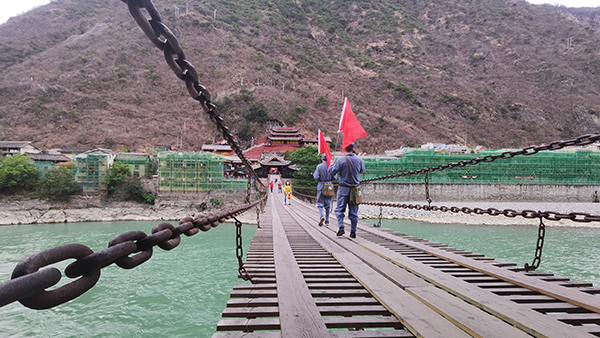 Crossing's significance in red lore has turned the area into a popular attraction, Huang Zhiling reports in Luding, Sichuan.
Since March, the number of tourists visiting the Luding Bridge in the Ganzi Tibetan autonomous prefecture in Sichuan province has been increasing.
"Each day, between 1,000 and 2,000 people arrive. For safety concerns, only between 80 and 100 people are permitted to be on the bridge at the same time," says Li Yuanjiao, an administrator in charge of the bridge.
The surge in the number of tourists has much to do with the upcoming 100th anniversary of the founding of the Communist Party of China on July 1, as the bridge reminds people of its important historical moments.
Every Chinese person has learned of the bridge's importance from history books at a young age. During the Long March 86 years ago, the bridge was crucial to the survival of the CPC-led Red Army.
The Long March began as a retreat from Ruijin in Jiangxi province where the Provisional Central Government of the Soviet Republic of China was set up in 1931.
The central Soviet area had to be abandoned in 1934 after the Red Army failed to break through the one-year-long fifth campaign launched by Kuomintang leader Chiang Kai-shek.
Chiang built blockhouses with machine guns to block all routes out of the area. But the Red Army managed to find a way out of the blockade.
Initially, the evacuation of 86,000 people was in shambles. Disorganized and ill-equipped, the first lap of the Long March was accomplished at an enormous cost, with the army fighting every inch of the way. Some 50,000 soldiers lost their lives in the Battle of the Xiangjiang River at the junction of Hunan province and today's Guangxi Zhuang autonomous region.
At an important meeting in Zunyi in Guizhou province, Chairman Mao Zedong emerged as the leader. The march was transformed from a flight in disarray into a call to arms against Japanese aggression. It also led to a base in Yan'an in Shaanxi province via Sichuan.