Divergent paths to common prosperity
Share - WeChat Ganzhou is adopting a grab bag of innovative strategies, often integrating the most ancient and advanced technologies, to enable rural residents to overcome poverty.
Salted duck eggs. Ethnic She culture. Livestreaming farmers. E-commerce. Red tourism. And much more.
Jiangxi province's Ganzhou has adopted a myriad of innovative methods to lift its people out of poverty.
Take "Sister Passion Fruit", for instance.
Her "office" is a desk set up in front of a camera in an orchard, where she promotes and sells the produce from which she takes her nickname.
And the web celebrity's passion for passion fruit has born fruit in every sense of the term for Xunwu county's farmers. Her sales via livestreams have helped over 2,400 households in 30 villages climb above the poverty line.
"Many of the farmers are elderly. The internet isn't their thing," she explains.
That's where she comes in.
"I can sell as many as you give me," she says.
"If you have 1,500 kilograms today, I'll make sure they're sold out by the end of the day. Sometimes, I have to ask customers to wait a day or two for more fruit to ripen."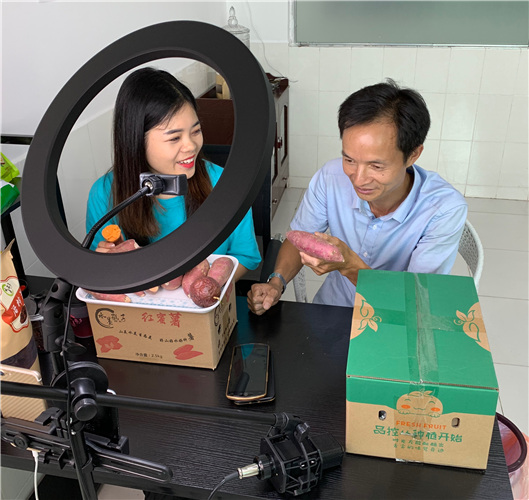 Fields of streams
The local government also provides free seedlings and guidance for farmers.
And it opened a 5G-livestreaming training center and studio in Anyuan's Hezi township in 2017 to help around 380 mostly young villagers learn how to use the new technology to sell passion fruit, sweet potatoes and tangerines.
The writing is literally on the wall of the training center. Its exterior is emblazoned with the slogans: "Let mobile phones become the new farm tools. Let livestreams become the new farm work. The internet reaches everywhere under heaven."
Mobile-internet technologies are indeed becoming just as important to food producers as the tools used to cultivate the earth in places like Ganzhou.
Agriculture is as old as civilization itself. But new technologies are enabling farmers - who've traditionally been some of the planet's poorest people, and still are in much of the world - to harvest new prosperity.
Most Popular