Steel Roses close on Olympic qualification
Share - WeChat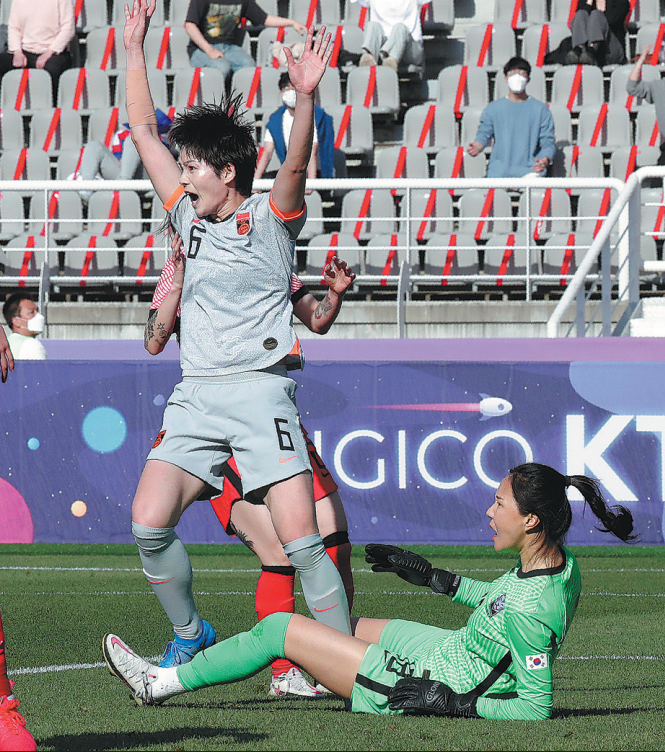 Team China in driving seat after gutsy first-leg playoff victory in South Korea
Team China took a big step toward booking a spot in this summer's Tokyo Olympics with a hard-earned 2-1 first-leg win over South Korea in their qualification playoff.
Midfielder Zhang Xin set the Steel Roses on their way by capitalizing on poor defending by the host in Goyang to strike from close range in the 33rd minute.
South Korea was level just nine minutes later when Kang Chae-rim produced a superb finish after a mazy run from the right.
China emerged the more aggressive side after the interval and got its reward in the 72nd minute when the referee awarded a penalty for a foul on forward Tang Jiali.
Wang Shuang converted from the spot to ensure China will start next Tuesday's second leg in Suzhou, Jiangsu province with a one-goal advantage.
Thursday's first-leg triumph maintains China's recent unbeaten streak against South Korea, comprising five wins and a draw from their last six meetings.
With a limited amount of fans in the stands cheering on the host at Goyang Stadium, Steel Roses head coach Jia Xiuquan was thrilled with his charges' performance.
"In recent years, we can see the growth of Chinese domestic soccer leagues. Our players know how to adapt in away matches in front of the fans of their rivals," said Jia.
"The support in the stadium just gives my players more incentive to win and helps them produce better performances on the pitch."
China is ranked 15th in the world, three spots ahead of South Korea. Speaking before kickoff, Jia said:"Anyone who knows Asian women's soccer, would know that both China and South Korea have had respectable world rankings in recent years. The gap between the two teams is very small.
"Since I took over the national team, we played two matches against South Korea before this game. And although we won those games, they still impressed me a lot. For me at least, I always believe they are a strong Asian team. We will give everything we have during this process and try our best to achieve our goal with our own style."
The Steel Roses' road to Tokyo has been made extra bumpy by the COVID-19 pandemic.
In February last year, the start of the team's third round of Asian zone Olympic qualifying coincided with the coronavirus outbreak in Wuhan, Hubei province, resulting in those games being moved to Sydney, Australia at short notice.
Aside from losing home advantage, the switch proved to be something of a logistical nightmare for Team China. Players were quarantined in their hotel rooms just two days before their opener against Thailand, among a multitude of other issues in the build-up.
Still, the squad persevered through those difficulties to advance to the playoff round, which was repeatedly postponed because of the pandemic. Thanks to China's successful control of the pandemic, being able to compete for their clubs in the domestic league has at least kept the Steel Roses match-fit.
"We experienced a long quarantine in Australia and we were able to adapt quickly. We have been a very united team and we have a strong will to win. Winning a ticket to the Tokyo Olympics is our priority now," said defender Wang Xiaoxue before kickoff on Thursday.
Head coach Jia is confident his players have retained their fighting spirit from those testing times last year.
"Our matches have been postponed for a long time. All of our team members have a strong desire to win," Jia added."I competed in the (1988) Olympics as a player. I really want to get this Olympic ticket as a coach, together with my players.
"The two teams faced the same situation and have the same time to rest and prepare. So I don't think we have had more difficulties than our opponents."
To ensure the safety of the Steel Roses during the South Korea trip, the Chinese Football Association devised comprehensive COVID-19 countermeasures and assigned medical experts to travel with the squad.
Players wore protective gear en route to their hotel and strictly followed the local epidemic prevention regulations in South Korea.
"It took a long time to enter South Korea after landing. That shows the South Korean government is taking responsibility for our safety," said Jia. "It took a long time and we had lots of forms to fill out. We understand all that and there's nothing to complain about, so I want to thank the local epidemic prevention department for their help."