Li Tie keeping Team China's winning streak in perspective
Share - WeChat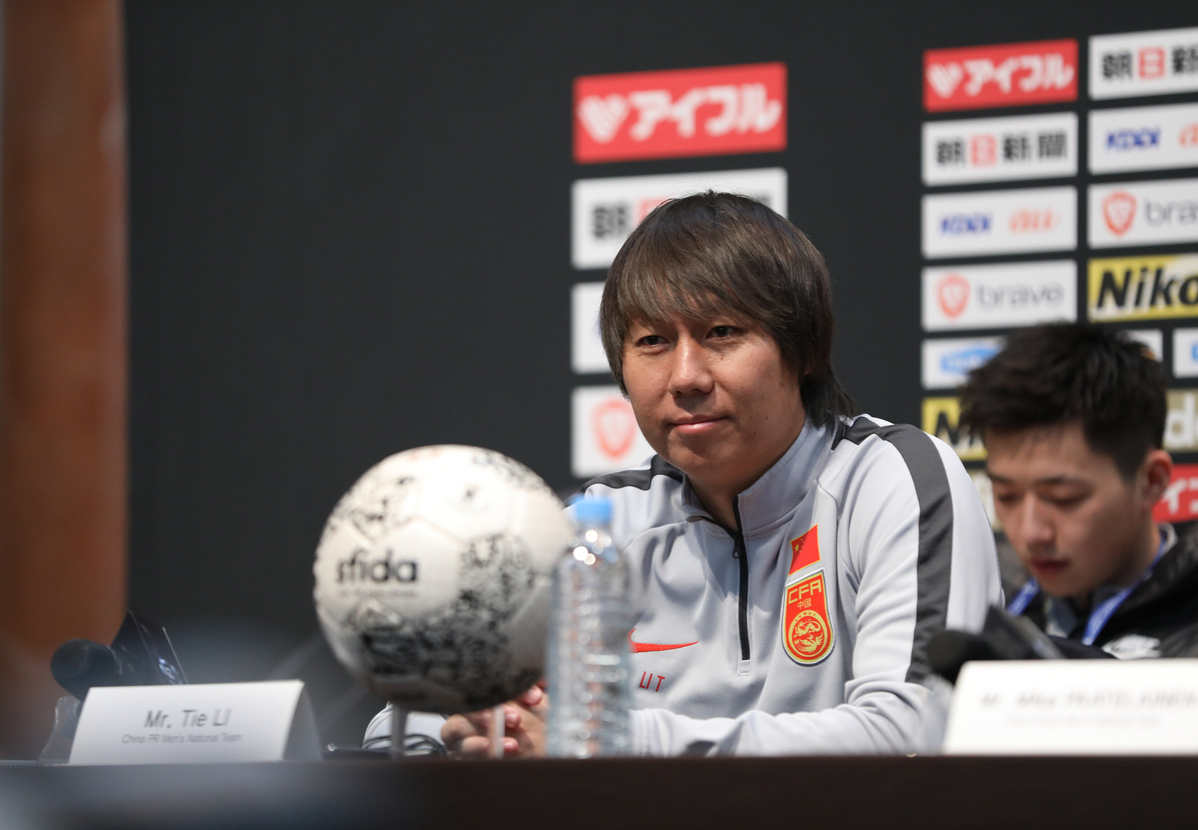 It's so far, so good for Team China head coach Li Tie, who remains unbeaten in the warm-up matches he has taken charge of. However, Li, his players and the fans are well aware that tougher tests await in the team's crucial forthcoming World Cup qualifiers.
Tuesday's 2-0 victory over Chinese Super League outfit Henan Songshan Longmen in Shanghai was China's seventh straight win under Li, who officially took charge in January 2020. The victory came courtesy of goals from Brazil-born naturalized striker Ai Kesen, aka Elkeson, and midfielder Zhang Xizhe.
Coach Li wrote on Weibo that he was "touched and proud" of the players' performance in Shanghai, where they are nearing the end of two-week training camp. However, observers have cautioned that stronger opponents await in May's qualifiers. "Since last year, Team China has kept winning its warm-up matches. However, compared with other Asian teams, the quality of the Chinese squads' warm-up matches have not been competitive enough," read a commentary from Guangzhou Daily.
"Last week Japan played a warm-up match against South Korea. And Syria, which is Team China's strongest rival in the same group of the Asian qualifiers, warmed up against strong national teams like Iran."
Team China's hopes of making the 2022 World Cup finals in Qatar appear extremely slim, with the squad even facing a tough task to reach the next phase of Asian zone qualifying.
With four games left to play in Group A, China is eight points adrift of leader Syria and only leads third-place Philippines on goal difference. The eight group winners and four best second-place finishers will enter the next phase of qualifying.
China will face the Maldives and Guam in May before taking on stronger rivals the Philippines and Syria. Li's men will at least enjoy home advantage, with the matches to be played in Suzhou, Jiangsu province.
Finding suitable warm-up opponents has been complicated by the COVID-19 pandemic, with Team China remaining at home due to travel restrictions and health and safety concerns.
Still, no matter who the opposition is, wins breed confidence-something Li reckons has been in short supply for the national team in recent years.
"I don't think the players are confident enough. That's why they struggle to always perform well in important matches," the 43-year-old told CCTV.
"And the lack of experience of playing international games is another reason. Some players have great performances in the Chinese Super League, but then they have to deal with much bigger pressure playing for the national team. There are tens of millions of people watching their performance.
"I was a Team China player, and I know how stressful it can be to represent the nation on the pitch. Everyone can be nervous, but we need to learn how to cope with the pressure. That's how they can become more mature players."
Injuries aren't making Li's job any easier. The head coach initially called up 28 players for the Shanghai training camp, which ends on Saturday. However, several key players, including naturalized stars Fernando and Jiang Guangtai (aka Tyias Browning), were ruled out with injuries.
It's still unclear if they will be available for May's qualifiers.
"So far, I haven't been able to have all the players I want for any of my training camps," said Li. "We will have our last training camp in late May. I just hope all of our players can return to full fitness. We will only have 10 days for the next training camp, so we need to let the players build up a chemistry in that time. That will be our last chance."
In terms of those who have been available, the head coach says he is satisfied with the spirit they have shown on the pitch.
"All of them told me that they are willing to play for the team, and they all want to prove themselves in the Chinese national team. I am really happy about that," Li told Xinhua.
"When these naturalized players join the national team for the first time, the first thing I do is make them familiar with all the other players.
"I ask the interpreter to prepare them a piece of paper with all the players' names and nicknames. Some of them, such as Alan, mix well with the others from the start."
Most Popular
Highlights
What's Hot