Manufacturing PMI edges up in March
Share - WeChat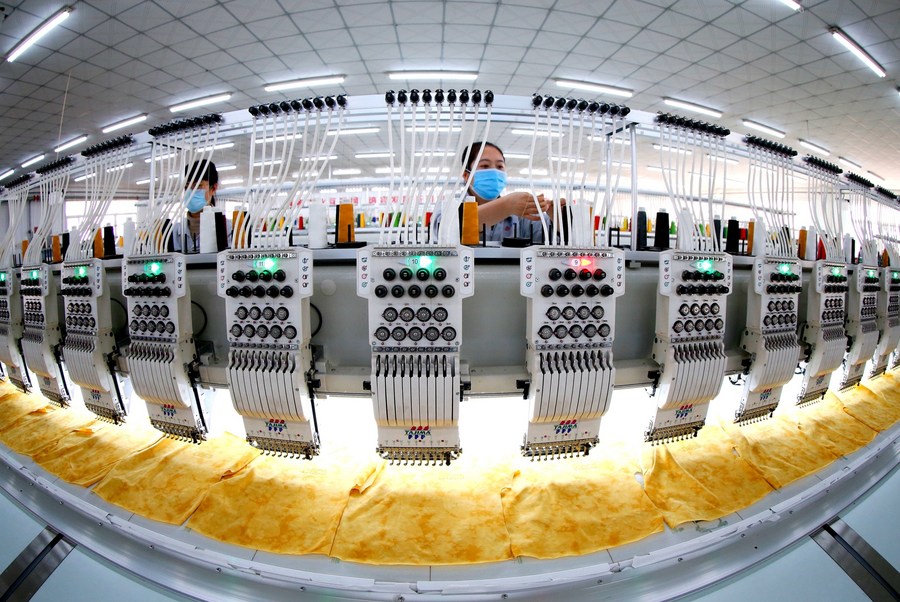 The purchasing managers' index for China's manufacturing sector came in at 51.9 in March, up from 50.6 in February, data from the National Bureau of Statistics showed on Wednesday, indicating a faster-than-expected recovery and soaring demand from the wider economy.
The bureau's figures show that the PMI for large businesses was 52.7 percent, while it was 51.6 percent for medium-sized enterprises and 50.4 percent for small firms, all up from the February levels.
A reading above 50 indicates expansion, while a reading below this reflects contraction. The index is a key barometer of the health of the nation's manufacturing sector.
The production subindex stood at 53.9 in March, up 2 percentage points from February, while the subindex for new orders rose to 53.6 percent, up 2.1 percentage points from last month, indicating a faster expansion of production and demand in the manufacturing sector, according to the bureau.
Zhao Qinghe, a senior statistician at the bureau, said that the rise is mainly attributed to accelerated production after the Lunar New Year holiday during mid-February and that the manufacturing industry rebounded significantly in March.
As COVID containment efforts have been consolidated, consumer demand continues to be released, and the service industry accelerated its recovery, Zhao added.
Lu Ting, chief China economist at Nomura Securities, said that the large rebound is attributed to the lifting of constraints on economic activity before and during the Lunar New Year, and the ensuing release of pent-up demand in March thanks to the successful containment measures.
Noting that Wednesday's PMI figures may give a boost to market sentiment, he said he expects both the manufacturing and nonmanufacturing PMIs to moderate in April.
Li Qilin, chief economist at Shanghai-listed Hongta Securities, said that the PMI figures in March have exceeded market expectations and signaled that economic recovery is gathering pace.
He noted that economic activities have gained momentum from the demand side, with the new export order and import subindexes rising to 51.2 and 51.1 respectively, adding that the quick rise in the number of new export orders had exceeded market expectations.
Meanwhile, demand in the nonmanufacturing sector is also showing a solid recovery. The PMI for China's nonmanufacturing sector was 56.3 in March, up from 51.4 last month, with the new-order index in the construction sector coming in at 59 percent, up 5.6 percentage points from last month.
Li said the strong recovery, particularly in the service sector, is mainly attributed to China's large-scale vaccination program, which boosted offline consumer activities, including travel.
Meanwhile, with the introduction of special local government bonds and the weather turning warmer, the prospects in the construction sector are also improving.