Torch relay provides ray of hope for Games
Share - WeChat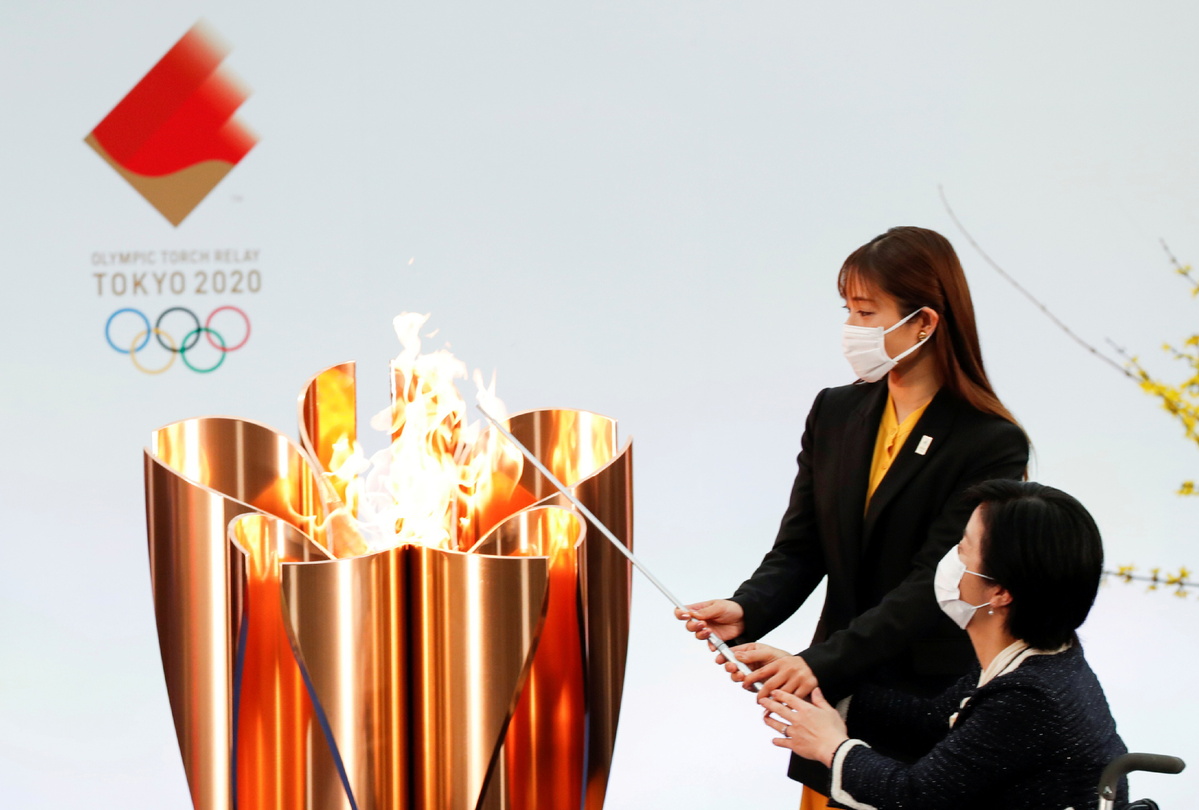 In a much scaled-down opening ceremony which was closed to the public, the torch relay for the delayed Tokyo Olympics began its 121-day journey across Japan on Thursday, a sign of hope amid fears caused by COVID-19.
With waves and smiles, but no cheers, members of the Japan women's football team that won the Women's World Cup in 2011 became the first runners.
They carried the torch out of the J-Village of Fukushima, a sports complex that served as an operational hub for emergency services after the meltdown at the nearby Fukushima Daiichi nuclear power plant.
Seiko Hashimoto, head of the Games' organizing committee, said the start of the Olympic flame's journey was a sign of hope.
"For the past year, as the entire world underwent a difficult period, the Olympic flame was kept alive quietly but powerfully," she said."The small flame did not lose hope, and just like the cherry blossom buds that are ready to bloom, it was waiting for this day."
The Japanese authorities' choice of Fukushima as the launching point was heavily symbolic - the Games were referred as the "Recovery Olympics" to highlight the slow recovery of the northeast coast from the March 2011 earthquake, tsunami and nuclear disaster which killed more than 18,000 people, along with the world's recovery from COVID-19.
Hashimoto said she hoped the relay would inspire people in Fukushima who are "still struggling to get their lives back to normal" and "the entire world should take a look at the reconstruction done in East Japan".
Enjoying the excitement
Although fans were told to social-distance along the roadside and refrain from loud cheering, a few hundred people still enjoyed the excitement when the torch passed.
"Ten years ago there was a nuclear accident. Seeing the torch, it felt like I could really look forward to something and live," Setsuko Hashimoto, a 63-year-old local resident, said."When you become my age, this is the last Tokyo Olympics and it's here."
About 10,000 people will join the relay over the next four months, from Fukushima to Okinawa in the far south to Hokkaido in the north and make a final stop at the Olympic Stadium in Tokyo on July 23.
As the country is still recording over 1,000 COVID-19 cases daily and health experts warn a fourth wave is in sight, sentiments expressed in polls in Japan so far are overwhelmingly negative. About 80 percent of people suggest another delay or cancellation of the Olympics.
Agencies contributed to this story.