Serious approach to comedy
Share - WeChat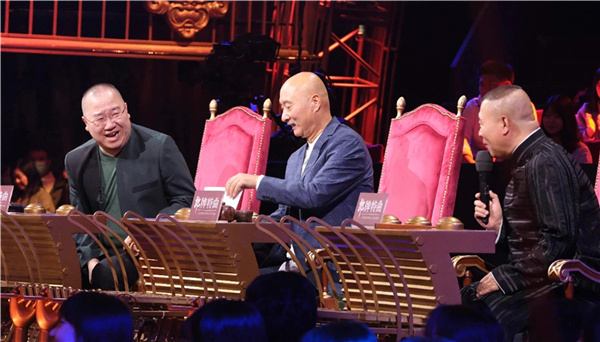 New TV show sees veteran funnymen nurture future talent, while encouraging them to work harder for the laughs and think deeper about their craft.
Generations of Chinese were once used to seeing the amusing performances of Chinese actor and comedian Chen Peisi, particularly his turns on the stage of China Central Television's Spring Festival galas in the 1990s that made him a household name.
However, it's not his comedy antics that will be the focus of his return to the TV network, now a part of China Media Group, after a 20-year hiatus.
With his white mustache, the 67-year-old has shaken off the image of the mischievous young man from those vintage clips and, for the 12-episode variety show Gold Medal Comedy Class, he is more of a mentor, inspiring a new generation to think about the deeper meaning of comedy.
"I'm still an actor, just an old one,"Chen says in an online interview."I only want to pass my experiences down to young people and nurture their talent."
Chinese variety shows don't lack laughter, as an abundance of stand-up comedy programs have hooked numerous fans in recent years, but Gold Medal Comedy Class, which premiered in February, now reminds the audience that creating comedy is a serious business.
In the program, young comedians follow three veteran mentors-Chen, director Ying Da, and crosstalk (xiangsheng) performer Guo Degang-to explore different genres of performance of short stage dramas mixed with music, magic, and puppet shows, among others. It's designed to help people to see how brilliant comedians get rigidly trained, inheriting traditional elements of Chinese stagecraft and evolve over time.
"Brilliant comedies stand solidly on a foundation of great works, great scripts," Chen says. "That's why so-called performance skills should not be overwhelmingly highlighted. If we tend to just follow certain popular formats, and forget what kind of original content is needed, that won't result in a good production."
While most performances in the show still focus on people's daily lives at home and in the office in a bid to find an emotional resonance with the audience, many young comedians try to break down the barrier between comedy and serious themes, such as history-or even war-to explore human nature.
Nevertheless, from the point of view of the mentors, creativity in traditional comedy still has a long way to go.
For example, in one stage drama on the show, performers adapt the classic story of the Monkey King to include musical elements and dance. While the live audience burst into laughter, the three seasoned veterans saw the performance as merely a series of punchlines, noting a lack of chemistry among the actors.