At UN, a call to address women's poverty
Share - WeChat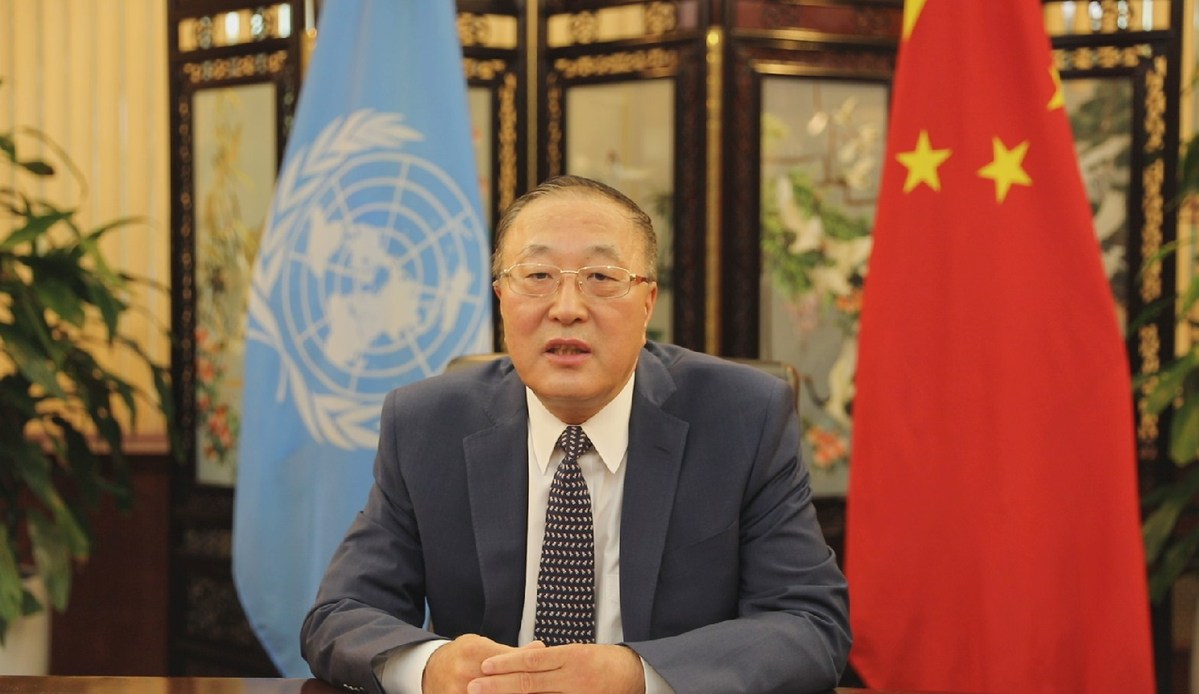 Diplomats from China, the European Union, officials from the United Nations and civil society leaders gathered to share the progress made and challenges in reducing poverty among women.
Nearly 150 participants attended the webinar Friday co-hosted by China's Permanent Mission and the Delegation of the European Union to the United Nations, which was held on the sidelines of the 65th Session of the Commission on the Status of Women.
"Eradicating poverty among women is a critical area of concern of the Beijing Platform for Action and a focus of China's poverty-reduction efforts," said Zhang Jun, China's permanent representative to the UN, in an opening speech.
The ambassador noted that China has lifted about 99 million rural poor out of poverty, half of whom are women. That achievement is in itself a great human rights project that has improved women's rights in China, Zhang said.
He said the COVID-19 pandemic has worsened the challenges women face in education, health and employment. It also has increased poverty among women.
Zhang stressed the importance for countries to explore ways of poverty-reduction that take into account their national conditions and lay the foundation for women's development.
The envoy identified several areas that need to be prioritized: developing policies to make women's poverty-alleviation a national commitment; focusing on key issues and struggles faced by the most vulnerable groups; strengthening capacity-building and improving institutional guarantees for women's development; establishing partnerships to form synergies in the society; as well as strengthening international cooperation.
"China is ready to work with all partners to build a world free from discrimination against women, a society of inclusive development, and a community with a shared future for all," Zhang said.
Olof Skoog, head of the European Union delegation to the UN, said women earn 24 percent less than men globally, and it will take 170 years to close the gender pay gap.
"I don't know how to look my daughter in the eye and explain that she's more ambitious than her brothers," he said.
The international community has a common responsibility to uphold the promise in the Beijing Declaration and Platform for Action, Skoog said, in reference to a blueprint for women's rights produced at the Fourth World Conference on Women in Beijing in 1995.
Asa Regner, assistant secretary-general and deputy executive director of UN Women, said that due to the consequence of COVID-19, more women than men will be impoverished this year.
This trend is expected to worsen by 2030, threatening the achievements of the UN Sustainable Development Goals on poverty and gender equality, she said.
Regner expressed hope that China and the UN will continue to strengthen their cooperation.
"UN Women counts on the support and the collaboration of the EU and China to make a more prosperous and equal future a reality for all women and girls," she said.
Xie Caizhen, vice-president of Serve for China (SFC), shared her organization's experience in supporting rural women by helping them commercialize their products.
The organization where Xie served is a youth-led nonprofit that aims to lifts thousands of rural residents out of poverty by placing top university graduates and young professionals to villages where they can use their skills to promote rural development and social entrepreneurship.
The young people at these rural villages often left to seek better opportunities and higher salaries in cities, leaving behind women, children and elderly residents who have no stable source of income, Xie explained.
An example she gave of SFC's work is a cooperative it established with women at a rural village in Hunan province, where the per capita disposable income was less than 2,000 yuan four years ago.
Her fellow SFC colleagues discovered that many of the women were equipped with basic traditional Miao embroidery skills, so her team tried to help them make money through their own craftsmanship.
The initiative wasn't successful at first, but after SFC helped the female villagers reinterpret the classic paintings of famous artists and displayed their works at an exhibit in Beijing, orders came in quickly. They even captured the attention of some fashion brands.
After four years of work in the village, the SFC helped more than 200 women pick up Miao embroidery skills and increased the household incomes of 50 poor families.
SFC also helped bridge digital technologies.
According to Xie, in China, more than 90 percent of poor villages are now connected to fiber optics and the 4G network, and almost every rural woman has a cellphone with access to the internet.
The SFC helped rural residents sell their products through online stores, like on Taobao and WeChat, which spurred an increase in sales.
"Since 2016, SFC has sent more than 100 fellows and volunteers to over 30 impoverished villages, raising funds of nearly 20 million Chinese yuan for the villages and generating nearly 20 million Chinese yuan in revenues. Thousands of villagers are out of poverty with our contribution," she said.