A budding attraction
Share - WeChat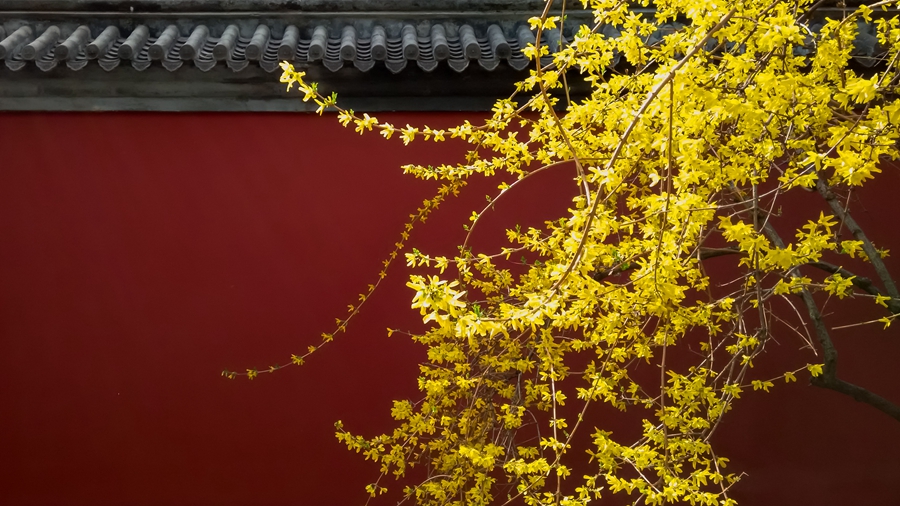 As the drab gray of winter is on the wane, Beijing prepares to dazzle visitors and residents alike with the floral finery of springtime, Yang Feiyue reports.
Beijing has four distinct seasons. Spring is time for the capital city to dress in blossoms. It might be common to enjoy the fragrance of flowers elsewhere, but in Beijing, they can be appreciated alongside the ancient buildings nestled among them.
The Beijing Municipal Bureau of Culture and Tourism has rolled out a dozen themed spring tours for visitors to enjoy. Here is a quick guide of the best routes.
Winter jasmine
These golden-yellow flowers can be widely seen in Beijing in March. Their beauty is amplified by the red walls and green tiles of historical buildings.
At the northern gate of Beihai Park, winter jasmine provides a picturesque scene against the backdrop of water, hills and pedestrian activity and has been a perennial favorite of photographers. The blossoms are accentuated by the nearby lake stones of various shapes and sizes.
In Zhongshan Park, winter jasmine breathes life into the solemn ambience of the royal site, where sacrificial ceremonies were once held during the Ming (1368-1644) and Qing (1644-1911) dynasties.
The Ming Dynasty Wall Relics Park doesn't have the most winter jasmine but claims to offer the most delicate samples, set against the ancient gray city wall.