Texas, Florida wrestle with local officials over mask mandates
Share - WeChat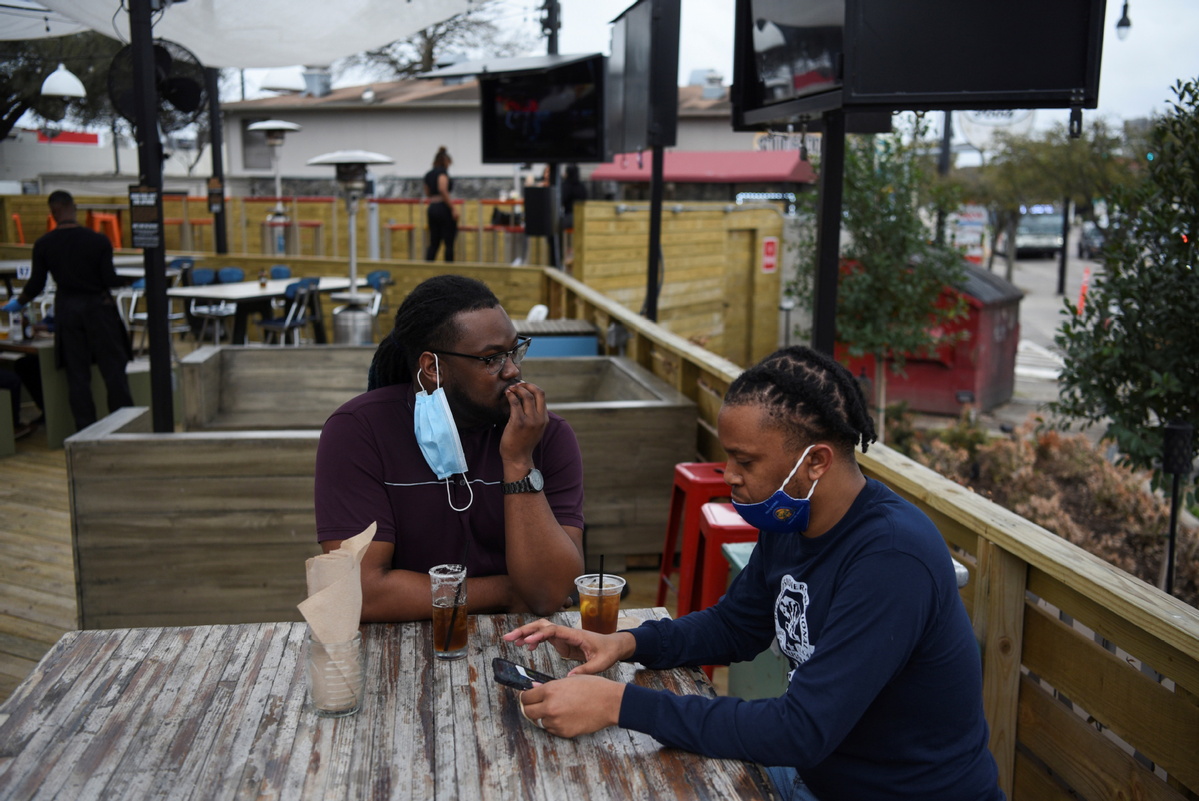 Texas is doing it and now Florida appears ready to follow suit.
Both states are seeking to limit the authority of local leaders to go their own way and not follow mandates from their governors. The issue is face masks.
Republican Governor Greg Abbott lifted the state's mask mandate and fully reopened businesses on March 10. But officials in the city of Austin, the state's capital, and surrounding Travis County said that they would continue requiring citizens to wear masks due to the COVID-19 pandemic.
This is because health experts have strongly recommended keeping masks on along with US President Joe Biden, who also argued for masks in his first prime-time address to the nation last week.
As of Saturday, Travis County had reported 77,329 confirmed cases of COVID-19 and 778 deaths. Texas had reported 2.7 million cases, 46,000 deaths and 9 percent of its population had been vaccinated.
In a tweet, Texas Attorney General Ken Paxton said on March 10: "City/county leaders must not be thinking clearly. Maybe it's oxygen deprivation from quintuple-masking. Whatever the case, they've tried this before. They lost. Travis County and Austin have a few hours to comply with state law or I'll sue them." He sued the next day.
"I told Travis County and the city of Austin to comply with state mask law. They blew me off. So, once again, I'm dragging them to court," Paxton said on Twitter.
"We will fight Abbott and Paxton's assault against doctors and data for as long as we possibly can," Austin Democratic Mayor Steve Adler told the Austin American Statesman on March 10. "I believe leaders need to be clear and unambiguous in their communications and messaging about masking. Masks work! The governor and attorney general are simply wrong."
On Friday, state District Judge Lora Livingston denied Paxton's request for a temporary restraining order and scheduled a hearing on March 26 on his request. Livingston said the state had given local officials insufficient time to prepare their case.
Several major retailers, grocery and restaurant chains in Texas have said they would still require masks to be worn in their stores. That was their right, Paxton said in a letter to Adler and Travis County Judge Andy Brown. However, such a decision "does not rest with jurisdictions like the city of Austin or Travis County," he added.
In Florida, Republican Governor Ron DeSantis appears focused on not letting local governments decide what they will do about masks.
DeSantis has refused since the earliest days of the pandemic to enact a statewide mask requirement. He has said such decisions should be made on the local level. Now, he is looking to limit their authority by demanding that emergency powers of local governments be rolled back by the Republican-led Legislature.
The drive is being met with outrage by city and county officials, along with Democratic lawmakers who say masks and other public health steps enacted by local leaders remain a big part of Florida's continuing push to overcome the devastation caused by COVID-19.
Close to 4 million Floridians have received at least one shot of vaccine, less than 20 percent of the state's population. COVID-19 has killed more than 32,000 people in the state and sickened almost 2 million. The state has been averaging about 5,000 new cases daily over the past two weeks, with positivity rates topping 5 percent.