Carmakers aver core tech R&D can drive EVs
Share - WeChat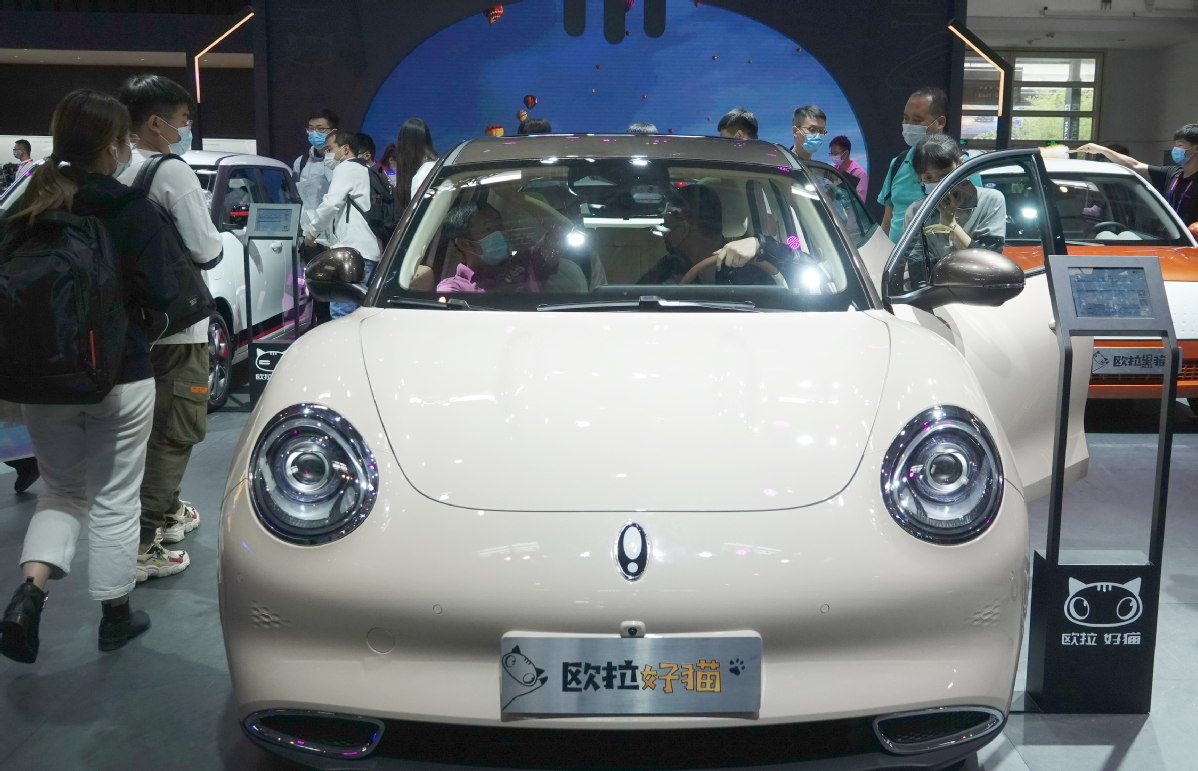 In their role as deputies, top executives urge new laws to boost sector's growth
Executives from some major Chinese carmakers have called for enhanced research and development activities to promote core technologies relating to electric vehicles.
They have stressed the need for draft laws to commercialize autonomous vehicles. Such an approach, they averred, will help consolidate the nation's first-mover advantage in the field.
The country should build its own supply chain, which would be indispensable for the EV sector's quality development, said Wang Fengying, president of Great Wall Motor, in her proposal to the 13th National People's Congress.
The country's top legislature and the top political advisory body are holding their annual sittings called two sessions in Beijing.
China started the campaign to develop the new energy vehicle, or NEV, sector in 2009, earlier than most other countries, and has achieved impressive results so far.
The country has been the world's largest market for NEVs for six years in a row, with an accumulated sales of 5.5 million units by the end of 2020, according to the Ministry of Industry and Information Technology.
But Wang said local carmakers remain over-reliant on international companies in terms of core parts like electric motor controllers, stabilization systems and auto-grade chips.
In the field of car batteries, there are hardly any Chinese companies that are globally competitive-CATL being the exception to the rule. Besides, China imports raw materials, including cobalt.
"So, it's necessary that governments facilitate technological progress in the sector to realize quality development in the real sense, and a safe and advanced supply chain is indispensable for the goal," said Wang.
She also called for Chinese vehicle manufacturers to explore more overseas markets. Chinese-made EVs' share of the global market shrank from 54 percent in 2018 to 41 percent in 2020 due to the expansion of European carmakers.
Zhu Huarong, chairman of Changan Auto and an NPC deputy, said the EV industry should focus on core parts like chips.
"The authorities should draft policies to facilitate production of automotive chips to ensure the safety of supply chain, and Chinese carmakers should be encouraged to adopt more homemade chips," Zhu said.
The shortage of chips since late 2020 has disrupted the global auto industry. And Chinese chipmakers' contributions to vehicles made in China are almost negligible, he said.
The issue will become more acute as the industry is shifting toward electric and autonomous vehicles, experts said.
According to IHS Markit, the value of the semiconductors in a smart EV is roughly three times that of chips in a gasoline-powered car.
NPC Deputy Yin Tongyue, also chairman of Jaguar Land Rover's China partner Chery Holdings, urged faster legislation specific to commercialized autonomous vehicles.
Major carmakers have started R&D of vehicles capable of Level 3 or higher-level autonomous driving, which means the vehicles do most of the driving-but such vehicles are not yet allowed on the roads.
"The absence of legislation is curbing the sector's development," said Yin, adding that this level of autonomy should be allowed in low-speed traffic situations so as to gain experience for higher level of unmanned driving.
Some cities, including Beijing and Shanghai, are designating road sections for carmakers to undergo autonomous vehicle tests. Last year, 14 companies conducted tests on 87 vehicles in Beijing.
A blueprint the government released last year showed that China expects to see 50 percent of its NEVs sold in 2025 to feature Level 2 or Level 3 autonomous functions. The figure will rise to 70 percent in 2030.