Fungi, 'little heroes' of poverty relief
Share - WeChat Editor's Note: During this year's two sessions-the annual meetings of the National People's Congress and the National Committee of the Chinese People's Political Consultative Conference-China Daily will publish a series of stories focusing on the achievements the country made in various fields during the 13th Five-Year Plan (2016-20). They show how the country met its development goals in different fields in the face of numerous challenges.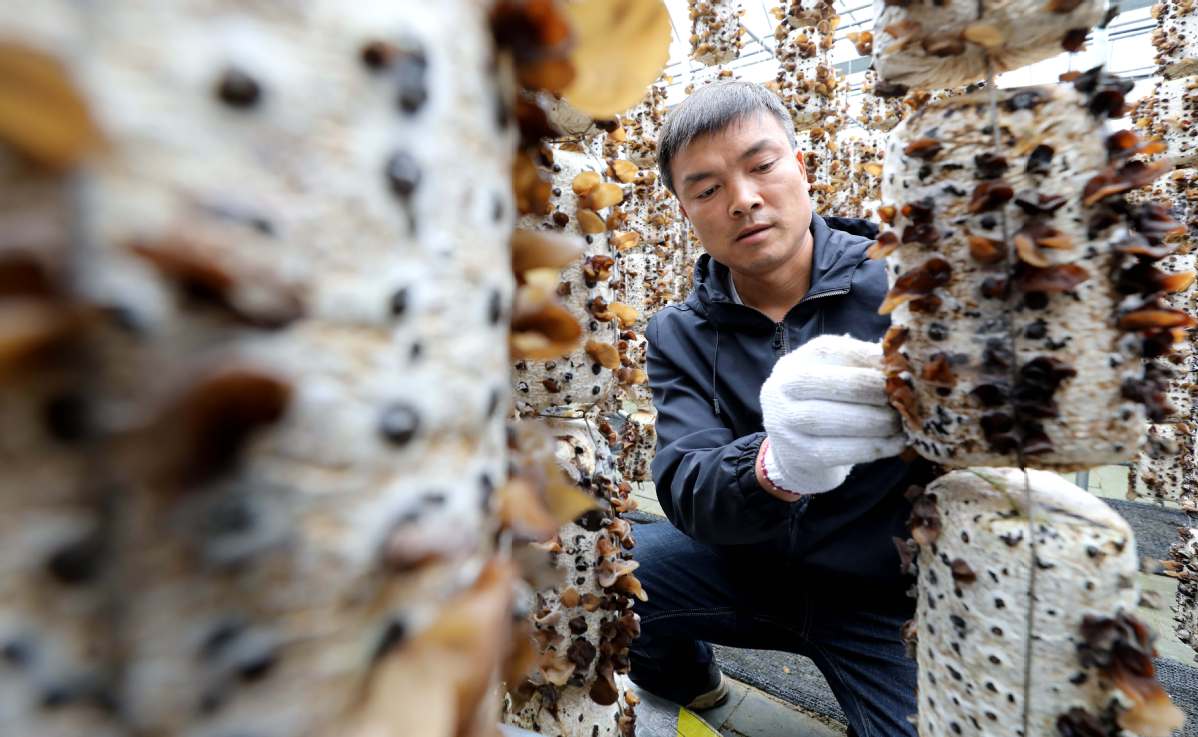 Expert's decades of research into mushrooms have helped rural counties tap into agricultural wealth
An intriguing fact about China's historic victory over extreme poverty is part of its foundations were built on edible fungi and decades of innovative research.
Revitalizing rural China, promoting green development and pushing the envelope of research to better serve the nation's strategic needs are themes highlighted during this year's two sessions and in the 14th Five-Year Plan (2021-25).
Li Yu, a noted mycologist and an academician of the Chinese Academy of Engineering, managed to achieve all three using tiny mushrooms.
Since 2012, all 98.99 million rural poor people have been lifted out of poverty, the government announced last month. Of 832 poverty-stricken counties, 70 to 80 percent of them chose to farm edible mushrooms like black fungus, Li said during a seminar hosted by the academy last month.
"This is because growing fungi is not labor, time or resource intensive work. They are easy to plant, require little investment, grow very fast and yield good financial returns, hence it is a first-choice industry for poverty alleviation," the 77-year-old said.
China's agricultural industries produce a huge amount of plant stalks and animal manure every year, which can pollute the environment if not handled properly, Li said.
"Now, we can turn agricultural waste into fertile bags of nutrients for growing fungus," he said. "After they are harvested we can process what's left in the bags into fertilizer, effectively turning trash into treasure.
"This will build a sustainable cycle in which farmers get extra income from waste, consumers get tasty and healthy fungi products and the environment is cleaned in the process. It is like killing multiple birds with one stone."
Since 2012, Li and his students have spent over 280 days most years traveling to 40 deeply impoverished regions in seven provinces to introduce fungi species, and teach villagers how to use modern equipment and techniques to cultivate them.
His efforts have blossomed into a 35 billion yuan ($5.38 billion) production and manufacturing industry that features unique products made from fungi including chips, supplements, tea and ice cream, all while lifting 35,000 families from more than 800 villages out of poverty.
In April, President Xi Jinping visited Jinmi village in Zhashui county, Shaanxi province, and examined Li's automated fungi farms, which consist of rows of nutrient-filled mesh bags in a greenhouse equipped with high-definition cameras, sensors and automatic ventilation and irrigation systems.
The technologies enabled local farmers to sustain high yields despite the impact of the COVID-19 epidemic. The county's fungi industry produces around 5,000 metric tons of wood ear mushrooms annually, valued at 300 million yuan, which helped it climb out of poverty in 2019.
Xi was impressed by Li's work, calling it "small wood ear, big industry". On Feb 25, Xi presented Li with a national honorary title for his poverty eradication work.