Fungi, 'little heroes' of poverty relief
Share - WeChat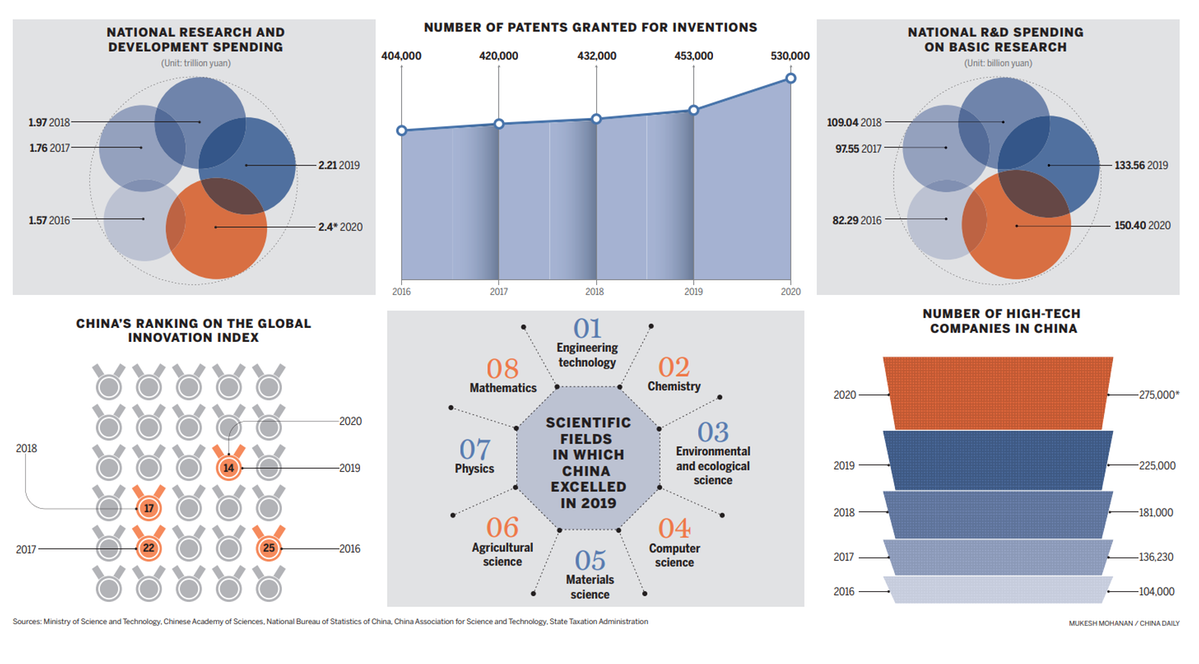 Life passion
Li said studying fungi not only serves the nation and its people, but is also an extremely rewarding scientific undertaking and a lifelong passion. So taken is he by mushrooms that he calls his granddaughter mu'er, which is Mandarin for "black fungus".
According to the China Edible Fungi Association, the country produced around 58,000 tons of edible fungi in 1978.
By 2019, production had soared to over 39.34 million tons and the industry was worth more than 312.6 billion yuan, becoming China's fifth-biggest agricultural sector after grain, oil, fruit and vegetables.
The same year, China produced over 70 percent of the world's edible fungi.
"We are a big edible fungi production nation, but due to our relatively late start, our research capability on this subject still leaves much to be desired," Li said.
Several decades ago, few people in China saw value in unassuming mushrooms and molds, even though penicillin, the first mass-produced antibiotic which has saved millions of lives, was derived from the penicillium fungi, he said.
Li said when his mentor, revered mycologist Zhou Zonghuang, was on his deathbed, "he asked me to keep studying mycology because hardly anyone was doing it".
"He held my hand tightly while repeating his last wish, over and over again," he said.
It was then Li learned that of the roughly 500 slime mold species discovered at the time, none had been named by a Chinese scientist despite the country having a wealth of resources. "That was the lifelong regret of my mentor," Li said. "Hence, I solemnly promised him I would continue his work and never give up."
The United States and European countries were the powerhouses of research into fungi.
However, Li relinquished his opportunity to study abroad to focus his efforts in China. For the next four decades, he ventured deep into remote forests and mountains to get a better sense of the nation's diversity of fungi species.
During field work, it was normal to encounter wild animals, snakes, as well as swarms of mosquitoes and bugs, Li told China Education Daily.
"The scariest moment for me came when I was hiking on Mount Taibai, Shaanxi. I encountered fresh animal droppings on the trail but didn't pay much attention. After going for a couple of minutes, I saw bear footprints and realized I was in deep trouble. It is hard to describe how terrified I was," he said.
Over the years, Li and his teams have collected more than 12,000 fungi specimens and contributed greatly to the taxonomy of the species in China. Li has also discovered and named 36 slime mold species, becoming the first Chinese to do so.
By classifying and studying these fungi, scientists can gain a clearer understanding of their characteristics, which allows them to effectively evaluate and tap into the economic potential of these organisms, as well as save endangered species, Li said.
Thanks to the research he has undertaken, Li has developed over 300 new fungi cultivation techniques since 2012.
He also developed several new breeds of wood ear mushrooms that played a key role in alleviating poverty in Fuping county, Hebei province, Jinzhai county in Anhui province, Tongren county in Guizhou province and other impoverished regions around China.
"Scientists, especially agricultural scientists, should not farm on the blackboard," Li said.
"They need to get their feet in the field and use their research to help farmers become rich and live better lives."