Brussels seeks help from Washington for more jabs
Share - WeChat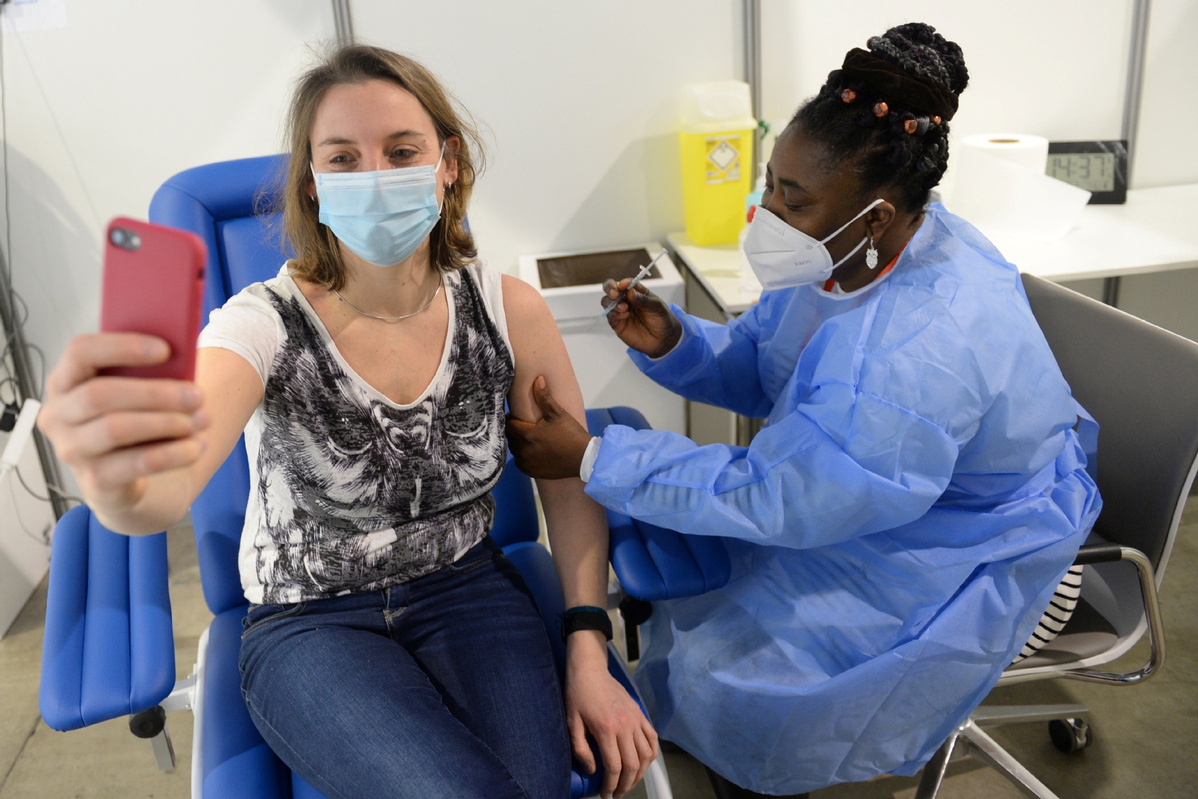 The European Union is reportedly preparing to ask the United States to allow the export of large numbers of doses of the AstraZeneca COVID-19 vaccine as it attempts to make up for shortfalls in supply, and rejuvenate its faltering vaccine program.
The European Commission insisted on vaccination requisition and administration for the 27-member bloc being centralized, but has been heavily criticized for the lack of progress made.
The EU has pointed the finger of blame for the delay at the Anglo-Swedish pharmaceutical company, saying production problems have delayed the supply of 300 million doses, ordered in June last year. The company is on course to deliver just 40 percent of the expected allocation in the first three months of this year.
"We are working 24/7 to improve delivery and hopefully catch up to the expectations for Q2," AstraZeneca's CEO Pascal Soriot told EU lawmakers last month.
In addition to doses of the finished vaccine, the EU is also keen to keep up supplies of ingredients from the US required for its own vaccine-making facilities.
"We trust that we can work together with the US to ensure that vaccines produced or bottled in the US for the fulfilment of vaccine producers' contractual obligations with the EU will be fully honored," a Commission representative was cited by the Financial Times as saying.
New US President Joe Biden's regime is widely regarded as being far more sympathetic to Europe than predecessor Donald Trump, and last week he spoke to Commission president Ursula von der Leyen about how to work together on managing the pandemic.
As a result, the EU's internal market commissioner Thierry Breton will be working with US COVID-19 response co-ordinator Jeffrey Zients on matters relating to the supply chain.
Although, like the EU, Washington has a significant order in place with AstraZeneca, the vaccine has yet to receive medical approval from US regulators.
"The president's first priority is to make vaccines available for every American," the FT quoted a White House official as saying.
"The US and EU have committed to deepening cooperation on pandemic response, including by enhancing public health capabilities and information sharing. We know that in order to beat this pandemic and to turn a corner on economic recovery, we must work with our allies and partners," the official added.
In recent days, the Italian government blocked the export to Australia of 250,000 doses of the vaccine, produced at an AstraZeneca facility in Italy. Australia made light of the decision, saying losing one shipment would not have a significant impact on its vaccine program, but it has asked the Commission to review the move.