Chinese-born director becomes first Asian woman to win Golden Globe
Share - WeChat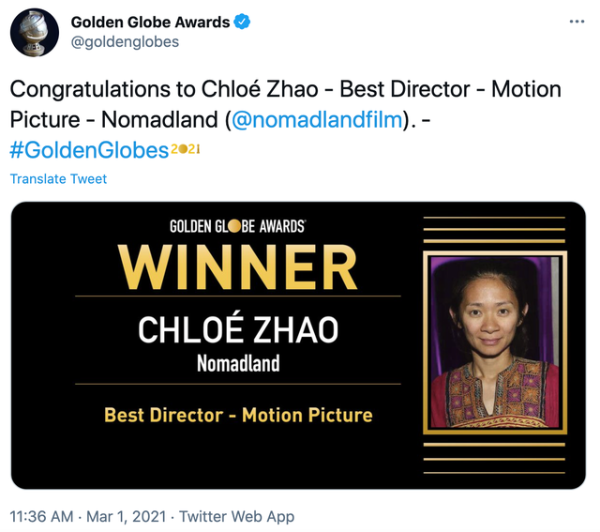 China-born filmmaker Chloé Zhao made history at the Golden Globe Awards, becoming the first woman of Asian descent and second woman ever to win the best director award in the Golden Globes' 78-year history.
At Sunday's ceremony, Zhao accepted the prize via video, and said the award "belongs to the whole Nomadland team" and thanked "everyone who made it possible for me to do what I love". Her film Nomadland also wins best motion picture - drama.
Many, including actors and critics, congratulated the director on social media. "The film is patient, compassionate and open, motivated by an impulse to wander and observe rather than to judge or explain," said New York Times Arts in a tweet.
Barbra Streisand, the first woman who had won Golden Globe for best director in 1984, said "It's about time! Congratulations Chloé! Well deserved!" in a Twitter post. Korean American actor Daniel Dae Kim wrote on Twitter, "Look out, Oscars, Chloe Zhao and #nomadland are a comin!"
The 38-year-old filmmaker, with Chinese name Zhao Ting, was born in Beijing. Her father worked as a senior executive for a few state-owned enterprises and is now chairman of a real estate company in Beijing. Her stepmother is Song Dandan, a famous comedy actress in China.
Nomadland was adapted from a 2017 non-fiction book, Nomadland: Surviving America in the Twenty-First Century. The film stars two-time Oscar winner Frances McDormand as an out-of-work woman who packs her van and sets off from her small town to travel around the vast landscape of the American West, exploring a life outside of conventional society as a modern-day nomad.
Zhao's awards for the movie include best-director from the National Society of Film Critics, the New York Film Critics Circle, the Boston Society of Film Critics, the Florida Film Critics Circle and Indiana Film Journalists Association awards.
The Palm Springs International Film Awards will honor Zhao with its Director of the Year award for her film later this month. She is the first female director to receive this accolade in the 32 years the festival has been running.
The film also has earned six nominations, including Best Picture for the Hollywood Critics Association Film Awards. The film critics' group will hold its awards ceremony virtually next month.
Earlier, the film had won the Golden Lion at the Venice Film Festival and the People's Choice Award at the Toronto International Film Festival, making it the first film to get the top prize at both festivals.
Zhao's first film -- Songs My Brothers Taught Me -- was shot when she was a thesis student at New York University. The Native American drama premiered in the 2015 Sundance Film Festival and was screened at Cannes Film Festival. It gave Zhao an Independent Spirit Awards nomination for Best First Feature.
In 2017, Zhao directed, wrote and produced her second film, The Rider. The Western film premiered in the 2017 Cannes Film Festival's Director's Fortnight selection and won the Art Cinema Award.
For this film, she was nominated for Best Director and Best Feature at the 33rd Independent Spirit Awards and became the first recipient of the Bonnie Award, which recognizes "the innovative vision and breakthrough work of female directors". The National Society of Film Critics honored it as its Best Film of 2018.
In all her three films, non-actors were cast to play fictionalized versions of themselves. It's a technique she originally adopted out of economic necessity after film school but one she has used often for its realism.
At the age of 14, Zhao attended a boarding school in London. Four years later, she moved to Los Angeles. After earning a bachelor's degree in political science at Mount Holyoke, Zhao moved to New York City in 2010 and began studying in the graduate film program at New York University.
Building on her success, she will develop an original futuristic sci-fi western inspired by Dracula for Universal Pictures, according to Deadline.
Her next project is the highly anticipated Marvel Cinematic Universe Installment The Eternals. For this film, Zhao is expected to draw inspiration from her Chinese background and childhood experience.
"I have such deep, strong, manga roots," Zhao told Hollywood Reporter. "I brought some of that into Eternals. And I look forward to pushing more of that marriage of East and West."