Message against racism delivered
Share - WeChat Rally in Manhattan follows surge in hate crimes targeting Asian Americans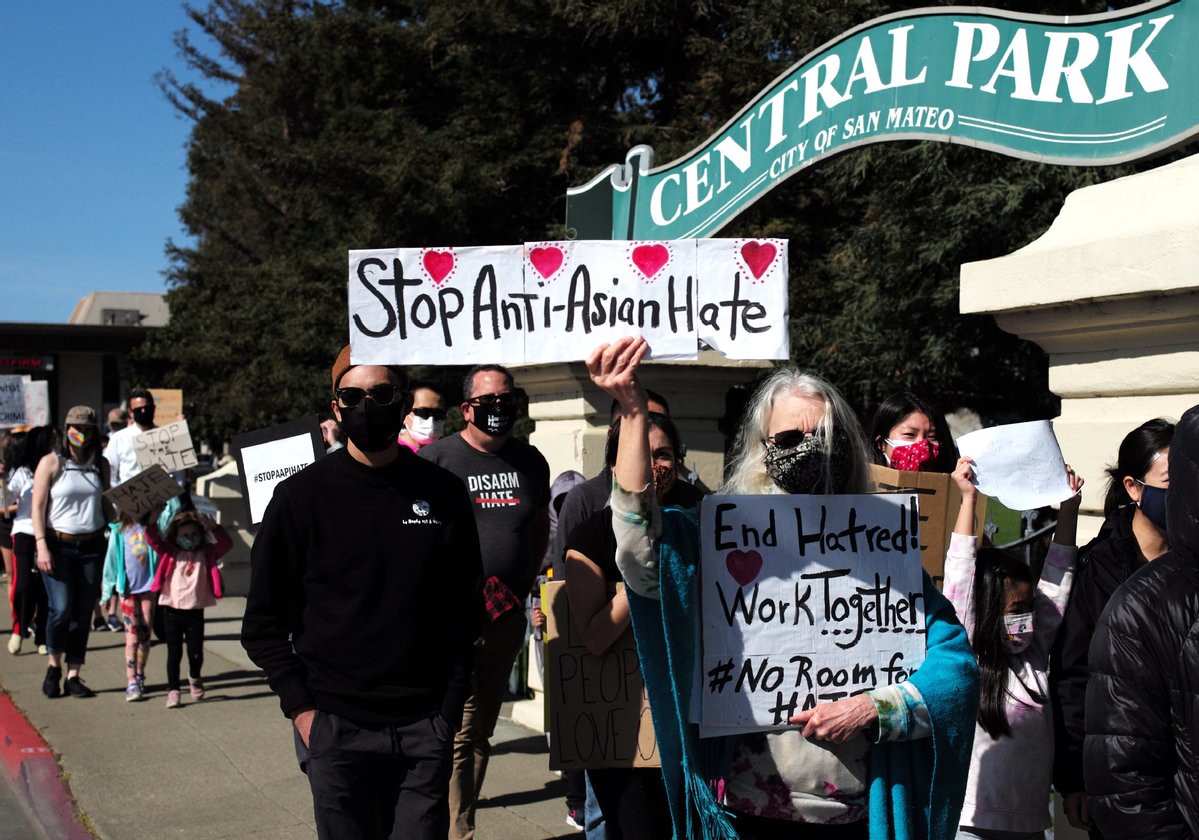 New York leaders joined hundreds of residents at a rally in Manhattan on Saturday afternoon to combat a pandemic-fueled increase in attacks against Asian Americans.
The Rise Up Against Asian Hate rally in the borough's Foley Square was attended by Mayor Bill de Blasio, along with mayoral candidate Andrew Yang, Senator Chuck Schumer and congresswoman Grace Meng. The rally was organized by the Asian American Federation, a nonprofit network of community groups.
"We will not accept hatred in New York City! Stop Asian hate, this is the message we have to get out not just in New York City, but all over this country: Stop Asian hates, stop it now," de Blasio told the crowd.
"Anyone who commits an act of hatred against the Asian-American community will be found, will be arrested, will be prosecuted."
The rally was planned against the backdrop of a spate of violent crimes against Asians and Asian Americans in New York and across the United States.
The rally was held near the location in Chinatown where a 36-year-old Asian man was stabbed and taken to hospital in critical condition on Thursday night.
A suspect was arrested and charged with attempted criminally negligent homicide, assault, forgery and criminal possession of a weapon. Officials said that the case was being investigated as a possible hate crime.
Last year, there were 28 incidents of pandemic-related hate crimes against Asians in New York and two so far in 2021, according to the deputy inspector of the city's Anti-Asian Hate Crimes Task Force, Stewart Loo.
In contrast, New York officials say that in 2019 there were only three anti-Asian hate crimes.
Spiking violence
The increase in attacks in the city mirrors a trend across the US. Stop AAPI Hate, an initiative that tracks violence and harassment against Asian Americans and Pacific Islanders, recorded 2,808 reported incidents since last March.
Some 70.9 percent of the reported incidents were verbal harassment and acts of shunning or avoidance comprised 21.4 percent of the total, according to AAPI. In New York City, 259 incidents against Asian Americans were recorded in the same period, with 81 percent being verbal and 12 percent physical.
In New York, where Asian Americans make up an estimated 16 percent of the population, the violence has terrified many.
"On Thursday, I was coming home from Flushing and walking in Penn Station, some guys reached out and tried to hit me. I just kept walking. But why are these things happening?" said Joanne Hsu, a 51-year-old social worker from New Jersey.
"My parents always told me to be silent. This is very unhelpful. Now, these people think we Asians are okay with everything, and the police don't think they need to protect us. We have to be here now to really give voice and to bring more attention to our community, to have more faces."
Yang, a former presidential candidate, told reporters at the rally: "It's really painful and heartbreaking. I talked to a family member of someone who is in hospital as a victim of one of these hate crimes. There are so much pain and confusion."
April Somboun, a candidate for New York City council District 33, said two of her friends have been verbally abused. They were called "the virus" and told "get out of the country".
Somboun, who was born in a refugee camp in Thailand and came to the US when she was a baby, said: "It's disgusting."
"I'm sad. It made me think of my mom and my grandma who came to America for the American dream. I'm living in the American dream because of them," she said. "I want to protect our elders, and I want to protect my children."