Philippines, Malaysia latest to get vaccine help
Share - WeChat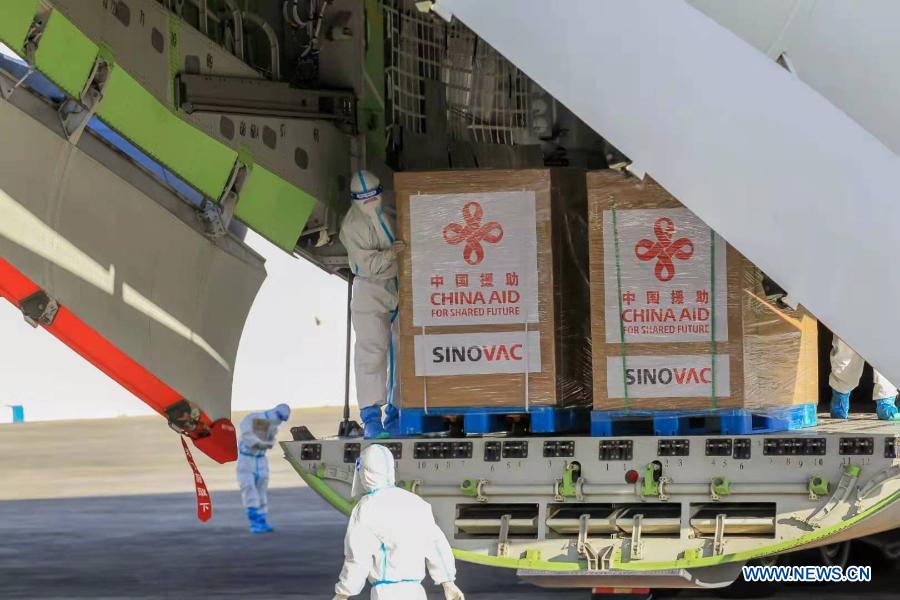 The Philippines and Malaysia received vaccine help from China over the weekend, the latest nations around the world to do so, while Thailand launched its vaccination drive.
Philippine President Rodrigo Duterte attended the ceremony for the handover of vaccines donated by the Chinese government at a Philippine Air Force base in the capital city of Manila on Sunday.
The doses of CoronaVac COVID-19 vaccine, developed by Sinovac Biotech, are the first to arrive in the country. The donation is part of what Chinese State Councilor and Foreign Minister Wang Yi promised during his visit to Manila in January.
The Philippines' vaccine rollout, scheduled to start on Monday, is expected to reduce the number of infections and help the country's economy recover from the pandemic's impact. Philippine Health Secretary Francisco Duque III and Carlito Galvez, head of the national COVID-19 task force, were expected to get the first inoculations.
In a statement on his official Facebook account, Chinese Ambassador to the Philippines Huang Xilian said the vaccine donation attests to the "solidarity as well as profound friendship and partnership "between China and the Philippines.
The Philippines, which has the second-highest number of COVID-19 cases in Southeast Asia, has been criticized for its slow vaccine rollout and how that has affected the nation's economic recovery. There were 574,247 COVID-19 cases as of Saturday, according to the Department of Health.
Sunday's CoronaVac delivery was just part of the 5.1 million doses of vaccine scheduled to arrive in the Philippines in the first quarter of the year.
Alicia Garcia-Herrero, chief economist for Asia-Pacific at French investment bank Natixis, said that while the Philippine vaccine program is "not so late", she expects the Philippine economy "will do fine "this year, thanks to a "huge base effect" from last year.
Victor Abola, senior economist at the Manila-based University of Asia and the Pacific, said a slow vaccine rollout will likely delay an economic rebound.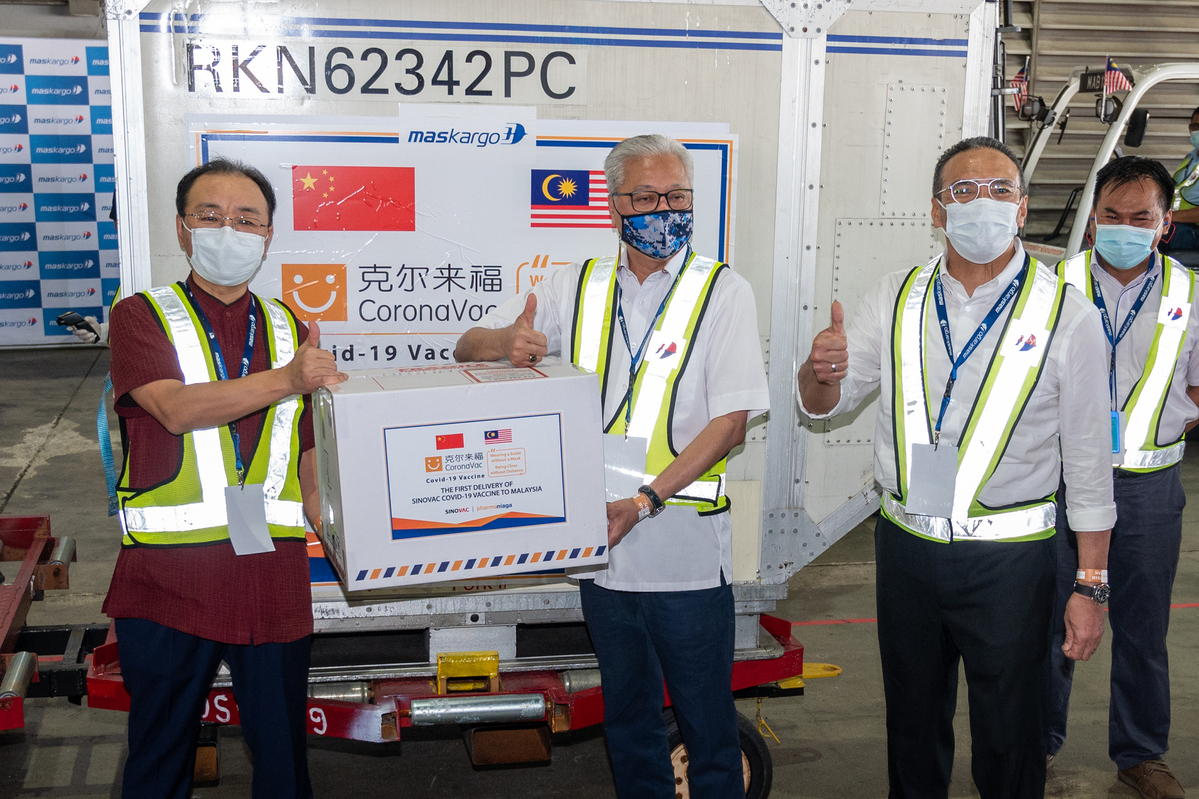 In Malaysia, the first CoronaVac vaccine arrived on Saturday, with Chinese Ambassador to Malaysia Ouyang Yujing and Malaysian Defense Minister Ismail Sabri Yaakob, Foreign Minister Hishammuddin Hussein, Transport Minister Wee Ka Siong and Science, Technology and Innovation Minister Khairy Jamaluddin welcoming its delivery at Kuala Lumpur International Airport.
The 200 liters of bulk vaccine will later be processed into 300,000 vaccine doses by Pharmaniaga, the country's biggest pharmaceutical company.
Nazihah Muhamad Noor, a public health researcher at the Khazanah Research Institute, a think tank in Kuala Lumpur, said Malaysia has "a great track record of carrying out past vaccination campaigns, with a dedicated health workforce that works hard to reach even the most remote areas".
China has been forging ahead in the race to develop vaccines to help control the pandemic, with an adenovirus vector vaccine by CanSino Biologics set to become the country's fourth vaccine manufactured by Chinese companies to get conditional approval for market use.
The Chinese National Medical Products Administration granted conditional market approval for the vaccine, called Ad5-nCoV, on Thursday.
The vaccine is projected to provide protection for two years if a booster shot is administered, has an efficacy rate of 65.7 percent at preventing symptomatic cases, and is 90.9 percent effective in preventing severe disease with a single injection, according to interim analysis of late-stage human trials released in February.
The vaccine uses a genetically modified adenovirus-a common type of virus-to carry an antigen from the COVID-19 virus into cells to induce an immune response.
Chen Wei, a key figure behind the vaccine and a researcher at the Institute of Military Medicine of the Academy of Military Sciences, told China Central Television that data shows a single dose should provide protection for six months, and "there is no need to take an additional shot during the six-month period".
"We also created booster shots for inoculation after six months, and with a single booster, we can increase the immune response by 10 to 20 times. Based on available data, we estimate two shots can provide protection for two years," she said.
The Ad5-nCoV vaccine was jointly developed by CanSino Biologics and the Academy of Military Medical Sciences. The three other Chinese-made vaccines to get conditional approval for market use were inactivated vaccines produced by Sinovac and Sinopharm.
The other single-dose COVID-19 vaccine in late-stage clinical trials that released data is the vaccine developed by Johnson & Johnson. The vaccine, approved on Saturday for emergency use by the United States Food and Drug Administration, was reported to have a 66 percent efficacy rate against moderate and severe cases, along with 85 percent effectiveness overall in preventing severe disease.
Meanwhile, Thailand welcomed the arrival of 200,000 doses of CoronaVac vaccine on Wednesday and launched its vaccination program on Sunday.
"It's a historic day and a day to help the country rebuild confidence against the pandemic," said Thai Prime Minister Prayut Chan-ocha.
On Tuesday, Singapore received its first shipment of China's Sinovac vaccine.
Yang Han, Zhang Zhihao and Xinhua contributed to this story.