Lighting up a special time
Share - WeChat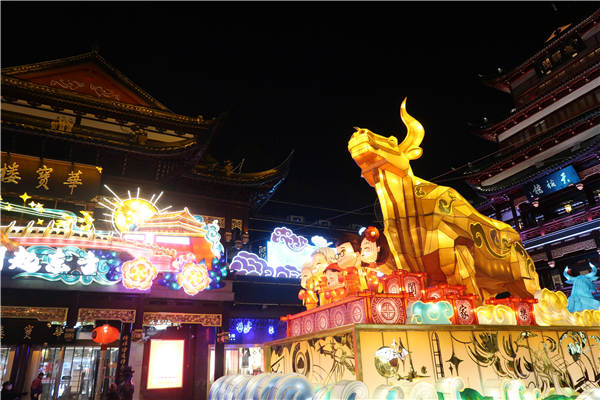 A themed performance on a boat is held every half hour from 6:30 pm to 8:30 pm.
Molly dolls, the toy series featuring a blue-eyed girl with curly short hair, created by Hong Kong designer Kenny Wong, have also been made into lanterns and displayed in the shopping mall. The dolls, promoted by toymaker Pop Mart, have become a craze among China's youngsters in recent years, contributing to the company's successful initial public offering in December.
The Yuyuan Garden in Shanghai has successfully attracted young people to participate in the celebration of the Chinese traditional festival. Last year, it partnered with Disney to put up Mickey and Minnie Mouse lanterns to celebrate 2020's animal of the Chinese zodiac.
The traditional food for the festival is yuanxiao or tangyuan, which are similar ball-shaped dessert dumplings, made with glutinous rice flour and stuffed with a variety of fillings.
The difference lies in how they are prepared. In North China, people eat yuanxiao, which is rolled in a basket with solid fillings to become a big and round rice flour ball. In South China, people eat tangyuan, which is made of a glutinous rice wrapper that covers the filling before being kneaded into a round ball.
People visiting the lantern show in Yuyuan Garden have many food choices. Ningbo Tangtuan, a time-honored restaurant dedicated to making tangyuan, is located inside the Yuyuan Garden shopping mall, along with many other time-honored restaurants, such as Nanxiang Steamed Bun Restaurant, Lu Bo Lang Shanghai cuisine restaurant and Song He Lou noodle shop.
Besides Yuyuan Garden, other famous lantern shows in China include the displays at Nanjing's Confucius Temple, Jiangsu province, Xi'an City Wall, Shaanxi province and Zigong, Sichuan province.