Telling stories that breathe new life into the past
Share - WeChat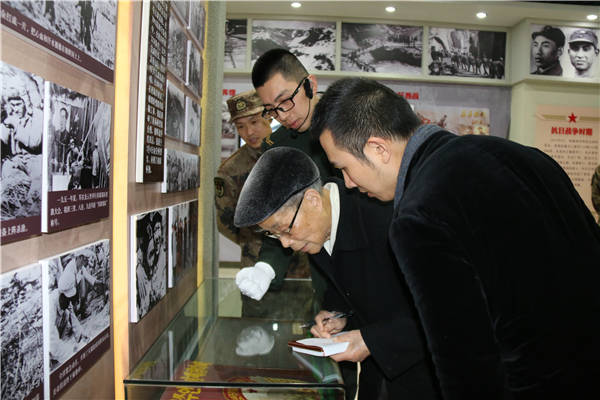 Generations of people who've devoted their lives to China's revolution have recorded and recounted the stories of Jiangxi province's Jinggangshan, where the Communist Party of China established its first rural revolutionary base.
Mao Haofu is among the younger generation taking the baton. The 32-year-old returned to Jinggangshan to pursue his calling after studying finance at the University of Hull in the United Kingdom and working for two years in Jiangxi's capital, Nanchang.
Since 2017, he has given lectures and tours to trainees of the Jiangxi Executive Leadership Academy and international visitors to historical sites, narrating Jinggangshan's history with lucid and engaging storytelling.
He's essentially following in the footsteps of his grandfather, Mao Binghua, who gave up his job in Nanchang in the 1960s and took his family to Jinggangshan to support the Jinggangshan Revolution Museum's construction.
Mao Binghua served as the museum's curator for 21 years. During his four decades of retirement, he volunteered to give over 20,000 lectures about Jinggangshan's history and took field trips around the country to visit veteran soldiers and collect research materials and artifacts.
During a holiday at home at the beginning of 2017, Mao Haofu accompanied his grandfather, who was 88 years old and yet insisted on working despite the cold, on field research to Beijing and Hebei province. The experience influenced him deeply and served as an incentive for him to quit his job in Nanchang.
Mao Binghua later wrote a letter to Mao Haofu, saying: "I've been teaching the Jinggangshan spirit for 47 years. My main understanding is to combine history with reality, theory with practice, ideology with artistry, and advocating for others while transforming oneself."
He explains: "What's especially important is to transform our own worldviews to truly learn about, believe in and apply the Jinggangshan spirit. This is a lifelong pursuit."
In 2017, Mao Haofu started to prepare a series of courses about the history of the CPC. That summer, he started lecturing at the academy full time.
The courses combine lectures in classrooms and at historical sites.
One tour led Mao to discover his particular strength lies in bilingual lectures.
He was recommended when a group of visitors from a dozen countries needed an English-speaking guide.
"That was a great training opportunity for me," he recalls.
"Only I could tell them stories about my hometown. I truly felt a sense of mission and that it was a true embodiment of my personal value."
He has guided tours for international visitors since then. He goes beyond simply translating the written materials into English and has developed his own principles to convey information in ways that are easily understandable to people of diverse cultural backgrounds.
"I've observed that foreign visitors who come from completely different cultural contexts than we do may not be able to immediately absorb the information," Mao Haofu says.
He says that international visitors may not have heard of many historical figures familiar to Chinese people. So, he clearly explains the historical context, state of Chinese society at the time and important characters' background stories.
He strives to acquire a deep understanding of Jinggangshan's history, make sure his translations of historical materials are accurate and narrate them in ways that captivate.
After his grandfather passed away, he became the director of Mao Binghua's studio, working with academies and governmental bodies to research and promote China's modern history.
"My previous lectures were mostly delivered face-to-face. Now, we're also making videos for new media platforms, including WeChat and Douyin, with more down-to-earth formats," Mao Haofu says.
While his in-person lectures typically last for at least 10 minutes, Mao Haofu started to summarize the core points and choose the most captivating perspectives to tell the stories online.
"We're constantly thinking about how to narrate history and the Jinggangshan spirit in more lively ways preferred by young people," he says.
"Chinese culture not only incorporates traditional culture but also red revolutionary culture. I truly feel proud of my country and of being Chinese."
Most Popular