A desolate village evolves into tourism hot spot
Share - WeChat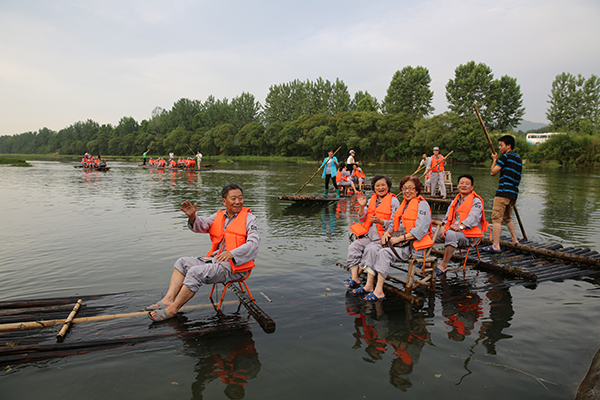 Zhou Ailin has become accustomed to ecstatic applause from a large audience whenever she finishes her folk singing at Kongfang village, Yingshan county, Hubei province's Huanggang city.
Her life took a turn for the better after she found a job at the Shenfeng resort.
Zhou's family used to rely on government subsidies.
Her husband was injured and unable to work due to a back injury. Zhou was the only pillar her family could fall back on for support.
She received training at the resort and unleashed her singing potential.
"It feels great to create wealth on my own strength rather than living on charity," Zhou says.
She is also working at an agritainment park at the resort, and her monthly salary has reached 10,000 yuan ($1,543) now.
Her in-laws have also been able to work at a ranch and help to bring in 36,000 yuan annually.
Moreover, Zhou's family has helped to raise pigs and chickens, which adds another 50,000 yuan to her family income.
Zhou is one of over 1,000 locals who have benefited from the founding of Shenfeng resort by Wen Binjun in 2013.
Wen couldn't help but think of his childhood in Kongfang village even though he had a successful career in big cities.
"My mother couldn't afford to go to the hospital when I was little," he says, adding that he swore to make her happy when he grew up.
When Wen made good his promise, he began to feel his obligation toward the land that had nursed him.
Before the resort was built, local young villagers had almost all left home to find a way to make a living.
After finishing planning for the Shenfeng resort, Wen invited local young villagers back and offered them equal pay as their city jobs.
Many of them answered Wen's call, since they could better take care of things at home while working in the village.
In 2015, Yingshan county stepped up efforts in infrastructure development, which helped accelerate the development of the resort.
Wen built vegetable, chicken and pig farms, as well as orchards in 36 villages in the neighborhood to support the resort's operations.