A cradle of the revolution
Share - WeChat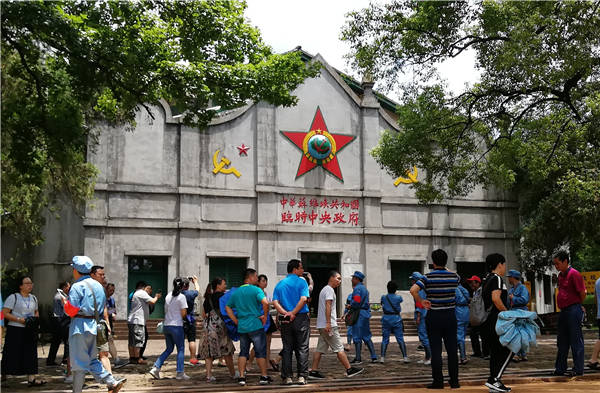 Jinggangshan
The picturesque mountainous city of Jinggangshan on Jiangxi's southwestern border is known as a cradle of the revolution and a cornerstone of New China's founding.
In October 1927, Mao Zedong led the revolutionary army to the Jinggangshan area, waging guerrilla warfare and establishing CPC organizations.
The Party's first rural revolutionary base, the Jinggangshan Revolutionary Base, was essentially established by the end of January 1928. It's where the strategy of encircling the cities from the countryside was proposed as an adaptation of Marxist principles tailored to Chinese conditions.
The strategy was later elaborated upon in Mao's famous letter, entitled A Single Spark Can Start a Prairie Fire. The phrase points out that, while the Red Army may seem trivial, it possesses great potential to kindle rapid transformation.
The "Jinggangshan spirit", which values faith, perseverance, reason and the people, has been passed down to contemporary times.
The city has established a number of education bases, including the China Executive Leadership Academy Jinggangshan, the Jiangxi Executive Leadership Academy and a revolutionary-education base for teenagers.
The number of people visiting Jinggangshan for educational programs to study the history of the CPC continually increased during the five years until 2019, when 435,700 people participated.
Trainees come from 31 provinces, municipalities and autonomous regions on the Chinese mainland, as well as Hong Kong, Macao and Taiwan.
Former vice-inspector of the CPC History Research Office Xing Jiping says Jinggangshan has developed an interactive red-education system that incorporates lectures, dramas, AR and role playing to enable participants to experience Red Army soldiers' everyday lives.
The China Executive Leadership Academy Jinggangshan, for instance, is renowned for its innovative teaching method of bringing its lectures out of classrooms and to the historical sites. The trainees take field trips to pay tribute to revolutionary martyrs and retrace the Red Army's arduous path.
"These approaches have enlivened the profound red culture and enhanced trainees' empathy," Xing says.
"A regulated, refined and standardized management model for red education has been established, which can be copied, promoted and sustained."