Long ranges no longer key to car producers
Share - WeChat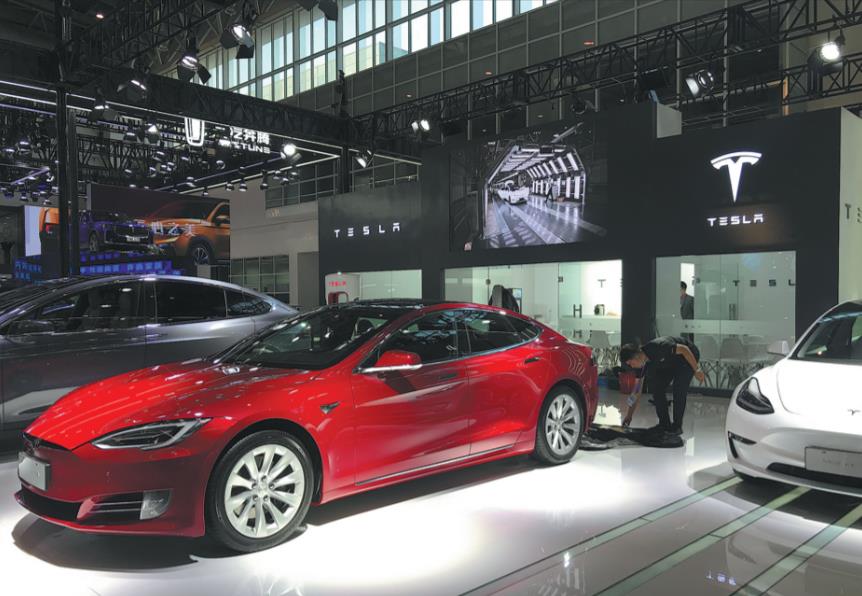 Making new energy vehicles more affordable the latest strategy to open market potential
The range of electric cars is one of their biggest selling points-the longer the better. That is about to change, as such vehicles are becoming a common choice in the mass market and charging infrastructure is more accessible.
Batteries are, so far, the most expensive part of electric vehicles. They account for around half a vehicle's cost. The longer the range, the more the batteries cost.
As electric vehicles are no longer toys of the rich, carmakers have turned to less expensive batteries that power a shorter but still decent range. Most customers are price-sensitive but few of them make long trips on a daily basis.
Statistics from the China Automotive Battery Research Institute show that the installed capacity of electric batteries in 2020 rose 2.3 percent year-on-year. It was primarily driven by the surge in lithium iron phosphate (LFP) batteries.
Compared with the popular ternary lithium batteries, LFP ones have a shorter range but they are safer to use and, more importantly, less expensive.
Last year, LFP batteries' installed capacity totaled 24,383 megawatt hours, up 20.6 percent year-on-year. They were the only battery segment that saw positive growth in the year, according to the institute.
The surge had increased the share of LFP batteries to around 39 percent in China's battery market. But it still trails ternary lithium batteries, which accounted for more than 60 percent.
Tesla, whose vehicles are known for long ranges, started to launch vehicles featuring LFP batteries in China last year at a lower price. This, in turn, fueled the brand's popularity.
Another brand, Wuling, has driven the trend further. Its two-seater mini Hongguang electric vehicle was the second-most popular model after Tesla's Model 3.
More carmakers are joining in, with some offering two types of batteries. As China is to withdraw subsidies by the end of 2022, more medium-range vehicles will feature less expensive LFP batteries, according to analysts.
Audi CEO Markus Duesmann said long ranges will not be the trend forever.
"Later on they will go down because charging infrastructure is denser and also the (interior space) experience of customers," he said.
"Battery sizes will go down again, because they make the cars unnecessarily heavy and unnecessarily expensive. And unnecessarily big, too."
By the end of 2020, China had 4.21 million electric cars on its roads and there were 1.68 million charging piles. It means around 2.5 vehicles can share a charging pile.
The ratio will stay around the same this year, said Tong Zongqi, a senior executive at the country's charging infrastructure alliance.
Battery makers are devising methods to improve the range of LFP batteries.
Last year, BYD unveiled blade-shaped LFP batteries. They are said to increase the energy density per unit of volume by 50 percent. That means it enables a battery pack of the same size to power a range of 600 kilometers from 400 km.
BYD Chairman Wang Chuanfu said the LFP batteries were mainstream products when the electric car sector was in the early stages.
Customers' preference for long-range vehicles prompted government subsidies on such vehicles, and that lured carmakers to ternary lithium ones.
"But their widespread use has resulted in the rise of electric vehicle fire accidents," Wang said.
LFP batteries remain stable even when the temperature reaches 500 C. Meanwhile, ternary lithium ones will start to have a chemical reaction at around 200 C, said Sun Huajun, a senior executive at BYD's battery subsidiary.
Battery makers including BYD and CATL as well as their suppliers are stepping up efforts in LFP batteries. Statistics show that the prices of materials have gone up by 10 percent from November as demand soars.
Earlier this month, Huayuan Titanium Dioxide, a Shenzhen-listed company, announced a 12.1 billion yuan ($1.86 billion) plan to build a production line capable of producing 50 metric tonnes of LFP materials a year.
CATL inked a 1.8 billion yuan deal with Shenzhen Dynanonic, which is a listed LFP material manufacturer, in January, in an effort to meet the growing demand for LFP batteries.
Last year, sales of electric cars and plug-in hybrids went up almost 11 percent to 1.37 million in China. It was the only rising segment in the auto market's overall downward spiral because of COVID-19.
Around 1.8 million NEVs will be sold this year, according to the China Association of Automobile Manufacturers. Chinese authorities expect such vehicles to account for 20 percent of new car sales in 2025.