Like father, like son: Teenager Li has the world at his feet
Share - WeChat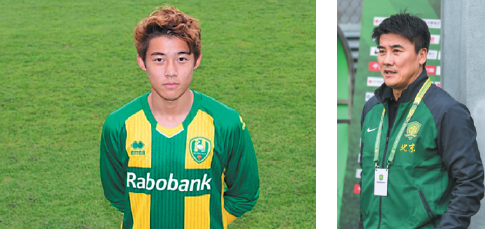 When former China international Li Ming retired in 2005, he said that soccer had given him "the most amazing experience" of his life.
Over 15 years later, his son, Li Sirong, is embarking on a similar journey, and one they both hope leads to more proud moments in the red of Team China.
Last month, Li Sirong, who turns 18 later this year, signed a professional contract with Dutch topflight club ADO Den Haag.
The Chinese character for the "si "element of his name means "inherit". Like father, like son. That is especially true for Li, who similar to his dad plays on the right-albeit as a defender, not a midfielder.
Soccer has been part of Li Sirong's life for as long as he can remember. Six years ago, he was accepted into Den Haag's academy, with his new pro deal recognition of his success through the youth ranks at The Hague-based club.
"Over the past five years, I've grown strong and improved my skills and understanding of soccer. I think I can now understand and observe the game from the Dutch perspective," Li Sirong said.
"There are so many good players, so If I don't work hard, I will soon fall behind."
The humble teenager rates many of his teammates as "more skillful "than him, but says he compensates with his excellent fitness and a good positional sense.
"My physical condition is good and I like using my mind on the pitch," he said.
During his stay in the Netherlands, Li Sirong has learned English and Dutch, and says Den Haag also instills high personal standards in its players.
"The club taught us how to behave and how to respect others," he said.
That emphasis on discipline is very much a continuation of Li Ming's parenting. "When he was small, I would ask him to apologize whenever he made mistakes," said Li Ming. "Respect should be top of the list in a club's culture."
Given all the attention Li Sirong's model good looks have generated online recently, it looks like knowing how to keep his feet on the ground could come in handy.
Again, there are similarities with his father's career-two decades ago, Li Ming was also hailed as the "Chinese David Beckham" due to his photogenic appearance.
Li Ming admitted he was concerned about the amount of interview requests that came flooding in for his son in recent weeks.
"We were not yet well prepared for this," he said. "As a former soccer player, I know how big the pressure is. So I told Sirong that when something is inevitable, you must learn to face up to it. In the future, you maybe praised or condemned. Whatever happens, you must be ready.
"So from this perspective, it is a good thing. It makes him see clearly what society is like."
Much to dad's satisfaction, the younger Li is "too busy to think about" the trappings of fame, and is more focused on achieving the right grades to attend university.
"I will have an exam in May," he said. "Although my priority is soccer, I don't want to give up my studies. Even if I can't go to the best university in the Netherlands, I will try my best."
As for his ambitions on the pitch, Li Sirong is simply taking things step by step. "First, of course, I must be worthy of a contract," he said.
When Li Ming retired, it was not without regret. Missing out on selection for the 2002 World Cup finals was a bitter pill to swallow, especially as it was the only time China has appeared in soccer's showpiece.
Now, however, his son has inherited that dream. "The story of my dad always encouraged me to become a better soccer player," Li Sirong said. "I will work hard to earn a place in the Chinese national team."
Xinhua