Zhang aims to start year with a bang
Share - WeChat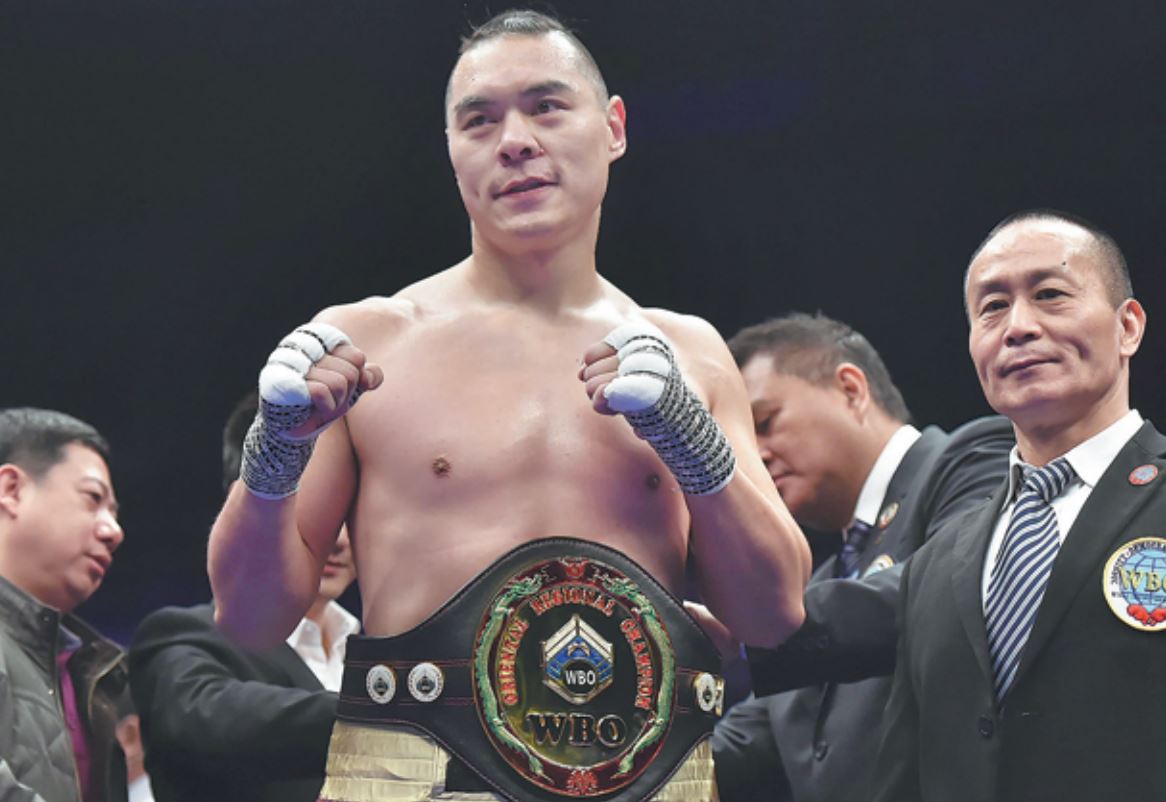 Chinese heavyweight ready to rumble in bid to fast-track world-title dreams
Preparing for his first fight in the Year of the Ox, heavyweight Zhang Zhilei hopes to mirror the strength, courage and perseverance of the Chinese zodiac animal when he squares off against hard-hitting fellow southpaw Jerry Forrest of the United States on Feb 27 in Miami Gardens, Florida.
Their 10-round bout is the featured prelim to a title defense by Mexican WBC/WBA super middleweight champion Canelo Alvarez against Turkey's Avni Yildirim at Hard Rock Stadium, and will be telecast live worldwide on DAZN.
The 6-foot-6, 260-pound (1.98-meter, 118-kilogram) Zhang, from Zhoukou, Henan province, is returning to action following an impressive KO of Devin Vargas in Florida in November that raised his record to 22-0, with 17 stoppages.
A victory over Forrest (26-4, 20 KOs), who is five years younger than China's 37-year-old 2008 Olympic silver medalist, would put Zhang on the fast track to a world-title shot against unified champ Anthony Joshua of Britain, who defeated him in the quarterfinals at the 2012 London Games.
"I would love to fight AJ in China because of our amateur history," Zhang told boxingscene.com through an interpreter on the weekend. "The venue is there. The Bird's Nest (National Stadium in Beijing) holds 100,000, so we have it all... and boxing in China is really growing.
"I took a week off after my last fight, then got right back into the gym. Shaun George is a great trainer, he's very professional and dedicated. Terry and Tommy Lane, my advisers, are making things happen on their end and the whole team has made this camp great.
"It was a good performance last time out, but we saw what I can do better and we've focused on that. We have also worked on becoming stronger so I will be prepared for Forrest. He has a good record and I respect him a lot. We've studied him and know all about him.
"I'm excited to be on the same card as Canelo; he's an amazing fighter and a great businessman outside the ring. It's a big plus and it gives me the chance to showcase my skills to a huge audience and build to bigger fights later in the year."
Meanwhile, undisputed world lightweight champion Teofimo Lopez wants promoters to manage the damage that YouTube boxing is doing to the sport.
Augmenting cards with the likes of YouTube fighters Jake and Logan Paul has become a popular gimmick in the pandemic era, but Lopez (16-0, 12 KOs), an old-school champion who cares deeply about his craft, says the practice is making a mockery of the sweet science.
"Stop this YouTuber boxing! Stop diminishing the sport that we've worked so hard for! It's s***, not sweet," Lopez wrote on Twitter on the weekend.
Logan Paul lost his professional debut to fellow YouTuber KSI(Olajide Olatunji) in November 2019 on the undercard of Billy Joe Saunders vs Marcelo Coceres in Los Angeles. He recently signed to fight an exhibition against Floyd Mayweather Jr in Tokyo, but the match has been postponed.
Now Paul has turned his attention to NHL tough guy and San Jose Sharks forward Evander Kane.
"Evander Kane? San Jose Sharks? Now what is that exactly? Some sort of fish? An aquatic animal who lives in San Jose?" Paul chirped on his podcast.
"Sure, put him on my list. I'll do it. We'll go through it again. I'll put a quarter-million down this time."
Kane was quick to return the barbs, tweeting: "Logan Paul? I'll take the mop off your head and wipe the floor with you. And your brother. Both of you can come and get it."
Jake Paul defeated former NBA star Nate Robinson on the undercard of the Mike Tyson vs Roy Jones Jr exhibition last July, knocking out the three-time slam dunk champion in the second round.
He's currently negotiating to face former Bellator MMA welterweight champ Ben Askren, and has also called out Mayweather.
It's all too much for Lopez, who said: "Real boxing fans want to watch real boxers. This is a serious business. It's not amateur hour."