Djokovic battles injury to survive third round of Australian Open
Share - WeChat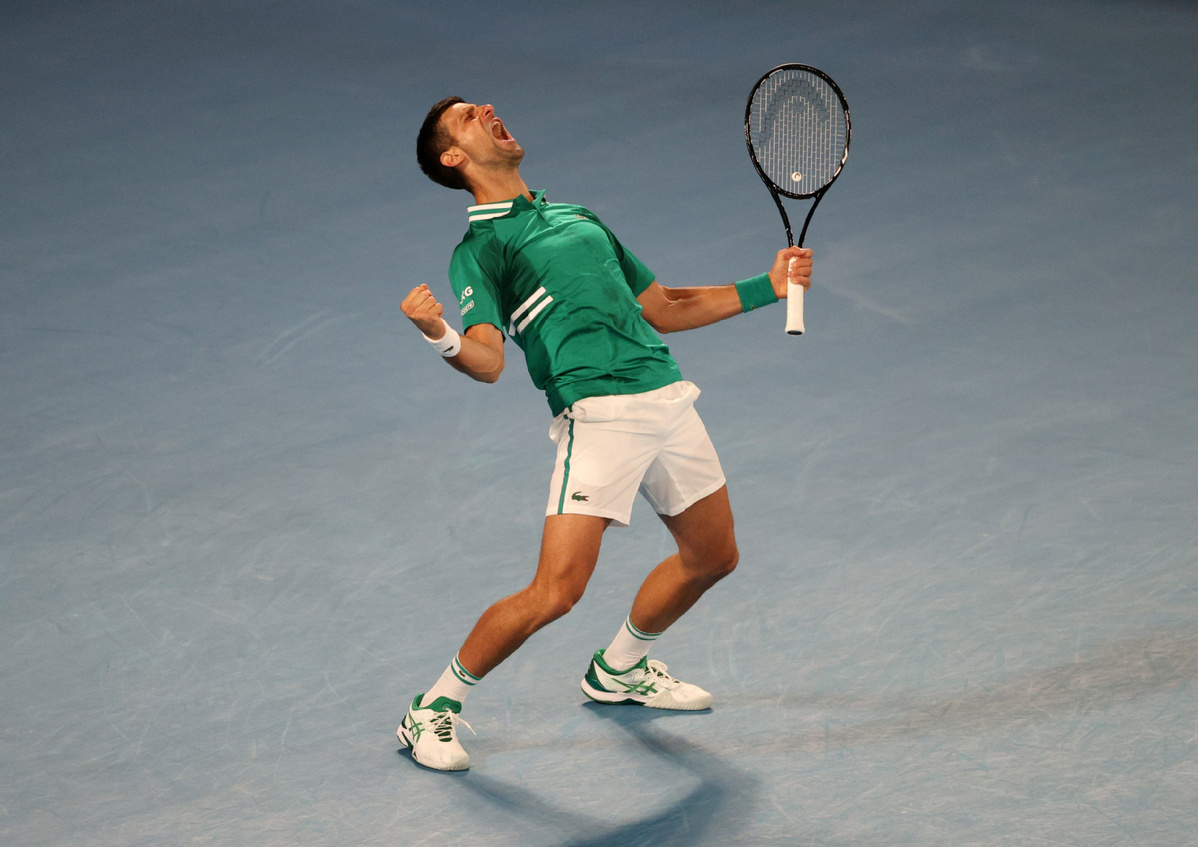 MELBOURNE - World No 1 Novak Djokovic battled a mid-match abdominal injury to survive a close five sets with American Taylor Fritz in the third round at the Australian Open (AO) on Friday night.
Djokovic was leading by two sets when an awkward slip early in the third saw him requiring a medical time-out and further treatment on his abdominal area throughout the third set.
The eight-time AO winner confirmed after the 7-6 (1), 6-4, 3-6, 4-6, 6-2 victory that the injury was likely a torn muscle, from which he was not sure he could recover before his next match in the fourth round.
"Right now I know it's a tear, definitely, of the muscle. So I don't know if I'll be able to recover from that in less than two days. I don't know if I'm going to step on the court or not."
Djokovic said overcoming his injury and being able to finish the match with a win was one of the most significant moments of his career.
"This is definitely one of the more special wins in my life. Doesn't matter what round it is and against who it is. Under these kinds of circumstances to pull this through is definitely something I'll remember forever," Djokovic said.
Unfortunately, the moment played out in front of an empty stadium with fans forced to leave half an hour prior to lockdown rules coming into effect at midnight local time.
Spectators will be barred from the AO for five days beginning Saturday as a state-wide lockdown comes into effect to curb rising COVID-19 cases in the community.
Earlier in the evening, Djokovic's opponent in the 2020 AO final, world No. 3 Dominic Thiem of Austria, fought back from two sets down to progress against Australian Nick Kyrgios 4-6, 4-6, 6-3, 6-4, 6-4.
Controversial fan-favorite Kyrgios gave spectators a final thrill ahead of the lockdown, with crowds in the mostly full stadium throwing their support behind the world No. 47.
Despite a two-set lead, Thiem's composure helped him win the final three to maintain his shot at winning his first AO and second Grand Slam title.
"Giving up is never an option. There is always a chance. I was so close to losing it. If he breaks me in the first game of the third, the match is over," Thiem said in a post-match interview.
"But I was fighting still, and with the break in the third, I realized maybe there was a chance to turn it around."
Also progressing to round four on Friday was Serena Williams, who beat Russian Anastasia Potapova 7-6 (5), 6-2 and No. 6 seed Alexander Zverev who defeated France's Adrian Mannarino 6-3, 6-3, 6-1.
Former AO winner Naomi Osaka also earned her place in round four with a 6-3, 6-2 win over Tunisian No. 27 seed Ons Jabeur, while after struggling against Australia's Ajla Tomljanovic in her previous match, second seed Simona Halep made faster work of Veronika Kudermetova, winning 6-1, 6-3.
Rising star America's Ann Li lost to No. 7 seed Aryna Sabalenka from Belarus 3-6, 1-6, in the 20-year-olds first match with a top-ten player.