Curlers leaving no stone unturned
Share - WeChat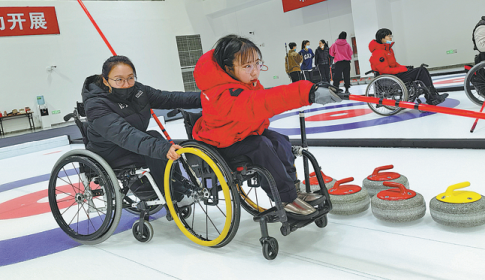 A banner draped across a wall of their training center says a lot about just how seriously Team China's wheelchair curlers are approaching the defense of their Winter Paralympic title-"Champion in Pyeongchang is history, restart from zero in Beijing."
And this dedicated bunch is acutely aware that the stakes will be even higher at Beijing 2022 than they were in South Korea three years ago.
"Our team is under pressure to excel at the Games because as the host we will be in the spotlight both at home and abroad," said head coach Yue Qingshuang, a former world champion in the sport's able-bodied version.
"As the gold-medal winner at the previous Winter Paralympics, we have become a target for other teams, who will be analyzing us and watching videos of us in action," she added.
Three years ago in Pyeongchang, Yue's team made history by winning China's first Winter Paralympics gold medal, beating Norway 6-5 in a nerve-jangling final.
With the Beijing Games set to open on March 4 next year, preparations for China's title defense are going into overdrive at the squad's base in the capital, the National Ice Sports Arena for People with Impairments.
Practicing on the ice with stones that weigh nearly 20 kilograms for up to six hours a day, six days a week, inevitably takes a toll on the curlers, with their wrists, shoulders and lower back particularly susceptible to aches and pains.
Strengthening their upper bodies in the gym and undergoing various physical therapies are, therefore, vital to keeping them in peak condition.
"Doctors treat us regularly with acupuncture, diathermy, massage and physical rehabilitation, but that can't stop us from getting further injuries. However, that's the pain that all athletes, either para or ordinary ones, must endure," said 31-year-old team captain Wang Haitao.
"We train to achieve stability of technique and mentality," added team member, Zhang Mingliang, who hails from Handan, Hebei province.
Center of excellence
Construction of the National Ice Sports Arena for People with Impairments was completed in Beijing's northeastern Shunyi district in December. Previously the curlers needed to share venues with other teams such as figure skating, an arrangement which limited their training hours.
The state-of-the-art venue features three sections-a wheelchair curling rink, a para ice hockey rink and an apartment complex used for accommodation, rehabilitation and research.
At the 2022 Winter Paralympics, athletes will compete in 78 events across six sports-alpine skiing, biathlon, cross-country skiing, snowboarding, para ice hockey (aka sledge hockey) and wheelchair curling.
"Now our venue meets international standards and is equipped with the best ice makers," Yue said.
The facility has been designed specifically to cater to people with disabilities. Elevator buttons are at foot level, for example, while restrooms offer similar ease of use. Motion-sensor doors open automatically and the corners of walls are arced to prevent bumps and bruises.
Canteens offer a wide selection of nutritious food, including pork ribs, lamb chops, fruit, vegetables and noodles with soybean paste.