Enter the dragon, for fiery fun
Share - WeChat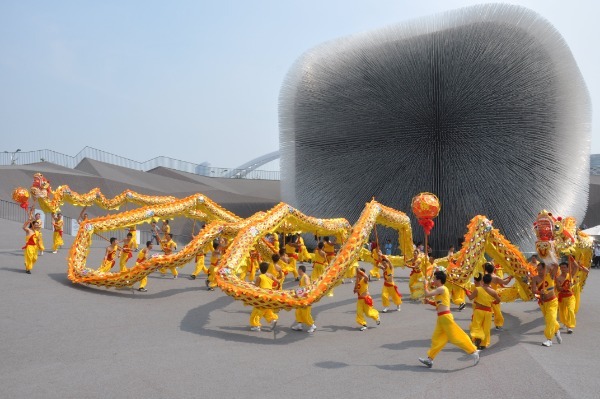 The Tongliang dragon dance wowed audiences when it debuted in New York City's Times Square on New Year's Eve in 2017. A colorful 15-meter-long dragon made of paper, nylon silk, bamboo and wooden poles jumped, rolled and hovered to traditional folk songs as it was manipulated by eight performers.
In Chinese culture, the mythical creature is associated with power, dignity, fertility, wisdom and auspiciousness. The dragon dance has been a major festival activity during Lunar New Year for over 1,000 years.
Tongliang, a district in Southwest China's Chongqing municipality, claims to possess the country's best dragon-dance show.
For Lunar New Year celebrations, various kinds of dragon dances are staged every day for thousands of viewers around the city for about three months-usually from the 12th lunar month to the second lunar month of the following year.
The Tongliang dragon dance is a nationally listed intangible cultural heritage that dates back to the Tang Dynasty (618-907), when people prayed for peace and bountiful harvests.
The creation of the dragons and the performances combine folk dances, music, art and craftsmanship.
Local people perform different types of dragon shows according to the season, such as bamboo dragons in spring, lotus dragons in summer, straw dragons in autumn and fire dragons in winter.
The best-known is the Tongliang fire-dragon dance. Iron is melted to create sparks that are supplemented by fire that blasts from the dragon's mouth and body to form a spectacular three-dimensional effect.
The iron is heated to 1,200 C in eight ovens arranged in a circle. Sixteen bare-chested men spray the liquid iron into the air, creating scatterings of flower-like flames. Fireworks fly from the bodies of two golden dragons held by 20 shirtless men as the creatures fly up and down and back and forth through seas of fire.
The Tongliang dragon dance has been showcased at such major events as China's National Day celebrations, the 2008 Beijing Olympics and the 2010 Shanghai World Expo.
And dragon-dance troupes have performed in more than 30 countries and regions, including the United States, Britain, France, Australia, Turkey, Japan and South Korea.
Both dragon-making and dragon dances have changed in recent years.
The industry has generated income for local people. There are 35 dance troupes, 10 dragon-making teams and dragon-themed tourism, which generate about 1 billion yuan ($154.6 million) in revenue a year.
And this ancient tradition seems set to continue to fly into the future.