Orchestrating a happy Lunar New Year
Share - WeChat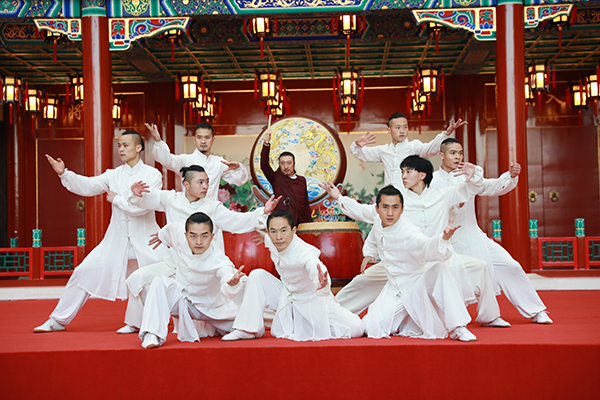 The China National Traditional Orchestra and musicians from the Chicago Symphony Orchestra performed a livestreamed virtual concert under the baton of conductor Liu Fengde on Feb 4 to mark the approach of the Year of the Ox, which begins on Feb 12.
The concert, organized by China Arts and Entertainment Group Ltd, featured four parts based on the seasons and presented such programs as Lantern Festival-Viewing Lanterns by Ma Jiuyue; The Sky Is High and the Clouds Are Pale by Feng Mantian; and Winter Solstice-Luckiness and Eternity by Zhao Cong.
Chinese musicians, such as bamboo-flute soloist Zheng Di and guqin (Chinese zither) player Zhao Xiaoxia, dancers from the Ballet Theater of Ukraine and the Poya Songbook Chorus from Poya village in Southwest China's Yunnan province, also participated.
The annual "Happy Chinese New Year" event initiated by the Ministry of Culture and Tourism in 2010 brings a series of live performances to audiences around the world to celebrate Lunar New Year with a diversity of art forms, including music, dance and acrobatics, as well as Chinese food and folk culture.
Due to the COVID-19 pandemic, this year's "Happy Chinese New Year "will feature online programs to enable global audiences to experience Spring Festival culture in their homes.
Shen Haixiong, director of China Media Group, the co-organizer of the "Happy Chinese New Year "event, says 11 programs will be livestreamed from Feb 16 to 26, and the closing program will feature singers from seven countries performing Chinese songs adapted from Tang Dynasty (618-907) poems.
"We want to send festive greetings and best wishes to overseas Chinese and to people worldwide with these performances that not only offer a window to showcase traditional Chinese culture but also invite people all over the world to join Lunar New Year celebrations," Shen said during the opening ceremony on Feb 4 at Beijing's Tianqiao Performing Arts Center.
Long Yun Kungfu Troupe, a touring ensemble of talented Chinese martial artists founded by Jackie Chan, gave a live performance with percussionist Wang Jianan during the opening ceremony.
"The COVID-19 pandemic hit in the past year," Chinese Culture and Tourism Minister Hu Heping says.
"People from around the world have fought shoulder to shoulder against the pandemic. We want to find alternative ways to keep the tradition of cultural exchange ongoing."
Most Popular