Crossover skiers hit peak performance
Share - WeChat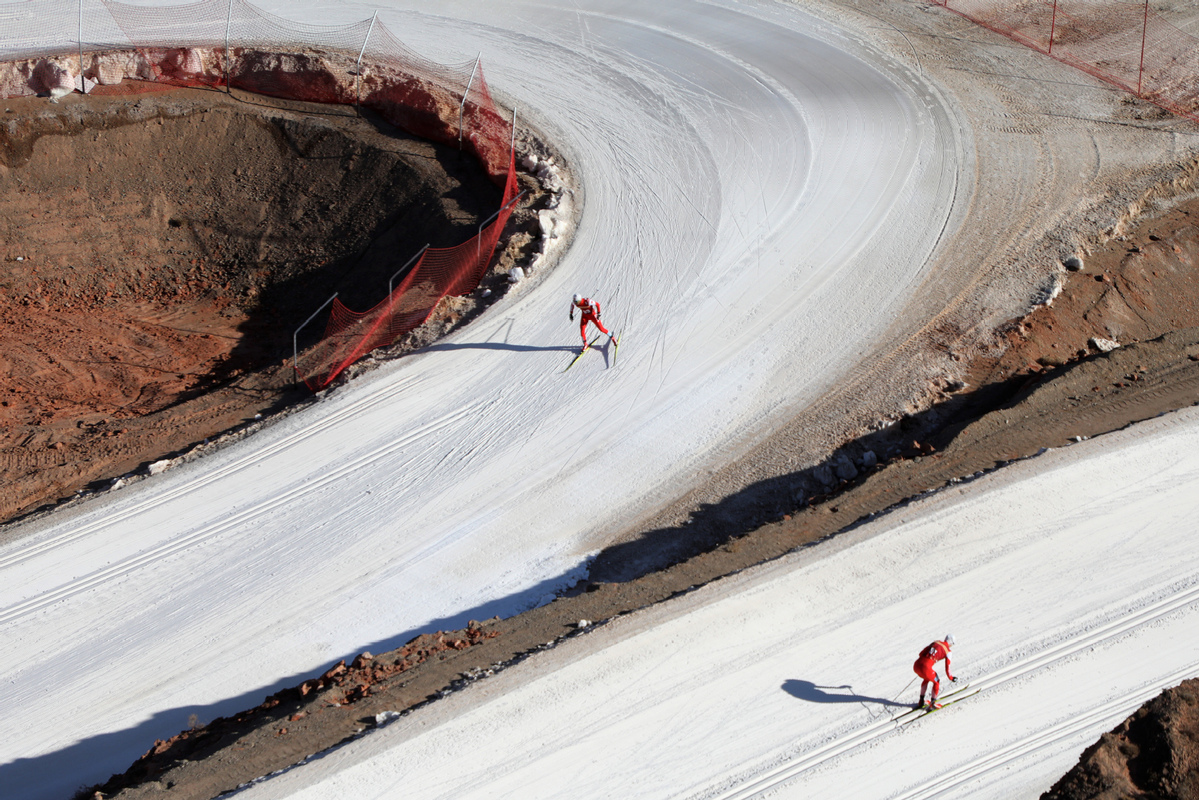 LANZHOU, Gansu province-This week's 2020-2021 China Cross-Country Skiing Championships in Baiyin feature many crossover athletes aiming to make a breakthrough at next year's Winter Olympics on home snow.
Fifteen-year-old Lei Chengjie, a former judoka who has had just 60 days of ski training, won four bronze medals at the championships representing Gansu.
Lei claimed his medals in Under-16 3-kilometer Climbing (Classic Technique), U-16 3km Climbing (Free Technique), U-16 Comprehensive Ability of 3km Climbing, and U-16 15km Mass Start (Classic Technique).
"I really love winter sports, and I am eager to join the 2022 Winter Olympic Games," said Lei, adding that he was encouraged by his coaches to practice roller skating to improve his skiing prowess.
The Gansu Winter Sports Management Center was founded in 2019. Over 20 crossover athletes representing Gansu took part in the championships, which attracted around 200 skiers in total.
Gansu team manager Liu Pengfei said his squad was one of the youngest in the championships, and athletes had tried their best to compete for honors.
"Our team is very young," said Liu, adding that all of his crossover athletes performed well at the championships.
Zhang Bei, the manager of China's cross-country skiing training team, said that the squad has selected many athletes that previously competed in non-winter sports disciplines. The team was established in 2018, comprising of 39 members.
"Crossover athletes can be tested in the championships," said Zhang, adding that competing in tournaments can improve the performance of all athletes.
Wen Ying, from southwest China's Guizhou province, who was previously a marathon runner, was selected for China's cross-country skiing training team in 2018.
"Crossover events have an elimination system," said Wen, adding that she had won several domestic competitions and her performance has improved gradually.
"I hope I can make a breakthrough at the 2022 Beijing Olympic Games," Wen said.
About 22 national teams in winter sports have had crossover training since 2018. "Crossover selection is a good way for us to discover more talents for winter sports," Zhang said.
"The championships are excellent preparation for the 2022 Winter Olympic Games," said Yang Ning, the deputy director of China's General Administration of Sport, adding that the competition represents a new start for winter sports in China.
Xinhua