Bezos to give up Amazon reins as sales soar
Share - WeChat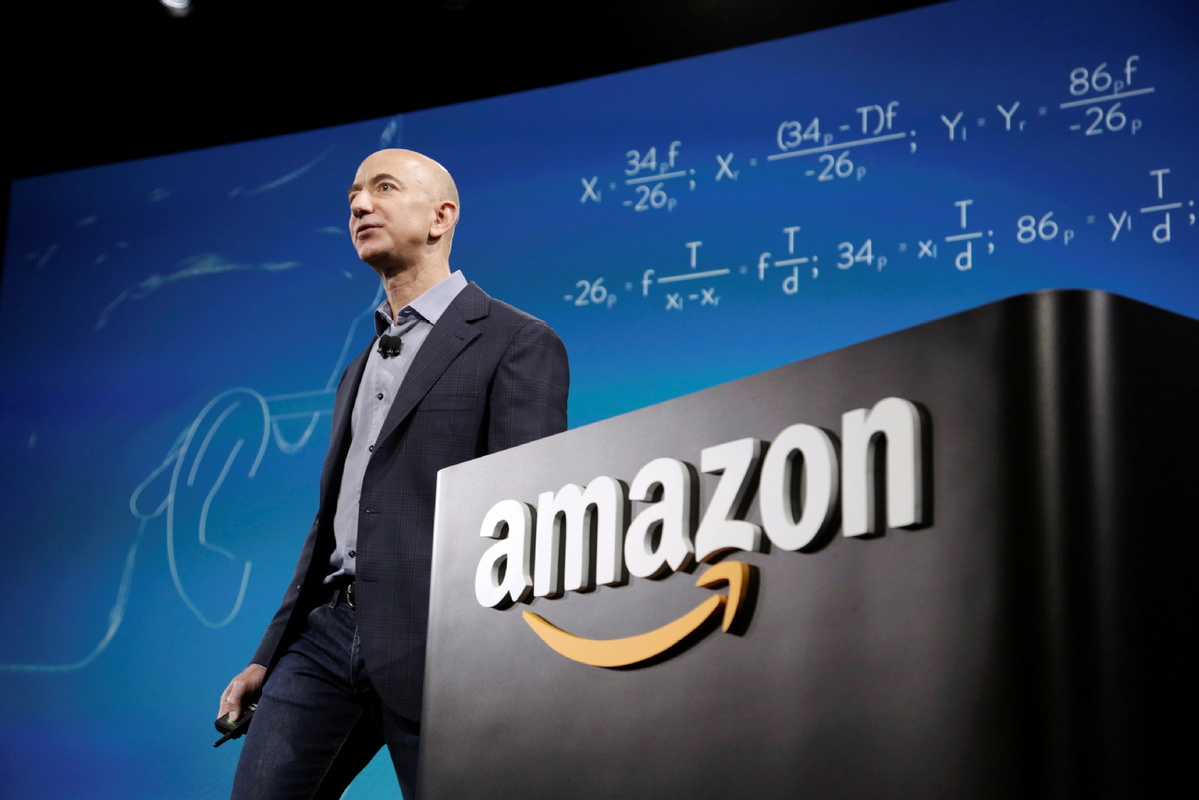 Jeff Bezos, the founder and CEO of e-commerce colossus Amazon, surprisingly announced Tuesday that he would step down from his role and transition to executive chair of the company.
The announcement came as Amazon reported record fourth-quarter sales that topped $100 billion for the first time. Bezos' move will take effect in the third quarter of 2021.
Andy Jassy, who has worked for Amazon since 1997, will take over as CEO. He currently serves as CEO of the company's cloud business, Amazon Web Services, its biggest profit-driver.
And while the COVID-19 pandemic has driven many companies to tell their employees that they will work from home indefinitely, Seattle-based Amazon also unveiled plans Tuesday for the second phase of its second headquarters in Arlington County, Virginia.
In a memo to employees, Bezos said the transition will give him "the time and energy I need to focus on the Day 1 Fund, the Bezos Earth Fund, Blue Origin, The Washington Post, and my other passions."
Those philanthropic efforts include the $10 billion earth fund and Amazon's $2 billion Climate Pledge Fund.
Bezos,57, the second-richest person in the world after Tesla founder Elon Musk, according to Forbes, bought The Washington Post for $250 million in 2013. Bezos recently has focused on the development of Blue Origin, an aerospace company that is developing rockets for commercial use.
GeekWire reported that Bezos will devote one day a week to Blue Origin, plus at least $1 billion worth of the annual proceeds from his sales of Amazon shares.
The announcement set off alarm bells on Wall Street and throughout the business community. But Bezos said he will stay engaged in important Amazon initiatives and has full confidence in the next leader.
"If you do it right, a few years after a surprising invention, the new thing has become normal," Bezos said. "People yawn. That yawn is the greatest compliment an inventor can receive.
"When you look at our financial results, what you're actually seeing are the long-run cumulative results of invention. Right now, I see Amazon at its most inventive ever, making it an optimal time for this transition," he said.
Amazon reported a year of record growth on Tuesday, including a 38 percent increase in net sales over 2019, and net income of $21 billion, nearly double from the year before, on fourth-quater revenue of $125.56 billion.
Amazon's shares closed at $3,380 in Nasdaq trading, up 1.1 percent, and were slightly higher after hours.
Bezos' announcement spurred reactions from many of his fellow Big Tech chiefs, including Google CEO Sundar Pichai and Microsoft CEO Satya Nadella.
"Congrats @JeffBezos, best wishes for Day 1 and Earth fund," Pichai tweeted.
"Congratulations to @JeffBezos and @ajassy on your new roles. A well-deserved recognition of what you have accomplished," Nadella tweeted.
Bezos founded Amazon as an online book-seller in 1994 out of his garage in Seattle. He has an 11.1 percent stake in the company.
Today, Amazon, with its market value hovering around $1.7 trillion and with 1.3 million employees worldwide, has become one of the most valuable companies in the world.
Between March and April 2020, amid the pandemic, Amazon said it hired 175,000 additional workers.
Amazon also announced plans for 2.8 million square feet of office space across three 22-story buildings in Virginia, in the Washington DC metropolitan area.
"Despite many of our employees working from home at this time, we view our Arlington headquarters as a long-term investment and we remain committed to creating 25,000 jobs in Arlington over the next decade," the company said in a statement.
Construction of the first phase of Amazon's complex in Virginia started in January 2020, and Amazon already has 1,600 employees at the location with more than 600 jobs open. The two buildings in the first phase will house 12,500 employees.
"Arlington looks forward to kicking off a thorough community review process where neighbors and stakeholders will have the opportunity to review design concepts in further detail and multiple opportunities to provide input," Matt de Ferranti, the chair of the Arlington County Board of Supervisors, told the local NBC-TV station.
"We expect that the process will conclude with the proposal coming before the county's Planning Commission and county board by the end of the year," he said.
Similar to the Sphere of Amazon's Seattle headquarters, the Virginia site will feature the Helix as its centerpiece.
Structured like a DNA double helix, the 350-foot-tall building will feature two walkable paths of landscaped terrain that will spiral up the outside of the building. The Helix also will have an artist-in-residence, and Amazon will open the building to the public on some weekends each month.
"We have to think about this as a long-term investment," John Schoettler, Amazon's vice-president of global real estate and facilities, told The Wall Street Journal. "These buildings will begin to deliver in 2025. And so, we believe that the world will be a much-improved place than it is currently."
Schoettler said that the growing popularity of remote work has influenced the buildings' designs. Amazon expects some employees will go to the office only occasionally. The designs gravitate more toward collaborative spaces where people meet each other rather than individual office space in the traditional sense.
More than 2.5 acres will be accessible for public use. The facilities will include an amphitheater facing a central green, farmers' markets, movies in the park and a forest grove.
The complex will have retail pavilions and restaurants throughout the site. Other features will include a child care center, a dog run, and a food-truck area with outdoor seating. A 20,000-square-foot community space will be used for educational initiatives.
The publicly accessible spaces will prioritize walkways, landscaping and retail over vehicles, with all vehicle garages underground. There will be parking for 950 bicycles, dedicated bike lanes and bike entrances for each building at street level. All deliveries and docking activity will happen underground.
Agencies contributed to this story.