Joint efforts can ensure better future for everyone
Share - WeChat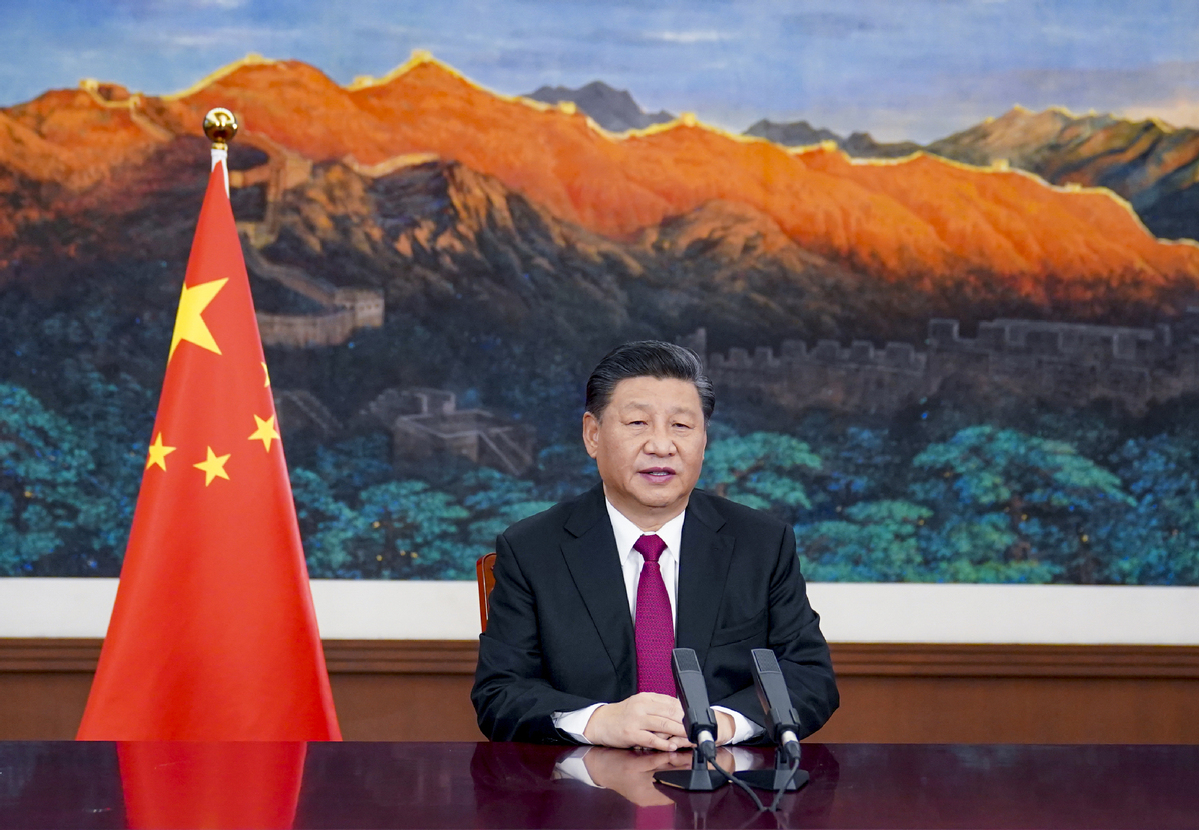 President Xi Jinping addressed the Davos Agenda of this year's World Economic Forum last week with an actionable solution through global partnership and solidarity, which he calls "building a community with a shared future for mankind".
It can be a ray of hope for sustainable peace, prosperity and solidarity if some stakeholders overcome their vile instincts, prejudices and biases for the sake of humanity and posterity.
Xi has identified public health and economic challenges. For the first time, an important challenge to public health has emerged and the global community is lacking the solidarity required to face it. Hence, he sought further global attention to this issue.
In his special address on Jan 25, Xi suggested that macroeconomic policy must be corrected, ideological prejudices swallowed, multifaceted inequality reduced, and public health governance revamped and enhanced. Joint efforts for all will ensure a better future for mankind.
Xi also explained certain prerequisites in facing the challenges and attaining the above objectives through openness and inclusiveness, for which multilateralism is the viable mechanism. Multilateralism can smoothly operate under the preeminence of the United Nations and commitment to international law, consultation and cooperation to overcome a Cold War mindset and be receptive to change instead of resisting it, for which evidence-driven, people-centric policies must be pursued.
China on its own has advanced in this direction by realizing the goal of being a moderately prosperous society through the principles and institutions of a modern socialist society. Science, reason and humanitarian spirit played a crucial role in achieving this goal. The global community could learn from the Chinese experience of development while recognizing the historical legacies, diversity of culture and differences in institutional structure.
By recognizing these differences, Xi clearly underlined the Chinese resolve to promote international cooperation in fighting the pandemic, a win-win strategy for opening up, sustainable development and a new type of international relations immune from prejudices and biases.
In his 2017 address to the World Economic Forum, Xi identified three main problems-lack of robust driving forces for economic growth, inadequate global economic governance and uneven global development.
These must be addressed through the mechanism of inventing a dynamic, innovation-driven growth model, a well-coordinated and interconnected approach of open and win-win cooperation, and fair and equitable governance to ensure balanced, inclusive development.
Chinese achievements and contributions to the world are noteworthy. Yet Xi also applauded those of other countries. China has pursued a path based on Chinese realities by giving importance to people's interests through reform, innovation and common development via opening up.
It is clear that his Davos address last week reflected the Chinese perception of development and world order more candidly than his 2017 address. No doubt the right path leads to a bright future in which leaders' resolve and people's resilience are crucial.
But today's fragile world is also full of fractures. While addressing the Davos event, UN Secretary-General Antonio Guterres described the global situation as facing "fragility" of technology and policy. He suggested that this can be addressed through "reinvigorated, inclusive and networked multilateralism" that goes beyond intergovernmental organizations.
Late last week, Indian Prime Minister Narendra Modi focused on India's performance in technological advancement for fulfilling its aspiration of seeking its rightful place in the world order.
In his World Economic Forum address in 2018, he had a clear message against protectionism and inward-looking policies. He identified multiple "fractures" within nations and in the international order, and also between the present and future, therefore emphasizing a cooperative, harmonious, sharing and caring world in which the domestic and the global are mutually reinforcing.
Addressing the challenge of both the fractures and fragilities is conducive to "building a community with a shared future for mankind "as proposed by Xi. It is thus most appropriate that these leaders come forward for a new social contract and new global deal in order to ensure an equitable, inclusive and sustainable world order.
China and India can be civilizational partners. This implies not only economic and geo-strategic interests, but also envisioning a world order that emphasizes multilateralism and serves the interests of one and all. The other non-Western powers are expected to naturally stand with such a vision.
The author is an emeritus fellow, former director and professor of the South Asia Studies Centre of the University of Rajasthan in India. The views do not necessarily reflect those of China Daily.