Life of objects
Share - WeChat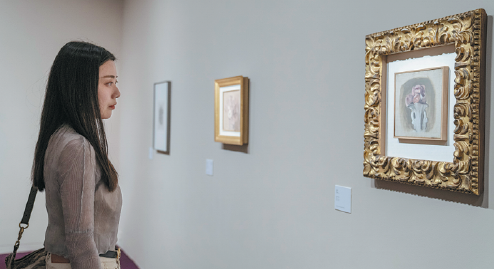 The ongoing exhibition in Beijing's M Woods art museum presents diverse works by Italian artist Giorgio Morandi and shows the changing styles in his decadeslong career. CHINA DAILY
The Italian artist Giorgio Morandi (1890-1964) is not a complete stranger to Chinese people. His strong art style involving gray shades has been widely applied in decoration, fashion and many other fields. However, less is known about his life experience and career path. Like many artists, he is popularly referred to by his last name.
M Woods, an art museum in Beijing, is currently presenting around 80 Morandi's works, which are gathered from four countries, exploring six decades of his career.
The exhibition, titled Giorgio Morandi: The Poetics of Stillness, which runs through April 5, is the first solo show for the artist in China, highlighting his diverse works and change of art styles.
Morandi was born in Bologna, a city in central Italy, which is surrounded by medieval towers and shady loggias.
As a teenager, Morandi was passionate about art. At the age of 17, he studied painting at the Academy of Fine Arts of Bologna, one of the oldest art academies in the world.
From 1914 to 1929, he taught painting in a primary school in Bologna. This was interrupted by World War I. In 1915, he was drafted into the Italian army but was soon sent home due to illness and depression. In 1930, at the age of 40, he went back to the Academy of Fine Arts of Bologna and taught etching there until 1956.
Morandi's etchings are probably "his most underrated achievement", says Wang Zongfu, curator of the Beijing exhibition.
The artist created more than 130 etchings, which took up an important part of his career.
He lived like an ascetic-with no wife or offspring-and spent time working in his studio in the apartment which he shared with his three sisters. He visited different cities to attend his own exhibitions. He also traveled to Zurich, Switzerland, for French artist Paul Cezanne's exhibition.