Life of objects
Share - WeChat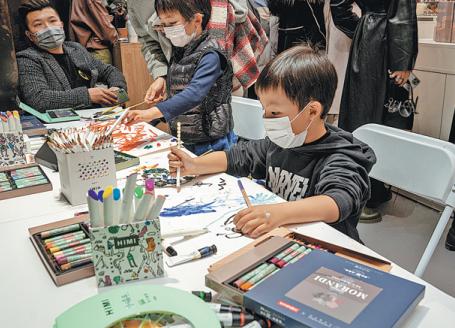 The museum is also hosting a workshop for children to display their talent. CHINA DAILY
Throughout his life, Morandi painted bottles and captured the landscape of his hometown. He created 1,264 oil paintings alone, and this number does not include other forms such as drawings, watercolor works and etchings.
"Morandi and his art help us to relearn how to look at things we've ignored, and the objects we believed to be insignificant," Wang says. "But they are quite important to us."
The Beijing exhibition is reviewing Morandi's life path through four main sections, according to different focuses of his art: transitions, recurrence, landscapes and late works on paper.
The first section reveals the development of his visual language and innovation of themes, colors and composition.
Paintings on display include several representative works such as Still Life (1914), one of his earliest still-life paintings, and Still Life with Bottle and Jug (1915). The pieces challenge people's inherent cognition of ordinary things as the artist was strongly influenced by avant-garde movements such as cubism and futurism.
During the period when Morandi was working in a primary school, he explored metaphysics. Another of his famous works, Still Life (1928)-an upturned pot standing on a table and a 19th-century arc-shaped clock-shows only form and appearance of the objects.
Morandi once said: "The feelings and images that the visible world awakens in us are very difficult to express or are perhaps inexpressible with words, because they are determined by forms, colors, space and light."
The key to Morandi's artistic creation is to make repeated observations of the same set of objects and capture the inner essence of his paintings and etchings. His pattern of creating art is highlighted in the second section of the exhibition, traced through the evolution of two specific objects-a white bottle and a cylindrical white vase as seen in his later works such as Still Life (1956).
The landscape section of the show has paintings, drawings and etchings, immortalizing the natural scenery of Grizzana, a town at the foothills of the northern Apennines, where Morandi stayed every summer from 1927 to 1932. At the same time, he didn't forget to paint the scenery outside the window of his studio in Bologna.
In addition, the section shows Morandi's passion for flowers in still life, with works created in the 1920s to 1950s, such as Flowers (1952).
In his later years, Morandi's works became more "open and wild", Wang says. At some point, the outline of an object in his drawings gradually disintegrated under his pencil, showing almost abstract lines and color blocks like some kind of undefinable existence.
The last section of the exhibition, presenting some of Morandi's drawings and watercolors created in the last 20 years of his life, shows this important transformation.
Some visitors say the exhibition has "shortened the distance "between them and the artist.