Waxers smoothing skiers' path to Olympic success
Share - WeChat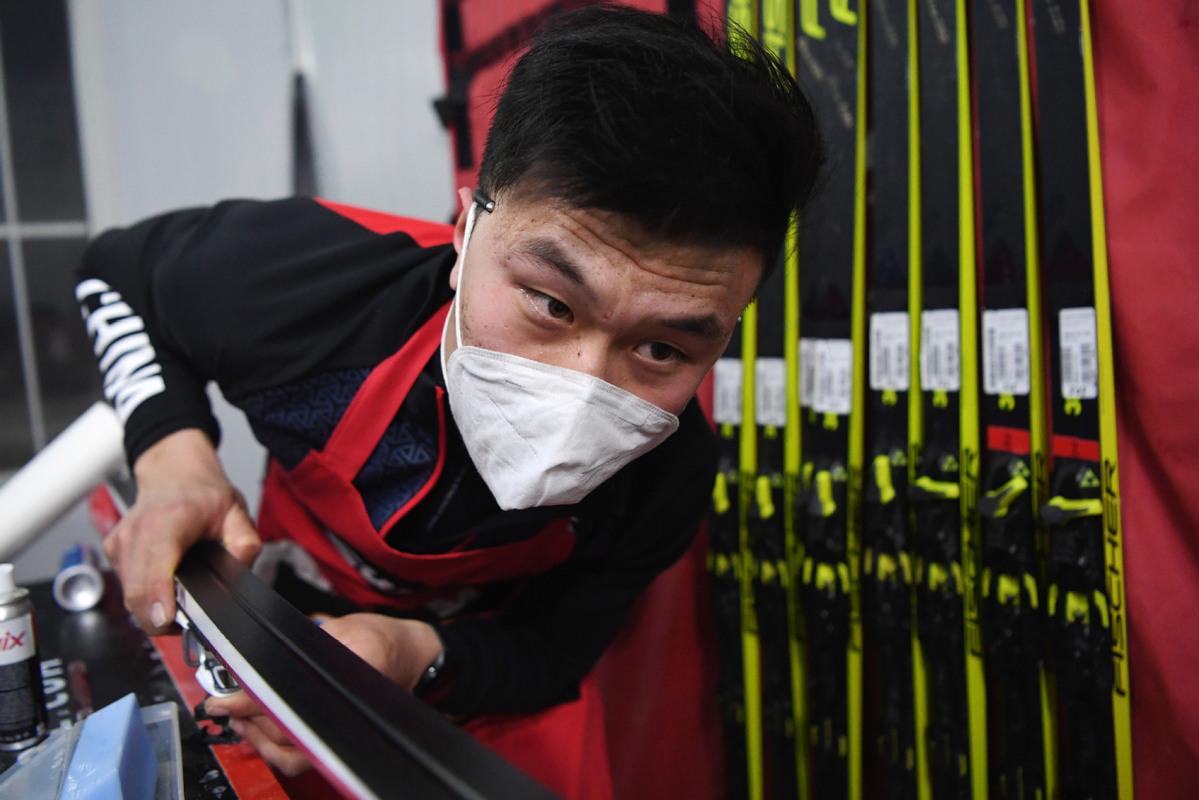 LANZHOU, Gansu province-It's past 10 pm, but light still emits from the waxing room that serves China's cross-country skiing training team.
Terje Langli, a 55-year-old from Norway with nearly 20 years experience as a waxer, instructs his two Chinese apprentices to get to work on the team's skis.
They are currently honing their craft at the ongoing 2020-21 China Cross-Country Skiing Tournament in Baiyin, a city in northwest China's Gansu province.
Langli likens waxing skis to using the correct tires in Formula 1 motor racing.
"Good ski waxing can save athletes' energy and improve sports performance," said Zhang Bei, the manager of China's cross-country skiing training team.
"Cross-country skiing started late in China, and we didn't have enough waxers in the past," Zhang says.
The top European teams are often equipped with more than 10 kinds of wax and dozens of waxers, who can adapt their work to different temperatures and snow quality.
"The successful bid for the 2022 Beijing Winter Olympic Games has encouraged more Chinese to take part in winter sports," said Zhang, adding that China has recruited waxers from abroad to speed up the cultivation of top-class Chinese waxers and enhance the strength of winter sports.
"Now, China's cross-country skiing training team has a group of foreign waxers. I hope that all athletes can improve their performance with our professional waxing team," Zhang says.
One of Langli's apprentices, 21-year-old Wang Yihan, explains that selecting the correct wax can be a painstaking process, with factors such as the snow and air temperature, and humidity all taken into account.
"After selecting the wax, we need to go through many procedures, such as cleaning, drying, ironing and brushing," Wang adds.
Nikita Kriukov, the coach of China's cross-country skiing training team, believes that success lies in the details.
"Waxing is very important. I come to the waxing room almost every night to help the waxers prepare for the race," says Kriukov.
Li Xin, a 29-year-old member of the team, is grateful for the waxers' diligence and dedication.
"The whole team, including the waxers, work very hard. And I will try my best to stand on the winner's rostrum at the Beijing Winter Olympic Games," he says.