Reviving the riverside
Share - WeChat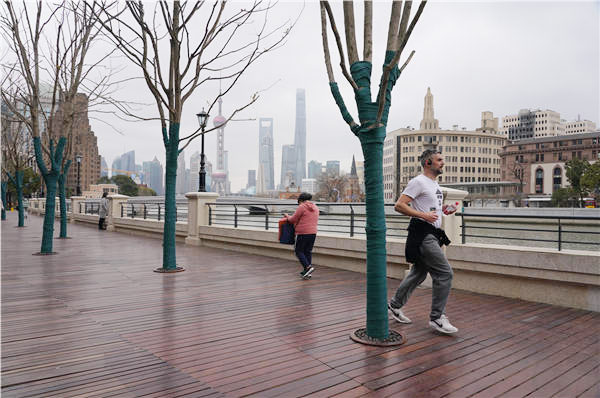 The banks of the Huangpu River and Suzhou Creek are being transformed from dull industrial zones into colorful leisure areas, Xing Yi reports in Shanghai.
The completion of a 42-kilometer waterfront pedestrian path along Suzhou Creek in Shanghai in December marked another milestone in the ambitious redevelopment project of the banks of the Huangpu River and Suzhou Creek in the city.
The aim of the "River and Creek" project, which started five years ago, involves adding more greenery to the landscape, renovating historical buildings and industrial structures, tearing down walls and constructing new bridges to connect public spaces along the river.
Starting from the Linkong Musical Park at the intersection of Suzhou Creek and the city's west outer ring road, the newly connected riverside path extends to the Waibaidu Bridge at the north end of the Bund, where the creek meets the Huangpu River.
Several parts of the riverside path, which were built before the project commenced, have been renovated and expanded, alleviating the pressure caused by high-density development in the downtown area.
"Before the project was launched, a total of 15.3 kilometers and 63 spots along the creek were blocked by historical buildings, warehouses, residential quarters and other human-made obstacles," says Zhu Jianhao, executive deputy director of the project, who is also the deputy director of the municipal housing and urban-rural development commission.
"The project has been supported by district governments, companies and residents along the river because the building of the pathway involved the opening of many internal spaces."
Because of these developments, people can now perform various activities along the path, such as jogging, dancing, playing music and skateboarding.
"The waterfront area of the creek will become a 'backyard garden' of local citizens, while the Huangpu River waterfront serves as a 'reception room'," says Zhu.
"We will strive to turn the riverside from an 'industrial rust belt' into a vibrant urban public space for leisure."
Chen Zhiyong, owner of a small store near the creek, says the new path bears a stark contrast to its former self. Three years ago, the area had nothing but a narrow pedestrian sidewalk, a parking lot, a small office building and a water-quality monitoring facility.