Domestic travel set to surge over upcoming New Year holiday
Share - WeChat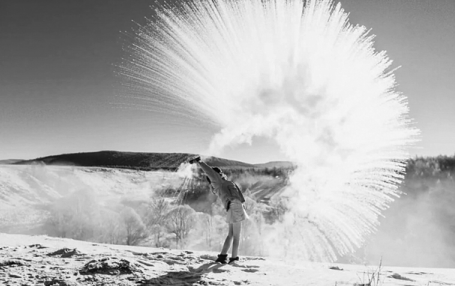 After a difficult year, Chinese travelers are straining at the leash in anticipation of the upcoming New Year holiday.
Wang Yi rushed to book a late December flight from Beijing to Sanya, South China's Hainan province.
Wang has planned the trip since September, as it would be right before her fly-at-will package from Hainan Airlines that expires at the end of this year.
"I've taken days off in advance to extend my stay in Sanya until after the New Year holiday," the 27-yearold Beijing resident says.
Wang is among many who have planned trips around the three-day holiday starting on Jan 1.
Bookings in December for tours that offer immersion experiences have surged by 320 percent compared with the previous month, the country's biggest online travel agency Trip.com Group reports.
The New Year countdown at the People's Liberation Monument of Southwest China's Chongqing, fireworks performance at Chimelong park in Zhuhai, South China's Guangdong province, hiking in the Tibet autonomous region, and the water-splashing festival in Aoluguya, North China's Inner Mongolia autonomous region, have all been very popular with New Year travelers, according to the travel agency.
Ski destinations in Zhangjiakou, North China's Hebei province, Harbin and Mudanjiang of northernmost Heilongjiang and Beijing have seen most rapid growth in tourist searches through the travel agency.
Those who prefer a warm winter have mostly opted for southern destinations, with related bookings in December for health and wellness experiences rose by more than 30 percent over November.
Xishuangbanna Dai autonomous prefecture in Southwest China's Yunnan province, Beihai in South China's Guangxi Zhuang autonomous region and Hainan are most popular for those trying to avoid a cold winter.
Routes off the beaten track and themed tours are increasingly popular with Chinese tourists who have shown a strong will to experience the beauty of the country, says Jane Sun, CEO of Trip.com Group.
A significant amount of Chinese travelers have planned long-distance travel, based on searches by the platform's 300 million domestic users.
Flight bookings for the holiday from Beijing to Sanya, Harbin to Beijing and Beijing to Guangzhou lead the way, the travel agency's data show.
Flight ticket sales, favorable deals by winter tourist resorts and cheaper group travel service costs are behind the holiday exodus, experts say.
Those tourism promotions have helped cut tour costs through the New Year holiday by 25 percent, compared with the same period last year, according to the travel agency. The average cost of private travel groups are 40 percent less.
In Shanghai, Beijing, Hangzhou in East China's Zhejiang province, Changsha in Central China's Hunan province, Nanjing in East China's Jiangsu province and Sanya, hotel bookings peaked during December. Four and five-star hotel prices have generally risen by 20 to 35 percent year-on-year.
A recent report by vacation rental provider Airbnb and London-based consultancy Kantar found that more than 50 percent of 1,000 surveyed Chinese travelers intend to spend four to six days traveling during Spring Festival (February 11-17).
Those looking at overseas travel experiences are planning trips up to 14 days for the festival, and more than 70 percent of those surveyed said they would try suburbs and villages in the coming year, the report says.
The public are warming up to customized tours featuring cross-country driving, photography and hiking experiences, which heralds great potential for the domestic high-end tour customization market, according to Sun.
A mid-December report from China Tourism Academy predicted the country would see 10 billion domestic tourist visits and 10 trillion yuan ($1.5 trillion) worth of tourism consumption in the next five years.
5G, big data, artificial intelligence and the internet of things will help culture and tourism integration and innovation, thus offering more products for travelers, the report says.
Wang says she cannot wait to start her vacation.
"I'll meet my friends there and enjoy sunshine and warmth on the island," she says.
Speaking about her future travel plans, Wang says she would definitely go out and explore more parts of the country, especially when the COVID-19 pandemic is largely under control.