US toll lays bare scale of virus battle
Share - WeChat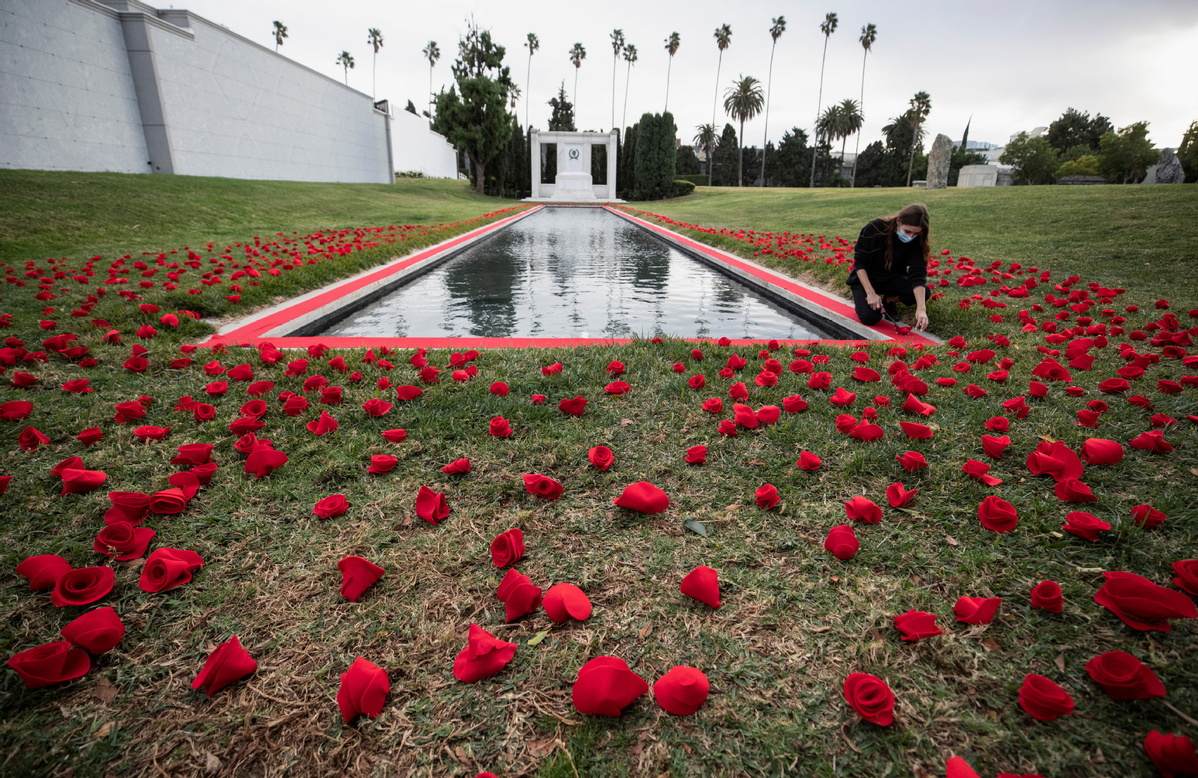 400,000 victims logged in worst-hit nation, and UK hit by record fatalities
The world received more frightening reminders of the pandemic's worsening danger on Tuesday as the US COVID-19 death toll topped 400,000, Germany looked set to tighten its partial lockdown and a new virus variant found in Britain reached at least 60 countries.
The death toll of 401,777 on early Wednesday in the United States, the world's highest, was reached less than two weeks out from February-the month a year earlier that the first deaths from the virus were reported in the country.
On Tuesday, Joe Biden led a moving tribute for coronavirus victims, hours before his inauguration as US president.
"It's hard sometimes to remember, but that's how we heal. It's important to do that as a nation," Biden said in somber remarks in Washington at the National Mall reflecting pool, where lights were turned on as a memorial to those who have died.
More than 100,000 people have died of COVID-19 in the past five weeks. It took more than 16 weeks for the US to reach 100,000 deaths, but less than five weeks to go from 300,000 to 400,000.
The number of coronavirus cases in the US has surpassed 24 million, while California, New York, Texas and Florida reported the largest number of new infections in the past week.
"It's very hard to wrap your mind around a number that is so large, particularly when we've had 10 months of large numbers assaulting our senses and really, really horrific images coming out of our hospitals and our morgues," Kirsten Bibbins-Domingo, chair of epidemiology at the University of California, San Francisco, told National Public Radio on Tuesday.
The number of deaths in the US is out of proportion with a population that makes up less than 5 percent of the world's total. The figure is nearly equal to the number of US citizens killed in World War II, around 405,000, according to the Veterans Affairs Department.
More than 2 million people have been recorded killed by the virus worldwide, according to data from the Johns Hopkins University.
In Europe, Britain has been coping with a new strain of the virus thought to be far more infectious, and on Tuesday it registered a record 1,610 deaths over 24 hours.
The World Health Organization announced on Wednesday that the new coronavirus strain has been detected in at least 60 countries, 10 more than a week ago. The variant is thought by the WHO to be between 50 and 70 percent more infectious than the original.
Border curbs
As fears of new variants spread, German Chancellor Angela Merkel warned that Germany may need to consider border curbs if other European countries do not act to halt the spread of the coronavirus.
"We can do anything we like, but we will not succeed if others are not working in parallel," Merkel told journalists on Tuesday, two days ahead of a video conference of European leaders. "We need to make sure that everyone around us is doing the same. Otherwise we have to look at measures such as entry restrictions."
Her comments came after she and leaders of Germany's 16 states agreed to extend for a further two weeks a lockdown for most shops and schools until Feb 14.
Elsewhere in Europe, Portugal also clocked a record daily number of fatalities, while Serbia became the first European country to use the Chinese-developed Sinopharm vaccine, and the country's Health Minister Zlatibor Loncar became the first Serbian to receive it.
Minlu Zhang in New York, agencies and Xinhua contributed to this story.