China's stars staying upbeat Down Under
Share - WeChat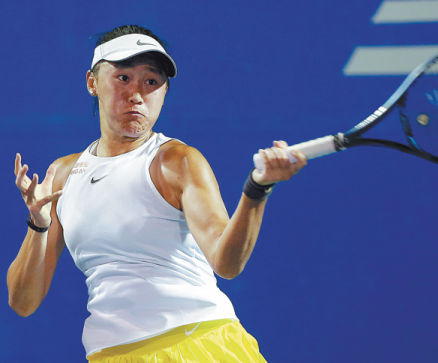 Wang Qiang and compatriots keep positive mindset as rivals complain over lockdown arrangements
With COVID-19 controversies clouding the Australian Open, China's focused aces are blocking out the noise to shape up for arguably their best shot at the tournament in years.
Apart from the withdrawal of teenager Wang Xiyu due to a positive coronavirus test, the rest of the Chinese contingent have arrived in Melbourne safe and sound and are embracing the strict pandemic countermeasures imposed by Tennis Australia (TA).
Led by world No 34 Wang Qiang and No 35 Zhang Shuai, eight Chinese players have settled into their designated hotels in Melbourne after testing negative for the coronavirus upon landing in Australia on TA-paid charter flights from multiple cities, including Abu Dhabi, Dubai and Singapore.
By Tuesday, most of the Chinese players appeared to have been allowed to practice on court with their respective hitting partners, while visits to bio-secure gyms were also permitted, amounting to five hours total training per day.
"Come out and enjoy the sunshine," Wang Qiang, who reached the last 16 last year, said on Tuesday in a Weibo post that was accompanied by photos of her training with new coach Pat Cash.
Australian legend Cash, who won Wimbledon in 1987, began working with Wang Qiang at her season-opening event in Abu Dhabi, where she lost to Russia's Daria Kasatkina in the first round on Jan 6.
Another Chinese singles ace, Zhu Lin, ranked 92nd in the world, also expressed her appreciation to organizers for keeping the action going in challenging times.
"Finally starting to hit the ball on court after spending three days locked down in a hotel room," Zhu posted on Weibo with photos of an outdoor practice court.
"A big thanks for TA's arrangements and for taking care of us. It's unbelievable to imagine all the hard work by the organizers to make this happen. Really appreciate to have matches to play under the current circumstances."
Delayed due to the pandemic, this year's Australian Open will take place from Feb 8-21, with all players required to stay inside a bio-secure bubble that encompasses the hotels and the competition venue.
As China's sole wild-card entry in the women's singles, Wang Xiyu announced on Sunday from Abu Dhabi that she had to cancel her flight to Melbourne after her final virus test before boarding returned positive-much to the 19-year-old's disappointment.
"In order to prepare for the Australian Open, I arrived in Dubai last December. During the whole process, my team and I always followed the rules to take necessary protection like wearing masks," said Wang Xiyu, who won the 2018 US Open girls' tournament.
"I am currently in good condition without any symptoms. Life in quarantine is very boring, but I will do some physical training in the room.
"It is a pity, however, I will work hard to recover and hopefully return to the game in a healthy state as soon as possible."
Hard lockdown
With Chinese players doing their best to adopt a positive mindset, some of their foreign counterparts have voiced strong complaints over the tournament's COVID-19 protocols.
As of Monday, 72 players were placed into hard quarantine and are unable to train outside their rooms for 14 days because of positive cases on three charter flights into Melbourne.
Spanish world No 13 Roberto Bautista Agut compared his hotel lockdown to like being in "a jail".
"It's the same, but with wifi," Bautista Agut told Israeli television channel Sport 5. "These people have no idea about tennis and about practice courts and it's a complete disaster."
Kazakhstan's world No 28 Yulia Putintseva used the same analogy, telling her Instagram followers on Tuesday: "In jail at least you can go to breathe some fresh air two times a day.
"I understand that the government is trying to keep you safe. But it's not that. They were probably supposed to cancel the tournament if it's that dangerous. Just cancel it."
World No 1 Novak Djokovic reportedly issued a list of demands in a letter to TA that included moving quarantined players into private homes with tennis courts and getting them better meals.
That prompted the Serb's Australian rival Nick Kyrgios to call Djokovic "a tool" on Twitter.
Kyrgios also took aim at fellow Australian player Bernard Tomic's girlfriend, Vanessa Sierra, after she complained in an online video about cold food and having to wash her own hair in quarantine.
"I don't mind Bernie but his Mrs obviously has no perspective, ridiculous scenes," Kyrgios tweeted.
Considering they have grown accustomed to strict COVID-19 countermeasures back home, including repeated testing and quarantines, this year's Australian Open looks like it could well suit the Chinese players better.
The tournament has been the scene of numerous breakthroughs for Chinese players down the years, including retired Grand Slam winner Li Na's run to the women's singles title in 2014, and Zheng Jie and Yan Zi's doubles championship triumph in 2006.