Domestic consumption spurs economic recover
Share - WeChat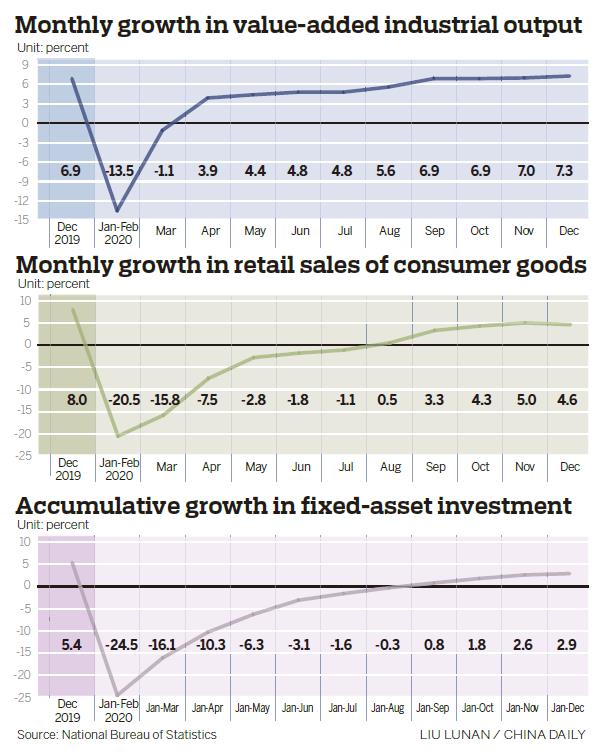 Wang Chikun, an independent economist, expects consumption to see double-digit growth this year. "Local governments will gradually roll out policies to boost consumer spending. With the government's effective measures to prevent and control the epidemic and unleash the consumption potential, domestic consumption will see strong growth this year," Wang said.
According to a report by the Center for Forecasting Science of the Chinese Academy of Sciences, China's GDP growth rate is expected to rise by 8.5 percent on a yearly basis in 2021, while consumption growth rate will be around 10.7 percent to 11.7 percent.
Wu Chaoming, chief economist at Chasing Securities, expects the government to make a big push to expand effective demand this year, such as bolstering domestic consumption, improving the income distribution structure, increasing people's incomes and expanding effective investment.
"More efforts will also be made to narrow income gaps and fully unleash the consumption potential of low-income people and expand middle-income groups," Wu said.
Luo Zhiheng, deputy director and chief macroeconomic analyst at the research institute of Yuekai Securities, expects the expanding domestic demand to sustain and develop the new dual-circulation development model in the country.
"Currently, economic imbalances lie in insufficient domestic demand, especially insufficient consumption and low investment efficiency. We need to facilitate demand-side reforms to boost consumption and improve the investment structure," he said.
Under the new development pattern, greater efforts should be made to adjust the national income distribution structure, optimize the fiscal expenditure structure, deepen household registration system reforms, improve the supply structure, and relax market access in fields like tourism, culture, healthcare, elderly care, education and training and housekeeping services, Luo said.