GDP tops 100 trillion yuan for first time
Share - WeChat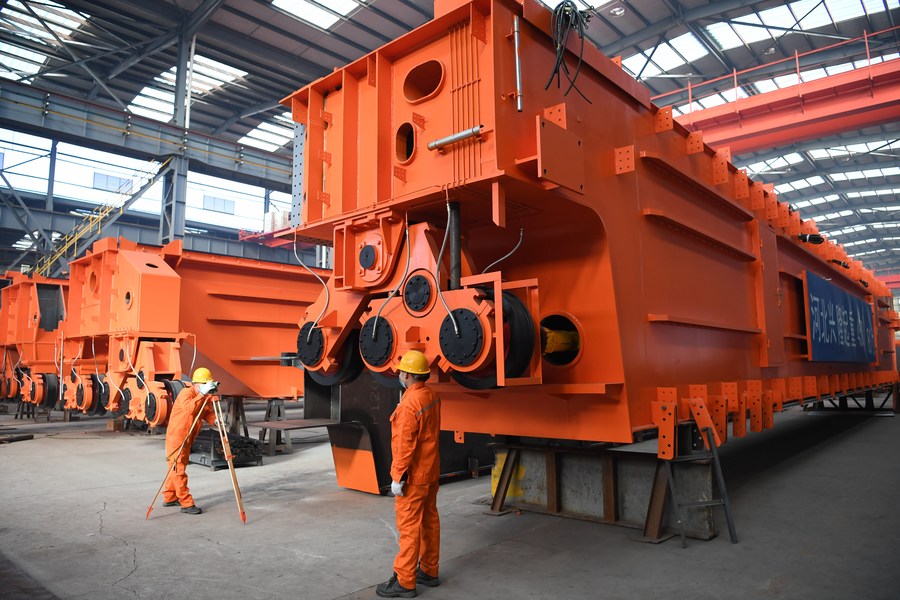 'Better-than-expected results' signal high-quality growth momentum in 2021
China's stronger-than-expected economic rebound and continuous structural improvements last year have signaled that the country's pursuit of high-quality growth is set to gain more momentum in 2021, officials and experts said on Monday.
The world's second-largest economy grew by 2.3 percent in 2020, and it should be the only major economy to have achieved annual growth, the National Bureau of Statistics said on Monday.
The country's annual GDP came in at 101.6 trillion yuan ($15.7 trillion) last year, surpassing 100 trillion yuan for the first time and indicating that its overall national strength has reached a new level, the bureau said.
"Main targets and tasks for economic and social development have been accomplished with better-than-expected results," said Ning Jizhe, head of the NBS.
Economic growth normalized to pre-COVID-19 levels in the fourth quarter last year and hit 6.5 percent year-on-year, up from 4.9 percent in the third quarter, Ning said, adding that the achievements were hard-earned amid the pandemic and global economic recession.
Multiple factors will help sustain steady economic recovery into 2021, he said, pointing to the country's vast domestic market as having provided a strong buffer against external uncertainties while accelerating digitalization spurs high-quality development.
The government will further reform efforts to narrow income gaps and boost new consumption growth points, while expanding investment to address weak links in the economy, Ning said.
Experts said they expect reviving consumption to replace investment and exports as the main driver of economic growth in 2021, underpinning strong annual growth forecasts between 7 percent and 9 percent.
A low comparison base in 2020, ramped-up investment in manufacturing sectors and new types of infrastructure as well as exports buoyed by the global economic recovery will also help sustain China's economic rebound, they said.
The country's consumer market has gradually recovered from the effects of COVID-19, with the growth in retail sales recovering to 4.6 percent year-on-year in the fourth quarter, versus 0.9 percent in the third quarter, even as local COVID-19 cases constrained consumption in December, according to the NBS.
Recovering incomes and stabilizing employment have boosted experts' confidence in the anticipated recovery in consumption. The surveyed urban jobless rate nationwide was 5.2 percent in December and 5.6 percent on average for the whole year, below the government's annual control target of 6 percent, the NBS said.
Per capita disposable income grew by 2.1 percent in real terms to 32,189 yuan in 2020, with income growth for rural residents coming in at 3.8 percent and outpacing their urban counterparts, the bureau said.
"The narrowing income gap between urban and rural residents, in tandem with the quicker sales of goods related to consumption upgrades in the fourth quarter, signaled that consumption upgrading will percolate to lower-tier cities and rural areas, creating new growth points of consumption," said Cheng Shi, chief economist at ICBC International.
Accelerating digitalization should be another key structural improvement in 2020 that will help bolster high-quality development this year, experts said, with the use of 5G, intelligent technologies and the internet of things to further inject economic momentum.
The value-added output of high-tech manufacturing sectors rose by 7.1 percent last year, outpacing the 2.8 percent growth for the whole industrial sector, according to the NBS. Investment in high-tech industries grew by 10.6 percent in 2020, versus 2.9 percent of total fixed-asset investment.
As the economy embarks on the 14th Five-Year Plan (2021-25), which turns self-reliance in science and technology into a strategic pillar for national development, investment in innovation and new types of infrastructure will be stepped up this year, experts said.
Iris Pang, chief China economist at Dutch bank ING, said she expects active fiscal stimulus in 2021 to support technology research and development, companies in difficulties and the development of green energy, while monetary policy is expected to remain unchanged given an upbeat growth picture.
China's GDP is expected to grow by 12 percent year-on-year in the first quarter of 2021 and 7 percent for the whole year, Pang said.
Despite promising growth prospects, officials and experts highlighted the need to be wary of mounting uncertainties, especially the pandemic situation and geopolitical tensions.
Uncertainties to recovery
Recent local resurgence of COVID-19 cases in some areas has brought uncertainties to future economic recovery, but the impact should be limited as the country has established plans to rapidly contain the spread and minimize related economic losses, said Ning of the NBS.
"For this year, should global growth not recover, policymakers in China still have the tools to implement stimulus support, especially given that relative to other central bankers last year, they were very conservative with easing measures," said Catherine Yeung, investment director at Fidelity International, a global asset manager.
Chen Jia and Shi Jing contributed to this story.