Doors open wider for FDI to help world recover
Share - WeChat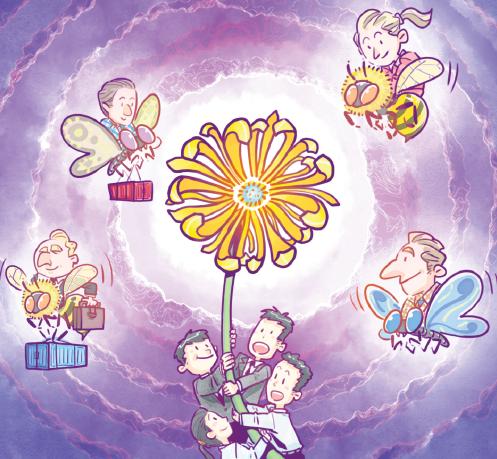 On Dec 28, China's National Development and Reform Commission and the Ministry of Commerce released an updated version of the Catalogue of Industries for Encouraging Foreign Investment, extending the favorable policies to more industries.
This is the first revision of the catalog whose inaugural edition was published in 2019. There are now 1,235 items in the updated catalog, with 127 items newly added and 88 revised.
The revised catalog prioritizes foreign investments in high-tech manufacturing and high-end producer services, and enlarges the secondary catalog applicable specifically to central and western provinces and autonomous regions.
It is a fresh sign of China's determination to build an open economy and promote economic globalization in the pandemic era and amid waves of anti-globalization sentiments.
The revision is expected to further integrate foreign enterprises into the new development paradigm.
It will likely also help improve the structure and quality of foreign capital, promote high-quality development and drive the recovery of the world economy faced with profound changes unseen in a century.
More industries are now eligible for foreign investment and favorable policies such as import duty exemption on self-use equipment, land supply support and land price discount, as well as tax rate cut for investments in central and western provinces and autonomous regions.
The revised catalog is expected to make a positive difference to the Chinese economy as well as the rest of the world in four important ways:
First, the revision will help stabilize foreign investment and promote globalization in the face of COVID-19. The COVID-19 outbreak in 2020 severely blocked the cross-border movement of people, goods and capital and led to a sharp contraction of global foreign direct investment.
According to the United Nations Conference on Trade and Development, global FDI dropped by 49 percent in the first half of 2020.
China acted quickly to bring the pandemic under control and took full advantage of its strong support system for industries and a vast domestic market to attract foreign investment.
The Chinese government vowed to extend the catalog shortly after the pandemic outbreak and published a draft version in July to consult foreign companies, chambers of commerce and trade, and the general public.
Its final release vividly demonstrates China's attitude toward promoting economic globalization in the spirit of openness, inclusiveness and a win-win philosophy.
The larger goal is to power the recovery of the global economy while improving its own economic structure.
Second, the revision will promote the modernization of China's industrial and supply chains. In full cooperation with local companies, a large number of foreign enterprises have been playing an active and indispensable role in fostering high-quality industrial clusters in various fields like information technology, new energy vehicles, machinery equipment as well as textile and apparel, significantly contributing to the modernization of China's industrial system.
In the proposals for formulating the 14th Five-Year Plan (2021-25) for national economic and social development and the long-range objectives through the year 2035, it is emphasized that the country needs to strengthen international cooperation on industrial network security and establish modern industrial and supply chains that are more innovative, higher value-added, safer and more reliable.
The revision fully implements this philosophy, prioritizing foreign investment in key inputs covering raw materials, components and spare parts as well as equipment.
For example, the revision adds to the catalog key raw materials like high-purity electron-grade hydrofluoric acid, polyvinyl polyamine and high-performance fiber, key components and spare parts such as high-pressure vacuum components, special valves and special glasses, key equipment such as integrated circuit test equipment, high-end manufacturing equipment and hardware related to L3/L4/L5 autopilot.
Encouraging foreign investment in these industries will help reinforce the strengths of China's industrial network while overcoming its weaknesses, thus promoting the upgrade of the industrial and supply chains.
Third, the revision will facilitate the high-quality development of the services sector and promote industries toward higher value-added links in the smile curve. (A smile curve is a graph measuring an industry's value on the y-axis against the value chain on the x-axis.)