Gas demand surging toward record
Share - WeChat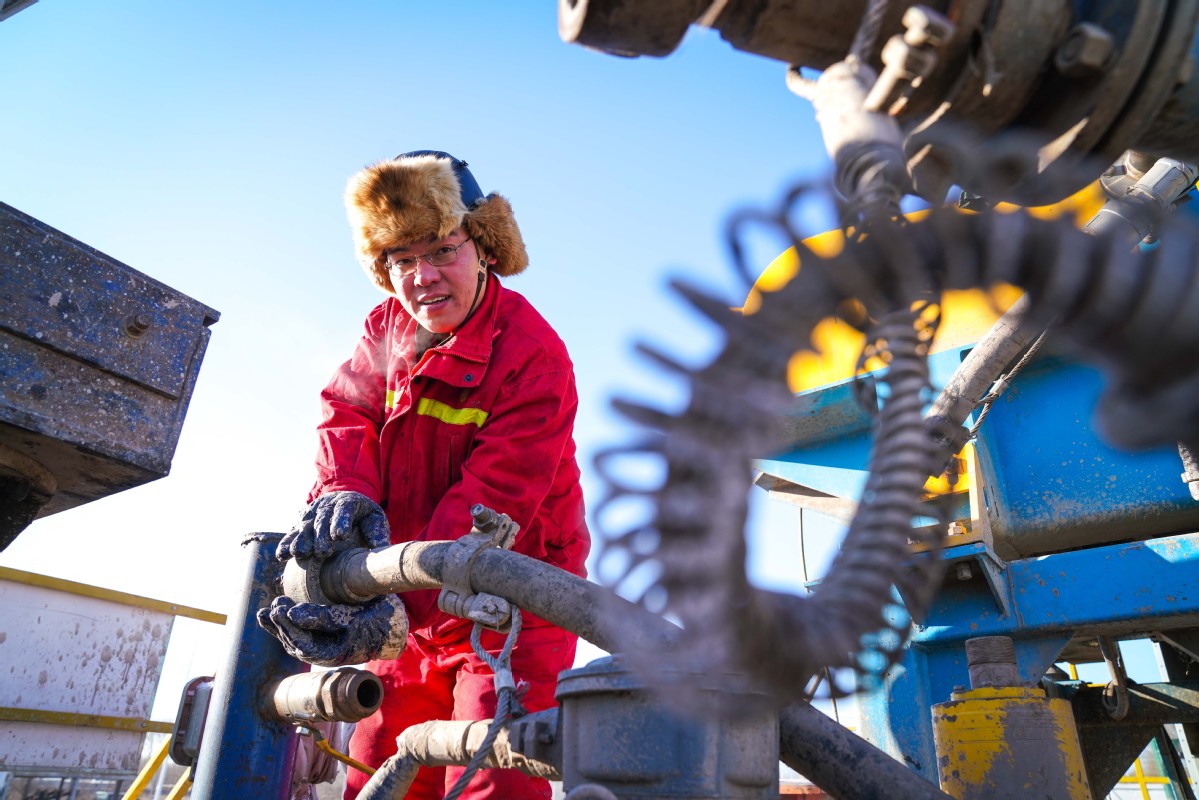 As the Chinese economy has emerged from the COVID-19 pandemic faster than expected, its natural gas demand is expected to set a record in 2021 with the government on track to meet its long-term environmental protection targets, according to forecasts released by several agencies.
According to S&P Global Platts Analytics, China's natural gas demand is expected to set a record this year, reaching 360 billion cubic meters, up 8.4 percent from an estimated 332 bcm last year.
The Economics and Development Research Institute, which is under Sinopec, China's leading energy and chemical company, also expects China's gas demand to rise between 6 percent and 8 percent to around 340 bcm or 345 bcm this year.
The Economics & Technology Research Institute, a think tank under China National Petroleum Corp, believes China's average annual increase in natural gas demand is expected to exceed 20 bcm in the 14th Five-Year Plan period (2021-25) and reach 430 bcm in 2025.
"Demand for natural gas has been suppressed in 2020, which will lead to robust growth this year," said Li Ziyue, an analyst at BloombergNEF.
"With the pandemic getting under better control and the global economy recovering, gas demand this year is likely to increase around 8 percent and domestic output is also estimated to remain robust and reach around 200 bcm this year."
According to Li, unconventional gases, especially shale gas, are expected to play an increasingly important role in production rampup, and shale gas output may reach beyond 20 bcm this year.
China's emissions are expected to reach targeted peak levels before 2030 and the goal of carbon neutrality is set for 2060. The twin objectives are expected to be the main drivers of the longer term development of China's low-carbon energy mix, which will include natural gas.
This view was echoed by Szehwei Yeo, an analyst at Platts Analytics LNG. He said China's domestic gas output is on track to hit a record high, which is estimated to grow 7.3 percent in 2020, and by another 3 percent this year to reach 200 bcm.
While Platts Analytics expects China's natural gas imports including pipeline gas and liquefied natural gas will reach 163 bcm this year, up around 18 percent year-on-year, CNPC's think tank forecast China's gas output to reach 220 bcm to 250 bcm in 2025, up by 35 bcm to 65 bcm from 2020.
The country's oil and gas majors have been ramping up exploration and exploitation capacity toward a rapid growth in crude oil and natural gas output in recent years.
CNPC, one of China's three major oil companies, sees its oil and gas output exceeding 200 million metric tons of oil equivalent in 2020(full-year data are yet to be finalized). If the estimate pans out, it would be a record high in its history.
The company's natural gas output last year was more than 100 million tons with a year-on-year growth of 11.6 bcm, surpassing production of crude oil for the first time, it said.
As China's largest fuel producer, CNPC accounts for 50 percent of the country's oil output and 70 percent of gas output, making it a main player in guaranteeing national energy security.
Its Changqing Oilfield also produced over 60 million tons of crude oil and natural gas in 2020, making it China's first extraordinarily large oil-and-gas field, while its Southwest oil-and-gas field continued to improve its efficiency and produced 30 bcm of shale gas, becoming the country's most productive shale gas field ever, said the company.
In ensuring sufficient gas supply, imported gas plays a major role. State-owned enterprises have been consistently negotiating with international partners to ensure stable gas supply.
The southern section of the China-Russia east-route natural gas pipeline, running through Hebei, Shandong, Jiangsu, and Shanghai, went into full construction mode in January and will reach a daily supply capacity of 50 million cubic meters when put into operation in 2025.
The northern and middle sections of the pipeline in China became operational in 2019 and last year, respectively, according to China Oil& Gas Piping Network Corp.
Russian gas imports will continue to ramp up this year, increasing pipeline imports further, and Siberian gas imports are expected to grow by 32 percent this year, according to Platts Analytics.
In addition to the current 22 LNG terminals in China that have a total annual receiving capacity of 81 million cubic meters, the country plans to set up two terminals-Pinghu LNG and Wenzhou LNG this year.
It will also launch five LNG terminal expansion projects this year: PetroChina Tangshan Phase 3, ENN Zhoushan Phase 2, Sinopec Qingdao Phase 2, CNOOC Ningbo Phase 2 and PetroChina Rudong Phase 3, all of which will add 17 mcm of LNG receiving capacity per year and 3.16 mcm of LNG storage capacity, said Platts Analytics.
Total Chinese contracted LNG volumes in 2021 are estimated to reach 55 mcm, up 1.6 percent from 2020, it said.